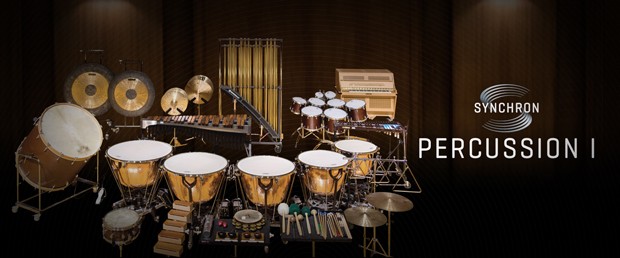 Absolutely Striking
This all-new Collection of orchestral percussion instruments ushers in a new era for Vienna Symphonic Library. Synchron Percussion I was recorded at Stage A, the main hall, of Vienna's newly revitalized Synchron Stage Vienna.
Captured in every nuanced detail with an expansive, phase-controlled multi-microphone set-up, it delivers to your studio all the character and vibe of the world's finest percussion instruments, masterfully played in one of the best-sounding scoring stages in the world.
16 Instruments
Synchron Percussion I includes 16 essential orchestral percussion instruments that are owned by Synchron Stage Vienna and permanently housed in climate-controlled rooms in the building's basement. All of the leading prestigious manufacturers are represented in this premium selection of instruments, including Adams, Bergerault, Kolberg, Lefima, Meinl, Yamaha, and Zildjan.
Included Instruments
5 Timpani (Adams; C2–C#4)
Bass Drum (Kolberg "Dicke Bertha" 36"x28")
Snare Drum (Kolberg "Piano-Forte" Rosewood 14"x 6,5")
8 Concert Toms (Yamaha CT-9000 series; 6"-16")
Xylophone (Adams Artist Alpha; C4–C8)
Glockenspiel (Yamaha 2500; C5–E8)
Celesta (Kolberg; C3–F8)
Suspended Cymbals (Zildjian, 16" & 18")
Piatti (Zildjian 20" Constantinople Orchestra Medium Light; Meinl 22" Symphonic Extra Heavy)
2 Tam-Tams (Wuhan; 100cm and 120cm)
Tubular Bells (Bergerault Symphonic; F3–F5)
Tambourines (2 pc.: Lefima 2091-A, Kolberg 2030 DW)
Triangles (7 sizes)
Woodblocks (5 pc.)
Castanets (2 pairs)
Shakers (2 pc.)
12 Microphones
Every instrument was recorded using 12 microphones. You may select from four microphone positions (Standard Library) or seven different microphone positions (Full Library) and mix them to your liking, directly in the Vienna Instruments player, or using our mixing hosts Vienna Ensemble and Vienna Ensemble Pro.
Use the included and perfectly fine-tuned presets as a starting point for your own mixes. The natural volume envelopes and the sonic character of the instruments remained untouched during recording and editing. The performances in Stage A were captured in stereo using a Decca tree, and additional microphone arrays were utilized for 5.1 surround and Auro 3D 9.1.
Microphone Positions of the Full Library:
Close Mic – Mono
Mid Layer Mic – Stereo (L/R)
Main/Room Mic – Decca Tree Stereo (L/R)
Main/Room Mic – Decca Tree Mono (Center)
Main Surround – Stereo (L/R)
High Stereo (3D) – Stereo (L/R)
High Surround (3D) – Stereo (L/R)
Standard Library includes positions 1-4.
Immersive Sound and Auro 3D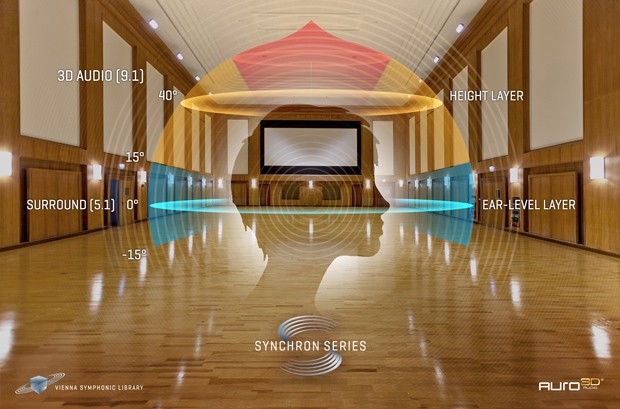 Auro 3D is an immersive audio technology that allows for three-dimensional sound perception. The Belgian company Auro Technologies developed this technology based on a special speaker configuration, adding four additional speakers to a 5.1 surround configuration. These speakers (so-called "Heights") are situated above the front and surround speakers and generate acoustic reflections that are perceived naturally due to the fact that sounds originate from around as well as from above the listener. Thanks to the comprehensive selection of discrete audio channels of Synchron Percussion I (Full Library) you may mix your instruments in Auro 3D as well as in Dolby Atmos.
128 Variations per Hit
A tremendous amount of time and effort was spent in order to record all 16 percussion instruments. This tour de force was only possible because all of the instruments, as well as the Synchron Stage Vienna itself, were owned by the Vienna Symphonic Library company. The results are truly impressive. Synchron Percussion I over-delivers with its huge dynamic range and liveliness. With up to 16 velocities and up to 8 variations of each hit, and open, secco (stopped release) and coperto (damped) articulations, there are a staggering 128 variations of each single hit! Additionally we've utilized several types of mallets, sticks, rods, brushes, hammers, and more to achieve a comprehensive library of transients and timbres.
100 hours alone was spent on capturing all the subtle nuances of the five timpani. Since each timpani drum was sampled over its complete playing range, any given pitch may now be reproduced by up to three different instruments. As a result of our exclusive, brand-new release sample technology, crescendo and diminuendo rolls that are available in various lengths and intensities can be stopped at any time with the matching release sample being triggered. Glissandos are provided up to a major sixth in three speeds, and the innovative "Performance Interval Rolls" enable unlimited legato playing of up to a fifth interval.
The celesta was played using a sampling robot, which captured the subtlety of this beautiful instrument with 36 meticulously sampled velocity layers.
Extensive Resources for Sound Design
For almost all of the instruments, we recorded special FX sounds that lend themselves well to creating all-new, organic soundscapes. For example, we stroked a rubber "superball" against the head of the bass drum, and treated the rims of the concert toms with rasping sticks. The glockenspiel, xylophone and the tamtams were played with a double bass bow, as another of many examples. The results are unique sounds that will entice you to experiment and will serve as a source of inspiration for your compositions.
The Recording Stage as an Instrument
Synchron Stage Vienna, located on the "Wiener Rosenhügel", is large enough to accommodate a 130 piece orchestra and has proven to be a remarkable space, not only for film music recordings, but also for sampling sessions. During the 1960s, eminent classical artists such as Karl Böhm, Herbert von Karajan, Yehudi Menuhin, Sviatoslav Richter and Mstislav Rostropovich loved to use the outstanding acoustics of this former "Synchronhalle" for their now-legendary recordings.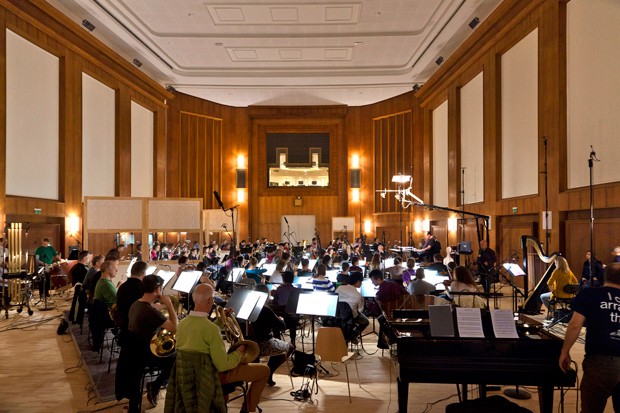 The colossal room-in-room construction, built upon a massive concrete foundation, combined with sound insulation and a specially designed air conditioning system, results in a ridiculously low noise-floor of 16 dBA, even with the air conditioner running!
The main Stage A features a reverb time of 1.6 to 1.8 seconds, and in contrast to other scoring stages, there is no masking effect on the low frequencies. All instruments sound punchy and warm, while at the same time providing excellent localization, both in depth and in the stereo panorama. Especially at low and medium levels, the room itself becomes a marvelous instrument. Its high energy level on the very low frequencies was harnessed beautifully for the bass drum, which was recorded at its normal tuning, then loosened to capture thunderous lows that reverberated though the hall. But be mindful of the volume – these ultra low frequencies may damage your speakers if the volume is set too high!
Perfect Climatic Conditions
Synchron Stage Vienna is equipped with a sophisticated system for heating, ventilation and air-conditioning (HVAC) that provides absolutely consistent air quality (humidity and temperature) between the large Stage A and the percussion storage room. So every instrument is in pristine condition for performance, day and night, session after session.
Features Summary
16 Essential orchestral percussion instruments from the Synchron Stage Vienna collection
Recorded at the 540 m2 (5,813 sq.ft.) Stage A of Synchron Stage Vienna
More than 475,000 Samples (Full Library)
427 GB of installed sample data
Extensive recording time – up to 100 hours per instrument group
Pristine sound with 1.6 through 1.8 sec. natural reverb time
All instruments captured with 12 microphones (Full Library) or 6 microphones (Standard Library)
3D Sound (Full Library) – mix in stereo, 5.1 surround, Auro 3D or Dolby Atmos
Up to 128 samples per pitch and per hit
Unique release sample technology for crescendo and diminuendo rolls
New: Performance Interval Rolls – play true legato (roll) lines up to a fifth interval on the timpani
Extra low tunings on the bass drum – for highly energetic low frequency recordings
Many FX articulations – a source of inspiration for all-new sound combinations
Free Vienna Ensemble mixing host and Vienna Instruments player included (fully compatible with Vienna Ensemble Pro
Includes presets of well-balanced microphone setups for the players Vienna Instruments and for the mixing hosts Vienna Ensemble and Vienna Ensemble Pro.
Library Content
Standard Library: Samples 271.728 | Download Files Size 99,1 GB | Installed File Size 214,6 GB

Full Library: Samples 475.524 | Download Files Size 206,4 GB | Installed File Size 426,9 GB
*Upgrades and User Discounts: You already own VSL Products?
After the login you can check in the shopping cart if you are entitled for a VSL User-Discount and apply it. This works for Upgrades, Crossgrades, EDU products and also when you complete Bundles. Simply add the desired products to your shopping cart and then check for the VSL User-Discount.
Please note that all discounted user-specific orders must be processed manually by our sales team and therefore may take up to one business day to be completed.
Mac:
macOS 10.14 or higher
64 bit
Intel Core i7/i9/Xeon/M1/M2
RAM: 8GB (16GB recommended) - Big Bang Orchestra, SYNCHRON-ized, Smart Series
RAM: 16GB (32GB recommended) - Synchron Libraries, SYNCHRON-ized Dimension Strings & Brass
SSD hard drive recommended
Windows:
Windows 10 or higher
64 bit
Intel Core i5/i7/i9/Xeon
RAM: 8GB (16GB recommended) - Big Bang Orchestra, SYNCHRON-ized, Smart Series
RAM: 16GB (32GB recommended) - Synchron Libraries, SYNCHRON-ized Dimension Strings & Brass
SSD hard drive recommended
Free hard drive space according to the library size.
Required Registration:
Vienna Symphonic Library products require you to register with the manufacturer at www.vsl.co.at and with www.ilok.com to activate your license.
This product requires an activation!

You can either "soft" activate the software on your computer without addditional hardware or transfer the license to an iLok USB dongle which has to be purchased separately. The iLok dongle can be used to run the protected software on different computers. Your licenses can be easily manged using the iLok Licence Manager. To protect your investment against theft or loss we recommend the iLok Zero Downtime protection with TLC.
An internet connection on any computer and a free user-accout at www.ilok.com is required to authorize the product. In order to download and install your software products and sample libraries authorized via iLok, please use the Vienna Assistant.
Please check with the software manufacturer which iLok version is required at least if you want to use a hardware iLok!