Woodwinds Excellence
Exceptional orchestral woodwinds, recorded at Synchron Stage Vienna

13 Solo instruments and 7 ensembles

A new level of realism and sonic excellence

7 Microphone positions with a variety of pre-configured mixer presets

Additional tutti & FX ensemble recordings
When renowned composer, orchestrator and conductor Conrad Pope stepped onto Stage A of Synchron Stage Vienna before it re-opened its doors back in 2015, he happily exclaimed that this was finally a scoring stage big and especially high enough for the piccolo to sound as great as it should. As it turned out in the following years, not only was he right, but all the instruments and ensembles benefit immensely from the outstanding acoustics of this hall, making the sound of Synchron Strage a landmark in film scoring.
Instruments
Piccolo
Flute 1
Flute 2
Alto Flute
Oboe 1
Oboe 2
English Horn
Clarinet in Bb 1
Clarinet in Bb 2
Bass Clarinet
Bassoon 1
Bassoon 2
Contrabassoon
Flute Ensemble (3 players)*
Oboe Ensemble (3 players)*
Clarinet Ensemble (3 players)*
Bassoon Ensemble (3 players)*
Tutti Woodwinds (13 players)*
Low FX Woodwinds (8 players)*
High FX Woodwinds (10 players)*
* Also included in the Big Bang Orchestra series
The euphonic sound of the instruments playing in the exceptional acoustics of this hall is not only important for the pristine quality of the recorded samples, it also contributes tremendously to the performance of the players. Musicians who feel inspired, who are moved by the sound of their instruments springing to life in this stirring environment, deliver brilliant performances, not only for film scores, but also for sampling sessions well known for being rigorous and highly demanding.

For many of the woodwind players contributing to this Collection, working on the subtlest variations of their tone is a challenge they're eager to take on, rediscovering the sonic possibilities of their instruments and even exploring new facets. Ultimately it's this symbiosis of musicians, their instruments and the recording hall that entices Europe's best musicians to not only join recording sessions, but also make themselves available for sample recordings.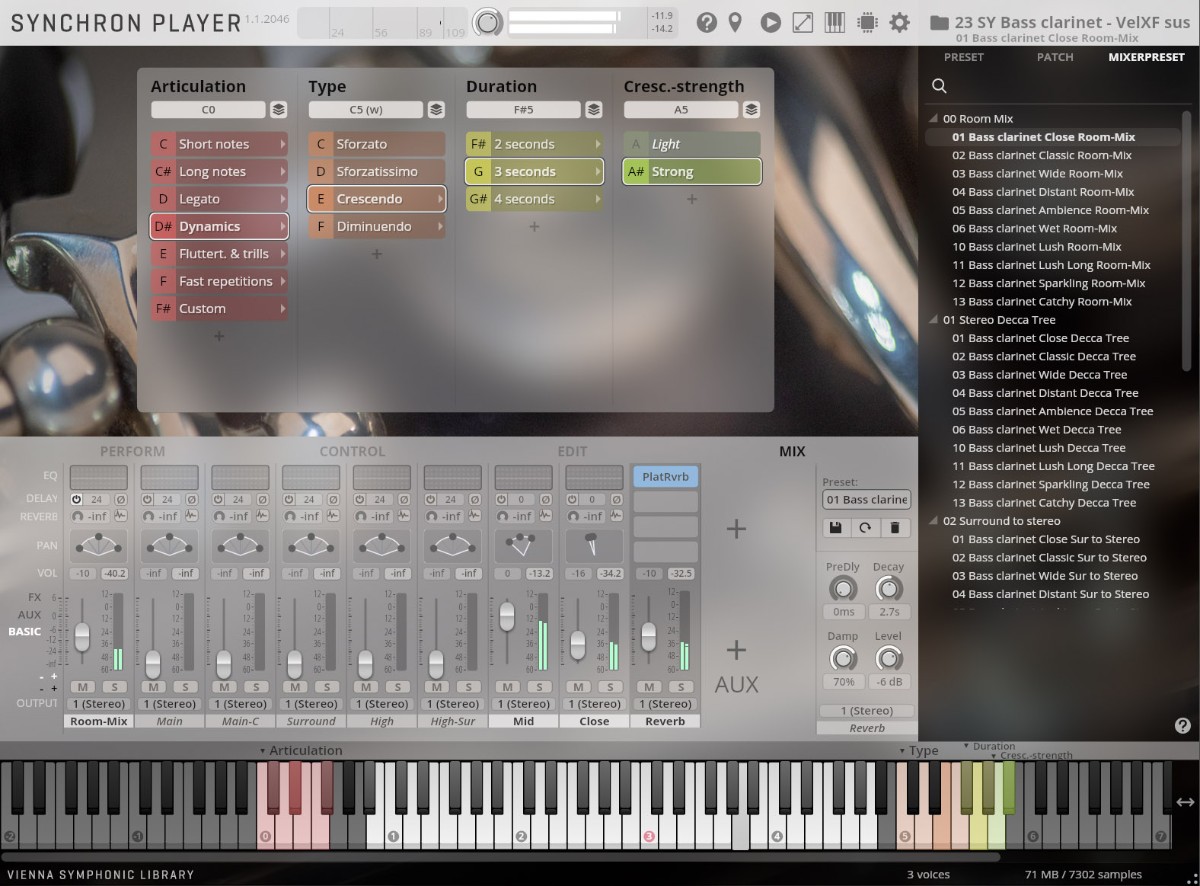 Consistent and Well-Balanced Articulations
Another benefit of the musicians' commitment to extensive sampling sessions was the ability to record all of the instruments in uninterrupted recording blocks, which guarantees a consistent sound across all articulations and dynamic layers – an essential feature that lets you create effortlessly coherent and fluid performances.

Creating agile and at the same time expressive legatos was paramount for the Synchron Woodwinds Collection. All solo instruments feature regular and fast legato variants, and by selecting the "auto-speed" patch the Vienna Synchron Player provides you with authentic note transitions depending on the tempo of your playing. A large pool of assorted short note articulations allows for a variety of accentuation and virtuosic non-legato performances. While special attention was given to capturing musical and tasteful vibrato by all of the soloists, equal emphasis was applied to the expressive non-vibrato articulations, which are needed for ensemble playing where vibrato is not typically used.
Woodwind Ensembles
Synchron Woodwinds features ensemble recordings that are also included in the Big Bang Orchestra Packs Neptune, Orion and Solaris. The "Tutti Woodwinds" ensemble consists of 13 instruments, from the piccolo to the contrabassoon, that are played in unison and octaves. Each of the "Woodwind Sections" consisting of flutes, oboes, clarinets in Bb and bassoons is made up of three musicians playing together in unison. The "Low FX Woodwinds" section of three contrabassoons, two bassoons, one contrabass clarinet and two bass clarinets provides dramatic fundamental lows in unison and octaves as well as in clusters. The "High FX Woodwinds" section consists of one piccolo, three flutes, two oboes and four clarinets, playing long notes in unison and octaves, as well as runs and arpeggios in a wide variety of scales and chords.
Multiple Microphone Positions
To capture the spectacular ambience of "Stage A" of Synchron Stage, our engineers employed seven separate phase-coherent microphone configurations to provide a broad range of room options. All of them are available as separate channels in the mixer section of the Vienna Synchron Player.

Pre-configured mixer presets provide a wide variety of tonal characteristics, from close to ambient, from lush to sparkling, from natural to heavily processed. As with all Synchron Libraries, you can mix your woodwinds sound in stereo, 5.1 surround or even Dolby Atmos and 9.1 Auro 3D, or any other immersive audio format.
*Upgrades and User Discounts: You already own VSL Products?
After the login you can check in the shopping cart if you are entitled for a VSL User-Discount and apply it. This works for Upgrades, Crossgrades, EDU products and also when you complete Bundles. Simply add the desired products to your shopping cart and then check for the VSL User-Discount.
Please note that all discounted user-specific orders must be processed manually by our sales team and therefore may take up to one business day to be completed.
Mac:
macOS 10.13 or higher
64 bit
Intel Core i5/i7/i9/Xeon
RAM: 8GB (16GB recommended) - Big Bang Orchestra, SYNCHRON-ized, Smart Series
RAM: 16GB (32GB recommended) - Synchron Libraries, SYNCHRON-ized Dimension Strings & Brass
SSD hard drive recommended
Windows:
Windows 8.1/10 or higher
64 bit
RAM: 8GB (16GB recommended) - Big Bang Orchestra, SYNCHRON-ized, Smart Series
RAM: 16GB (32GB recommended) - Synchron Libraries, SYNCHRON-ized Dimension Strings & Brass
SSD hard drive recommended
Free hard drive space according to the library size.
Required Registration:
Vienna Symphonic Library products require you to register with the manufacturer at www.vsl.co.at and with www.ilok.com to activate your license.
This product requires an activation!

You can either "soft" activate the software on your computer without addditional hardware or transfer the license to an iLok USB dongle which has to be purchased separately. The iLok dongle can be used to run the protected software on different computers. Your licenses can be easily manged using the iLok Licence Manager. To protect your investment against theft or loss we recommend the iLok Zero Downtime protection with TLC.
An internet connection on any computer and a free user-accout at www.ilok.com is required to authorize the product. In order to download and install your software products and sample libraries authorized via iLok, please use the Vienna Assistant.
Please check with the software manufacturer which iLok version is required at least if you want to use a hardware iLok!