A Ruler, Tape Measurer & Sound Design library built for Kontakt
Soundiron have played with rulers and tape measures and noticed all of the satisfying sproings and wobbles they can produce. When you brace a ruler over the edge of a flat surface so that it can oscillate freely, it can produce a musical tone at a frequency in proportion to the distance it's able to vibrate up and down. The longer the section of tine that can freely vibrate, the lower the note and the longer it can sustain. As you slide the ruler farther onto the surface and reduce the length of the freely-vibrating overhanging segment, the pitch increases and the duration of the note shortens. Tiny adjustments can result in large jumps, so you need to go millimeter-by-millimeter to produce a wide musical scale.
Because Soundiron are strange, they headed into the garage and grabbed their two best-sounding rulers and a couple of self-winding tape measures and then set out to capture one library to rule them all! They took no shortcuts! As the meters danced, they sampled every inch with millimeter precision, using finely calibrated microphones and pristine preamps to capture even the most minute details. Soundiron recorded 30 notes with their 6-inch ruler (15.24cm) and 38 notes on their 12-inch ruler (30.48cm), plus percussive taps, rattles and drops. Soundiron also recorded a wide variety of sound effects and percussive articulations with their 25-foot (3m) and 10-foot (7.62m) tape-measures for a more modern take on the concept. They also tried to record a laser range-finder, but it turns out microphones aren't quite sensitive enough just yet. They guess the exception proves the rule: if it moves matter, it can make music.
Because Soundiron always bring you miles of value, they've included a collection of uniquely sound-designed ambient pads and tonal atmospheres created by manipulating the source recordings, along with plenty of custom FX presets to let you take the sounds even further. By any measure, The Ruler goes the distance!
The Ruler includes over 24 playable articulations, 20 custom FX presets, 20 sound-designed ambiences, 4825 stereo samples and a full gigabyte of content.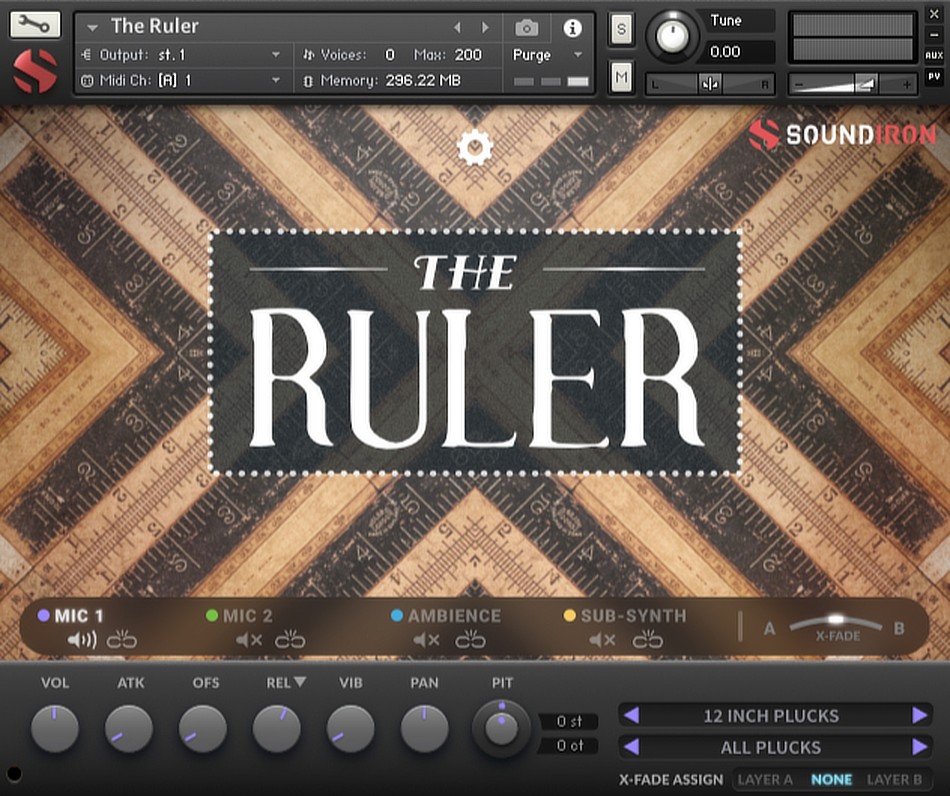 Contents
The Kontakt interface includes a suite of automation-ready sound-shaping controls to give you total creative flexibility. You have control over swell, attack, release, offset, vibrato, filter, pitch (coarse & fine), articulation switching, cross-fading and layering, and so much more. Soundiron have also included 20 unique sound-designed custom FX presets to give you lots of creative options.
This library comes with an adaptable LFO system, with selectable LFO shape, modulation target parameter, speed, intensity, tempo-syncing and fade-in time. You can also apply your choice of 12 lowpass, high-pass and FX filters, with assignable modulation targets such as velocity, modwheel, expression, after-touch, key position and step-sequencer table control. The customizable arpeggiator offers a velocity table and control over arp direction, timing, swing, randomization and duration. They've included a key and scale lock system to constrain your notes to common scales and keys for easy melodic composition and live performance.
The interface is rounded-out by their modular FX rack panel, with 18 different DSP effect modules that you can assign in any of 10 available slots, in any order that you wish. You'll find classic phaser, flanger, delay, distortion, amp and cab simulators, compressors, EQ, rotator and so much more. The Reverb effect includes our favorite convolution reverb impulse responses, including 99 different rooms, halls, chambers and outdoor environments, plus another 40 custom FX impulses to radically transform the sound and open up whole new worlds of musical possibility. Soundiron have added a great bank of FX rack chain factory presets to get you started!
Product Specs
One master NKI instrument bank in open Kontakt format

Pings, plucks, slaps, drops, rattles, taps, and FX sampled from rulers & tape measures

20 Ambience patches created from the source content

24 bit / 48 kHz uncompressed PCM wav samples

20 Custom Sound-Designed FX and Ambient presets

4,825 Stereo WAV files

1.1 GB installed

Flexible and intuitive multi-layer user interface controls, with LFO, filter, glide, and arpeggiator

Full FX rack with convolution reverb with custom rooms, halls, chambers & FX environments

Please notice: This library can not be used with the free Kontakt Player! To use this "Open Kontakt" format, you need a full version of Kontakt, which is included in products such as Komplete or Komplete Ultimate.
The minimum required Kontakt version number for this product is stated in the product description or can be found on the developer's website.
System Requirements:
Mac:
macOS 10.14 or higher
64 bit
Intel Core i5 or Apple M1 (native)
RAM: 4GB (6GB recommended)
Windows:
Windows 10 or higher
64 bit
Intel Core i5 or similar CPU
RAM: 4GB (6GB recommended)
Supported Interfaces:
Mac (64-bit only): Stand-alone, VST, VST3, AU, AAX
Windows (64-bit): Stand-alone, VST, VST3, AAX
Legacy Versions:
If you require legacy installers of Kontakt Player please refer to this Knowledge Base Article.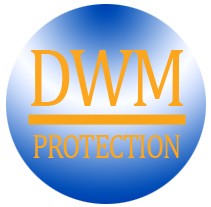 For your own protection this library is provided as individual personalized files including a
Digital Water Mark - DWM!