The Ultimate Transition Designer
Baby Audio teamed up with Andrew Huang to create Transit: An FX plugin that'll give your mix transitions super powers. Use it for build-ups, drops, motion effects, risers and sweeps - and keep your listeners constantly engaged.
An easier way to create better transitions
Creative transitions between song parts play a vital role in keeping listeners engaged and excited. To make them, producers rely on multiple tracks and plugins - and a suffocating amount of automation lanes. Transit simplifies this process down to just one plugin. It hosts 18 powerful effect-modules, freely loadable across 7 slots. All effect parameters can be linked to a global Macro Control, which you automate to create complex FX transitions with one knob movement. The result: More engaging, less static, mixes.
A creative playground
The 18 effect modules in Transit are purpose-designed for transition duties. You get classic modulation effects, distortion and degradation options, motion FX, reverb, delay, two filter types - and even a synth oscillator and noise generator for adding risers and sweeps to your transitions. The quality and variety in effects - and the semi-modular architecture of the plugin - makes Transit a sound designer's dream. You may soon end-up using it as a regular multi-FX or a new go-to LFO tool. The possibilities are near limitless.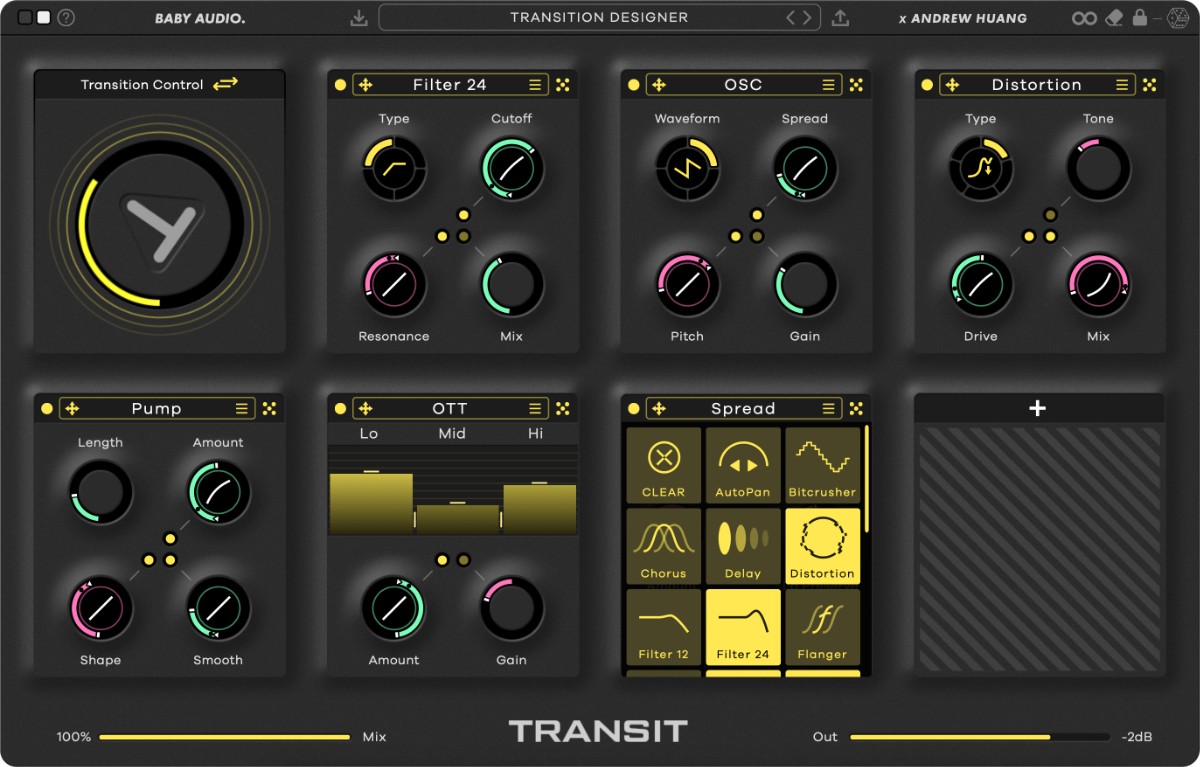 200+ modern presets for any genre
Want to keep things fast and simple? Transit includes 200+ creative, modern, mind-boggling, and 'hands-in-the-air-rising' presets created by Andrew Huang and friends of Baby Audio. The presets give you a wide variety of options across different genres and use-cases for some instant gratification. You can also get creative with a flexible randomization engine that lets you set specific random-ranges and lock modules / parameters to only randomize certain parts of the plugin. This can take your tracks in entirely new directions.
The motion sequencer
Switch from Macro Mode to Sequencer Mode to program and trigger DAW-sync'ed transitions with the click of a button. Each transition will start exactly at the next bar. This is ideal for live use. Or for writing perfectly timed automations into your mix session without entering the automation lanes. The Sequencer unlocks an additional use case for Transit: Engage Loop mode and your transitions will pulse back and forth indefinitely. This turns Transit into a creative 'LFO tool' for adding constant FX movements to your tracks.
Features
The ultimate plugin for creating complex, hand-rising, and jaw-dropping FX transitions with one knob movement

Perfect for building excitement between song parts and adding little moments of ear candy to your productions

Can be controlled with a single Macro Knob or a Motion Sequencer that triggers DAW-sync'ed automations at the click of a button

Engage "Sequencer Loop" mode to use Transit as an LFO tool for constant FX movements across entire tracks

A creative playground, suitable for both studio and live use

Includes 200+ high quality presets created by Andrew Huang and leading sound designers
Mac:
macOS 10.7 or higher (including Catalina and Big Sur)
Windows:
Required Registration:
BABY Audio products require you to register with the manufacturer at www.babyaud.io to activate your license.
This product requires an activation!
An internet connection is required to authorize / activate the product.