Tuned Brass Shell Percussion for Kontakt
Tuned Artillery is a unique tuned & untuned metallic percussion library based on dry and hall recordings of spent brass field artillery shell casings from the WWI and WWII eras, plus a few odd extra elements in the same vein – an Eastern Bloc infantry combat helmet and a couple of decommissioned modern hand grenades. Artillery shells and military helmets actually have a long history in modern classical music in the hands of pioneers like Harry Partch throughout the mid and late 20th century. They're not at all uncommon to find in avant-garde classical and experimental music today, used both as untuned anvil-like striking instruments and pitched over a tuned key range. In both cases, the high-quality precision cast and machined brass shell casings produce deeply resonant and harmonically rich qualities when struck on the sides, edges and base with mallets, hammers, sticks, brushes or bare hands.
Under the cover of night, Soundiron infiltrated their favorite recording hall to experiment with some army party favors: a collection of spent artillery shells and headwear. They used our state-of-the-art gear to capture multiple velocity layers in multiple articulations for each piece of Army equipment. Unsatisfied with just 3 mic positions (close, wide, and far), they went back and recorded each shell and helmet dry in a booth to really give you the ability to sculpt the sound you want.
For Tuned Artillery 2.0, Soundiron remastered the samples and added them into their efficient four-layer modular template, then created ambient pads and soundscapes from the raw source content. They also designed 20 custom FX presets to give you instant inspiration for your next film/video game score, soundtrack or music composition.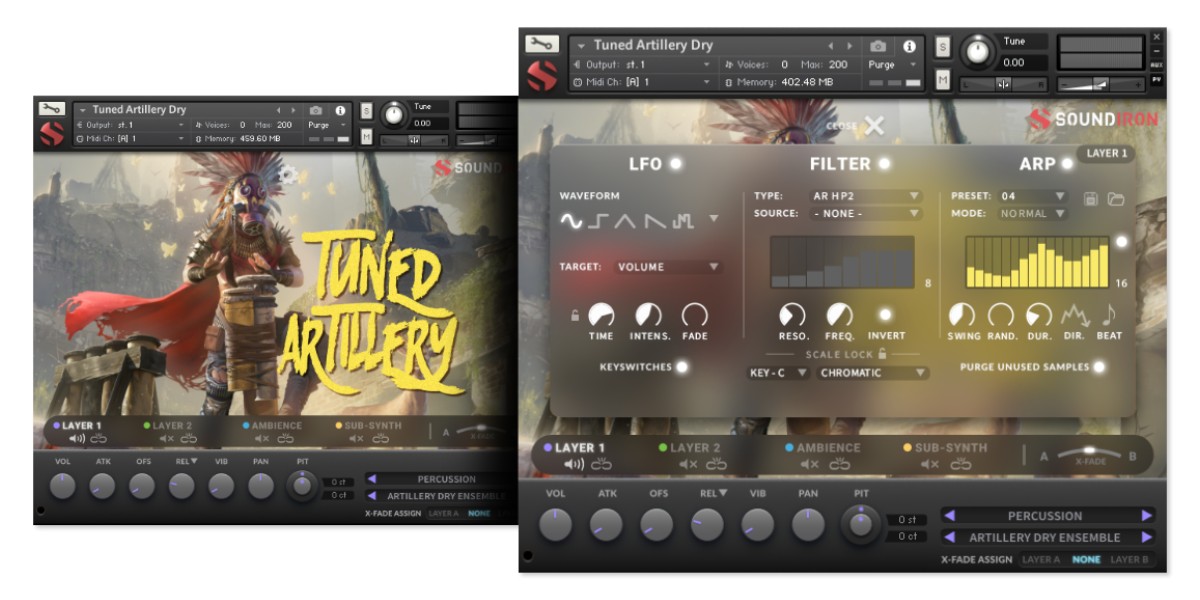 Contents
The Kontakt interface includes a suite of automation-ready sound-shaping controls to give you total creative flexibility. You have control over swell, attack, release, offset, vibrato, filter, pitch (coarse & fine), articulation switching, cross-fading and layering, and so much more. Soundiron have also included 20 unique sound-designed custom FX presets to give you lots of creative options.
This library comes with an adaptable LFO system, with selectable LFO shape, modulation target parameter, speed, intensity, tempo-syncing and fade-in time. You can also apply your choice of 12 lowpass, high-pass and FX filters, with assignable modulation targets such as velocity, modwheel, expression, after-touch, key position and step-sequencer table control. Their customizable arpeggiator offers a velocity table and control over arp direction, timing, swing, randomization and duration. They've included a key and scale lock system to constrain your notes to common scales and keys for easy melodic composition and live performance.
The interface is rounded-out by their modular FX rack panel, with 18 different DSP effect modules that you can assign in any of 10 available slots, in any order that you wish. You'll find classic phaser, flanger, delay, distortion, amp and cab simulators, compressors, EQ, rotator and so much more. The Reverb effect includes their favorite convolution reverb impulse responses, including 99 different rooms, halls, chambers and outdoor environments, plus another 40 custom FX impulses to radically transform the sound and open up whole new worlds of musical possibility. Thye've added a great bank of FX rack chain factory presets to get you started!
Product Specs
Three master NKI instrument banks in open Kontakt format
Helmet and Grenade pings, dings, brushes, scrapes, bounces, clunks, shakes, SFX in 4 mic positions
64 Ambience patches created from the source content
24 bit / 48 kHz uncompressed PCM wav samples
20 Custom Sound-Designed FX and Ambient presets
3,060 stereo samples
3.37 GB installed
Flexible and intuitive multi-layer user interface controls, with LFO, filter, glide, and arpeggiator
Full FX rack with convolution reverb with custom rooms, halls, chambers & FX environments
This library is designed for the full retail version of Native Instruments Kontakt 5.5 or later.

Please notice: This library can not be used with the free Kontakt Player! To use this "Open Kontakt" format, you need a full version of Kontakt, which is included in products such as Komplete or Komplete Ultimate.
The minimum required Kontakt version number for this product is stated in the product description or can be found on the developer's website.
System Requirements:
Mac:
macOS 10.14 or higher
64 bit
Intel Core i5 or Apple M1 (native)
RAM: 4GB (6GB recommended)
Windows:
Windows 10 or higher
64 bit
Intel Core i5 or similar CPU
RAM: 4GB (6GB recommended)
Supported Interfaces:
Mac (64-bit only): Stand-alone, VST, VST3, AU, AAX
Windows (64-bit): Stand-alone, VST, VST3, AAX
Legacy Versions:
If you require legacy installers of Kontakt Player please refer to this Knowledge Base Article.
Required Registration:
Soundiron products require you to register with the manufacturer at www.soundiron.com to activate your license. To use Kontakt Player Libraries you also need to register with www.native-instruments.com.
For your own protection this library is provided as individual personalized files including a Digital Water Mark - DWM!