Spectral Shifting
Reach for Venom when delay and reverb simply aren't cutting it. With the help of this sophisticated spectral processing plug-in, you can transform plain audio into a variety of sounds, from subtle granular movements to bizarre soundscapes. Venom can be used for other-worldly transformation by sound designers, artists, EDM producers, and anyone else.
Utilize the supplied presets to get a taste of the many options available before exploring further with the hot-swappable effects chain, granular sizes, and complex tone shaping. Every exploration with Venom will produce unexpected sounds, producing wide-ranging reverbs, harmonic intensity, frozen spectral tones, and completely distinctive ambiences.
Features
Spectral freeze and processing

Real-time frequency display

7 individual FX: Focus, Feaze, Decay, Damping, Mirror, Pitch & Slope

Hot-swappable FX chain

Creative Presets for special FX and spectral shaping

Click-free bypass control

Multicore support for glitch free performance

Input, Output level and Mix controls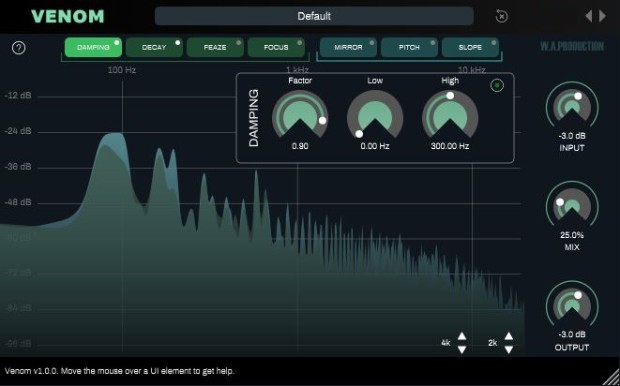 Two stage processing
Venom processes audio in two stages: Firstly a 'freeze' stage captures and accumulates a snapshot of the incoming sound, applying the audio effects to the continuously and creating feedback. This causes the output signal to change over time (like the reverb tail of an echo). The subsequent direct output stage applies a user-defined spectral operation to the signal.
Seven transformations
The 7 creative audio effects shape all sorts of spectral processing: Focus, Feaze, Decay & Damping for the creation of unusual, beautiful sounding ambiences. Mirror, Pitch & Slope to generate experimental spectral transformations. Any combination of these is possible for other unique soundscapes.
Hot-swappable FX
The user interface of Venom is completely modular: Drag an individual effect into the desired position in the processing chain to define the order of effects processing.
Live or Studio
Venom comes with multi-core support to prevent any glitches and audio dropouts. It also features user-controllable parameters for various aspects of spectral resolution that allow you to find the best settings for any environment; in the studio, on the road, or in a live setting.
Power
The Venom logo acts as a bypass control for the whole plugin, and is smoothed to be click and pop free for unhindered A/B testing. Use it to swap between your original audio and the Venom transformations.
Presets
A range of factory presets are designed to get you up and running quickly, with tailored settings for many types of special FX and spectral shaping. These are all easily accessible from the menu and of course, you can save your own settings as user presets too.
Mac:
macOS 10.15 or higher
64 bit
Windows:
Windows 8 or higher
64 bit
Required Registration:
W.A. Production products require you to register with the manufacturer at www.waproduction.com to activate your license.
This product requires an activation!
An internet connection is required to authorize / activate the product.