Add custom drums to your music production
Recording great sounding drum tracks has always been an art form. The final result is subject to many different variables that can be expensive and difficult to combine effectively, such as the skill of the drummer, the microphone choice and placement, the room acoustics, the choice of drum hardware, what preamps and compressor to use – the list is endless. What if there was an easier way to get studio quality drum performances in your tracks without all that fuss and expense?
What you get
4 Drummers
20 Drum Kits
4830 Patterns
685 Presets
24 Mix / Character Presets
MIDI Drag and Drop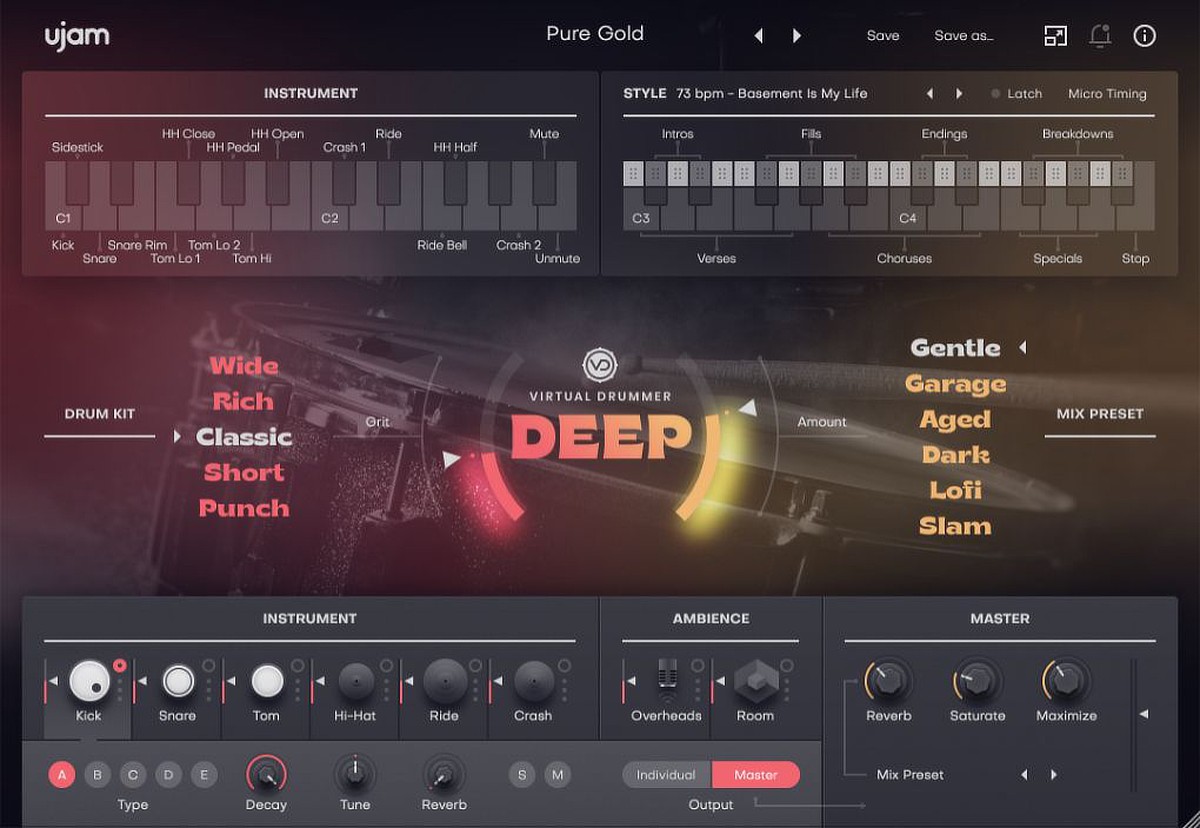 Professional drum performances – in a snap!
Introducing the Virtual Drummer series from ujam – a collection of virtual instrument plug-ins designed to take the hassle out of getting great sounding, kick-ass drum tracks for your productions. No drumsticks or tedious programming required!
All styles in one series
Each individual Virtual Drummer embodies a unique custom playing style sound and personality. DEEP is a contemporary drummer with a 60s & 70s vibe, SOLID is your all-around reliable session pro suitable for most popular styles, HEAVY delivers hard and straight rock beats while PHAT gives you urban and funky grooves.
Realism and subtle playing variety like a real drummer
All Virtual Drummers come with five extensively sampled drum kits, ready-made smart-mix presets, and a wide range of styles and performances that can be tweaked to perfectly match your desired feel and groove.
Always on time
ujam specializes in making 'frustration-free' software that solves problems for all music production skill levels with the Virtual Drummer series being no exception. Professionals will appreciate and benefit from the time saved in getting the high-quality results they demand whilst beginners now have easy access to their own personal studio drumming companion that always sounds great and is on time!
Version 2.1 Features
PreSonus Studio One users will now find style names and drum-elements printed on the keys of their piano roll. This makes finding the right styles and drums for your track a walk in the park.
Another cool feature to speed up your production: the scale range of styles and instruments are highlighted on the left side of your piano roll.
Mac:
macOS 10.11 or higher
RAM: 4GB
SSD hard drive recommended
1280x768 or higher display resolution
Windows:
Windows 7 or higher
RAM: 4GB
SSD hard drive recommended
1280x768 or higher display resolution
Required Registration:
UJAM Instruments products require you to register with the manufacturer at www.ujam.com to activate your license.
Product activation:
An internet connection is required to authorize / activate the product.