Carbon - The Toughest Element
For the first time, UJAM has created a Virtual Guitarist that isn't just a straight up emulation of a guitarist playing great riffs on a great guitar - it is a story-telling super weapon in soundtracks and commercials, an organic distorted rhythm element in any contemporary arrangement.
Carbon is the source of all life and one of the toughest materials known. This essential six-sided element has been the guiding star in creating an instrument unlike any other, so you can sound unlike any other.
Facts & Features
Organic, distorted, and processed rhythm guitar sounds for electronic music, soundtrack, rock, and other contemporary music genres

Instrument Mode lets you play a wide range of articulations on an amazing 8-string guitar, Player Mode comes with inspiring riffs and phrases

Unique Layerer soundstage combining up to four guitarists for ultimate fatness

Finisher multi-effect rack combining 20 cutting-edge effect algorithms into 100 presets, live-controlled or automated by one single knob
This Guitar is Different
As sound designers and musicians, UJAM lately was hearing thoroughly modern digital-yet-organic guitar rhythms with captivating qualities. At first, it was only in game soundtracks and film scores but more and more they heard it in electronic and pop music. It's the kind of raw pulsing sound that underlies the fiery music accompanying epic sword battles, or the cold dystopian soundscapes as the camera pans across inhospitable ice worlds. It's a wild and heavily distorted sound, yet that rawness is somehow precise, controlled and sometimes even synth-like at the same time.
This quality is extremely hard to create even with real hardware. Guitar, performance, amps, processors - all these elements have to interact perfectly to maintain integrity and quality throughout the signal chain. CARBON is all this by design. It produces brash sounds that define the whole character of a track, or small textural elements that add an exquisite sprinkle of organic life. It's both utterly familiar and excitingly alien at the same time.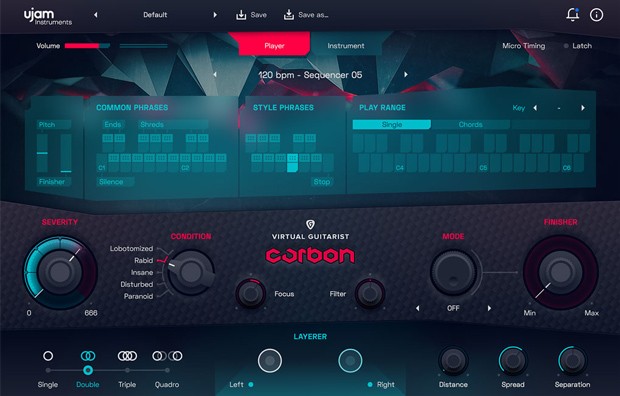 Under the Surface
UJAM started by recording a custom, modern 8-string guitar and meticulously modeling its behaviors. They integrated it into a whole new engine that controls and transforms the raw substance in subtle and extreme ways. UJAM envisioned and coded new processing techniques and novel signal paths to evolve these elemental sounds to their most extreme, futuristic forms. The Ultra Amp and Future Distortion algorithms leave no call for insane overdrive unanswered. Thanks to the innovative Layerer feature, a virtual soundstage with up to four guitarists, lets you control bigness and width from a tame mono riff to the earth-shaking quadro Wall Of Doom.
And last but not least, UJAM created the Finisher - a spider's web of over 20 complex effect algorithms that work together by the command of one single knob. No matter how much you push the edgy digital effects, the underlying sonic textures always remain organic and raw. The instrument always remains playable and musical. This lets CARBON play perfectly alongside synths, drum machines, orchestras and band musicians.
Required free disk space: 4.5GB
Mac:
macOS 10.11 or higher
64 bit
RAM: 4GB
SSD hard drive recommended
1280x768 or higher display resolution
Windows:
Windows 7 or higher
64 bit
RAM: 4GB
SSD hard drive recommended
1280x768 or higher display resolution
Product activation:
An internet connection is required to authorize / activate the product.