Digital recording is now the standard for professional music production. But many engineers and musicians long for the days of analog recording, and for good reason.Analog Tape Machines have a SOUND.Big, fat, warm, deep, rich, and exciting are just some of the terms used to describe what recording onto a piece of magnetic tape sounds like. Most of all, tape is more musical.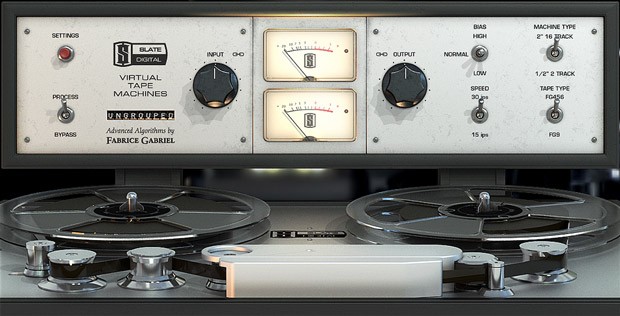 To capture the sound of tape in the digital domain, SLATE DIGITAL developed VTM. With models of both a 2 inch 16 track from NRG Recording, and a ½ inch 2 track machine from Howie Weinberg Mastering, the VTM will give your mixes an absolutely authentic analog vibe that will take your mixes to the next level. With added dimension, fatness, depth, and warmth, you'll wonder how you ever mixed without it!
Two tape machine types:
-2" 16 track
-1/2" mastering deck
Two tape formulations
Two speeds: 15 ips and 30 ips
Noise reduction control and auto mute
Wow & Flutter control
Bass alignment control
Normal, Low & High Bias settings
Level Calibration
VU ballistics
Grouping control
Settings global or per channel
Tape reels start and stop in sync with DAW transport

Mac:
macOS 10.15 or higher
64 bit
Intel or Apple Silicon Processor
RAM: 4GB
Windows:
Windows10 or 11
64 bit
Intel- or AMD-processor
RAM: 4GB
Required Registration:
Slate Digital products require you to register with the manufacturer at www.slatedigital.com and with www.ilok.com to activate your license.
This product requires an activation!
This instrument requires an iLok 2 Key for activation - iLok 1 not supported!
This USB protection device is not included in the box of this collection, it is a separate item you have to buy additionally. So you'll have to order at least one iLok Key with your first purchase. If you already own another iLok 2 protection device you can use it for this instrument, too. Each iLok 2 dongle can store up to 500 product licenses. Licenses can be manged easily using the iLok Licence Manager and for protection against theft or loss we recommend you the Zero Downtime Protection with TLC

Additionally an internet connection on any computer and a free user-accout at www.ilok.com is required to authorize the product.