What is "Extended Piano"?
"Extended" is a term usually used to describe unorthodox techniques used when playing a musical instrument in an unconventional way, to coax new timbres from a traditional instrument.
Since the early 20th century, the piano has been at the forefront of this trend, with composers such as John Cage preparing the piano with nuts and bolts, Henry Cowell composing pieces in which the performer reaches inside the piano and plucks or strums the strings, and Stephen Scott bowing the strings with an ensemble of performers to produce an orchestral sound.
The latter inspired us to create the ground-breaking Bowed Piano instrument in 2008, and now we have revisited the same piano to build on that concept and further explore extended piano techniques for an exciting new suite of instruments.
Specifications
6GB Sample library - 3.5 GB with NCW ( Kontakt Lossless Sample compression)
24 Bit 44.1 Khz Stereo Sampling - 2829 Samples
5 Individual Kontakt Instruments : Mute , Plucked, Bowed, Mallet and SFX Piano
Multiple Key-switched articulations, key-off samples, velocity layers alternate round robin samples for a natural response
40 Sound-Design Presets
Full custom control interface with Synth, Performance and Effects Panels
Soniccouture KSP performance modules : Glissando, Strummer, Jammer
Includes the best-selling Bowed Piano sample set
MUTE PIANO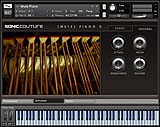 Mute piano is a technique in which you lightly touch the finger at a nodal point on the piano string and play the key to produce a harmonic. In our Mute Piano instrument, this harmonic is the 3rd harmonic, so it sounds a 12th above the fundamental (an octave plus a fifth). This is the harmonic most used by George Crumb, who often included Mute piano is his pieces. It is also one of the few easily produced harmonics which the performer can actually reach while still being able to play the keys.
Using our custom KSP scripting you can opt to have the keyboard play either the notes you would expect, or the harmonic produced.
Mute Piano is an unexpectedly emotive timbre ; it seems to age the piano sound and give it a mournful, cinematic edge. It can also be very powerful and percussive at the extremes of the note range.
4 Velocity layers, 3 Round Robins per note
Key-off ( dampers off ) samples with adjustable level control
KSP Jammer Module - generative arpeggiator
Full Synth Edit and Effects Panels
BOWED PIANO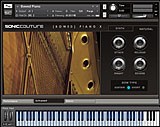 Our bowed piano includes three articulations, two made with very long bows which are sustained (and the samples are looped). We sampled a sustained bow at both a soft and very loud articulation. We also include a short bow made from a tongue depressor and horsehair, which produces a short staccato sound. This instrument is incredibly versatile, able to emulate strings both real and synthesised, as well as some of the most organic, shifting, detailed textures you will hear anywhere.
Soft and Hard sustained bow articulations ( crossfade with mod wheel ) - 2 round robins
Short bows - 3 round robins
KSP Glissando Module
Full Synth Edit and Effects Panels
PLUCKED PIANO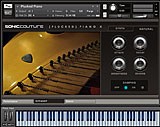 This is a technique in which the piano notes are plucked, either with the fingers or a plectrum of some sort. We used a guitar pick and recorded plucked notes with both the piano dampers down and up. The picked sound is very clean and pure, and sounds very close to a harpsichord. Used with a KSP Strummer script it can sound Harp - like or guitar-like, depending on strumming action.

The collection also includes a bonus 'Hybrid ' Instrument, the Plucksichord. This features the plucked guitar undamped samples with the Key-off samples from Mute Piano. This produces an interesting harpsichord-eqsue behavior which can be heard in the 'Scarlatti' audio demo.
Open and Damped Samples - 5 Round robins per note
Keyswitched damping with individual level control
KSP Strummer Module for realistic strummed performance - move mod wheel to strum the piano
'Plucksichord' Hybrid bonus instrument
Full Synth Edit and Effects Panels
MALLET PIANO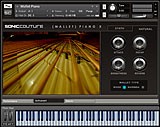 A piano of course has internal mallets itself (made of hard felt), but you can also hit the strings with foreign mallets to produce a different timbre. For this collection we recorded hitting the strings with a wooden mallet, and with a marimba mallet. The wooden mallet has a timbre reminiscent reminiscent of honky-tonk or "thumb tack" pianos, like those used in ragtime during the 1920's (or Nancarrow's player piano).
Wood and Marimba Mallet articulations - 3 round robin samples per note
Keyswitched with individual level control of each articulation
KSP Jammer Module - generative arpeggiator tool
Full Synth Edit and Effects Panels
SFX PIANO ( SCRAPES & STRUMS )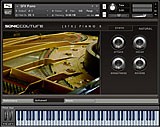 We also recorded a large collection of strums and scrapes, but these are not always pitched, or else include large clusters that are difficult to map as a traditional instrument. For this reason, we've named this collection of sound "SFX", and there are 127 different strums and scrapes included, one for every MIDI note. The SFX instrument is a ready-to-go soundscape, each key reverberating with the full frequency-range of a grand piano cabinet being abused. We include a KSP 'key-shuffle' function, to quickly re-sort the key-mapping for creative composition and performance.
127 Keys of Strummed and scraped Piano sounds

KSP Shuffle Function - randomly rearrange keyboard for creative performance

Full Synth Edit and Effects Panels

This product works with the free Native Instruments Kontakt Player, the latest version can be downloaded through Native Access, Native Instrument's download manager!
The minimum required Kontakt version for this product is stated in the product description or can be found on the manufacturers wesite.
System Requirements:
Mac:
macOS 10.14 or higher
64 bit
Intel Core i5 or Apple M1 (native)
RAM: 4GB (6GB recommended)
Windows:
Windows 10 or higher
64 bit
Intel Core i5 or similar CPU
RAM: 4GB (6GB recommended)
Supported Interfaces:
Mac (64-bit only): Stand-alone, VST, VST3, AU, AAX
Windows (64-bit): Stand-alone, VST, VST3, AAX
Legacy Versions:
If you require legacy installers of Kontakt Player please refer to this Knowledge Base Article.
Required Registration:
Soniccouture products require you to register with the manufacturer at www.soniccouture.com to activate your license.
Product activation:
An internet connection is required to authorize / activate the product.