Realistic stereo reverb with sophisticated controls
PhoenixVerb is the stereo reverb plug-in nature intended: pure and simple. Whether crafting spaces from scratch or using one of over 900 presets, it's never been easier to create natural, authentic depth for your music. Sophisticated yet intuitive attack, early reflection, and tail controls offer unprecedented start-to-finish command over the size and space of your audio's surroundings.
Design a reverb tone from the ground up, or use a room, plate, hall, or chamber preset to produce clean, realistic reflections instantly. With its near-limitless tweaking potential, comprehensive preset library, and elegant user interface, PhoenixVerb is the perfect combination of surgical utility and visual simplicity.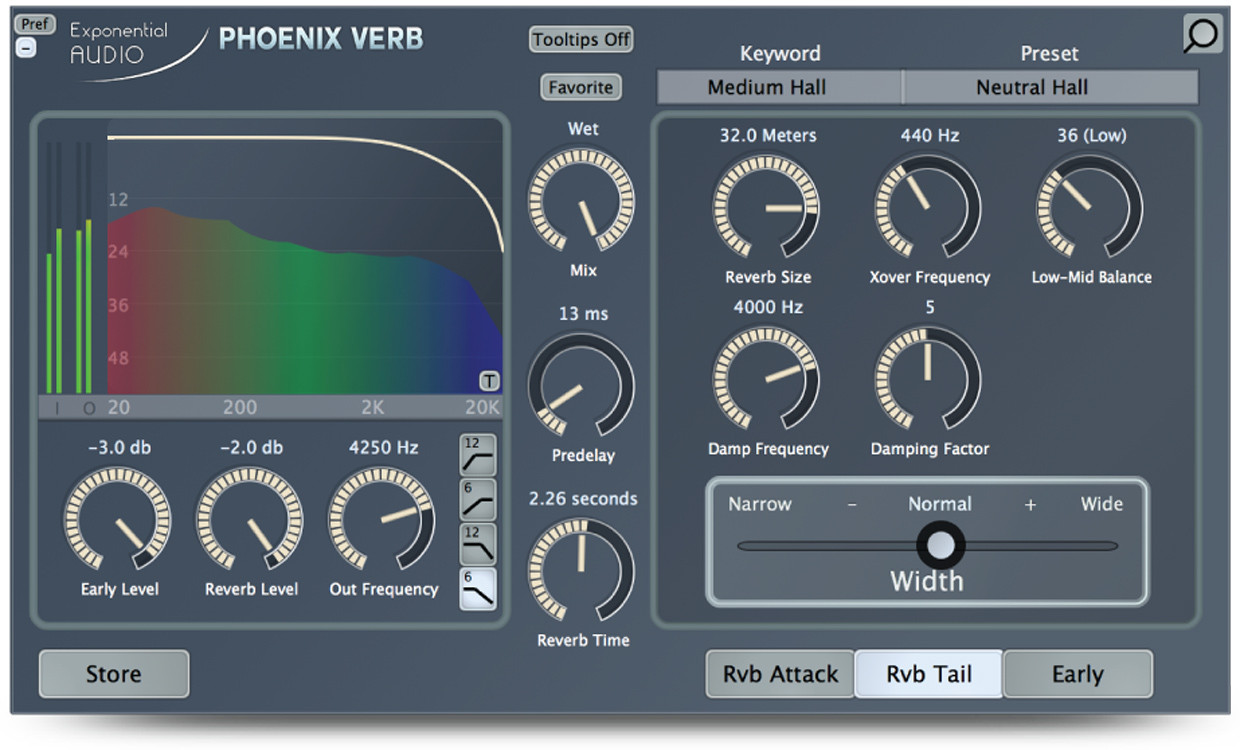 The perfect union of quality and control
Clear, natural reverb algorithm - PhoenixVerb's neutral spatial reflections fit any music production. Create a reflective hall for your piano, a large, resonant chamber for your vocals, a tasteful plate for your percussion.

Powerful and precise control - A sophisticated and powerful user interface perfectly complements the high-quality reverb algorithm itself. With just the right balance of control and intuitiveness, you'll have no trouble dialing in the exact tone your tracks demand.

Extensive sonic versatility - With over 900 spaces to choose from—including room, plate, hall, chamber, and more—you'll never find yourself at a loss for articulate spatial effects, no matter how tight the deadline for your project may be.
Key Features
Realistic stereo reverb algorithm

Dimension- and frequency-shaping controls for each stage of the reverb signal

Global high- and low-pass filters

Independent output controls for attack, early reflections, and tail

Clear, informative frequency display and responsive UI

Over 900 presets (rooms, plates, halls, chambers, and more)

EuControl support
Operating system
Mac: OS X 10.8 Mountain Lion - macOS 10.14 Mojave

PC: Win 7 - Win 10
Hardware requirements
CPU: Multicore processor, 2 GHz or greater

RAM: 2 GB or greater

Display: 1024 x 768 or greater
Plug-in Formats
AAX, AU, VST, VST3 (all formats 64-bit only)



This product requires an activation!
You can either "soft" activate on your computer without addditional hardware or transfer the license to an iLok USB dongle which has to be purchased separately. The iLok dongle can be used to run the protected software on different computers. Your licenses can be easily manged using the iLok Licence Manager. To protect your investment against theft or loss we recommend the iLok Zero Downtime protection with TLC.
An internet connection on any computer and a free user-accout at www.ilok.com is required to authorize the product.
Please check with the software manufacturer which iLok version is required at least if you want to use a hardware iLok!