EZdrummer 2 takes drum production to a whole new level. It was designed to erase any technical barrier between you and your creativity and introduces several groundbreaking features for quick and easy songwriting. In EZdrummer 2, you can go from initial rhythmic idea to finished, mixed and customized drum track without ever leaving the program. This is without a doubt the best sounding, most intuitive and creatively gratifying software environment for drum production on the market – a perfect marriage of sound, form and function.
FEATURE SPOTLIGHT
Tap to find your groove
Add percussion on the fly
Customize any groove in real-time
Write an entire drum track without leaving the program
Two sound libraries with five (5) kits in total
Powerful audio engine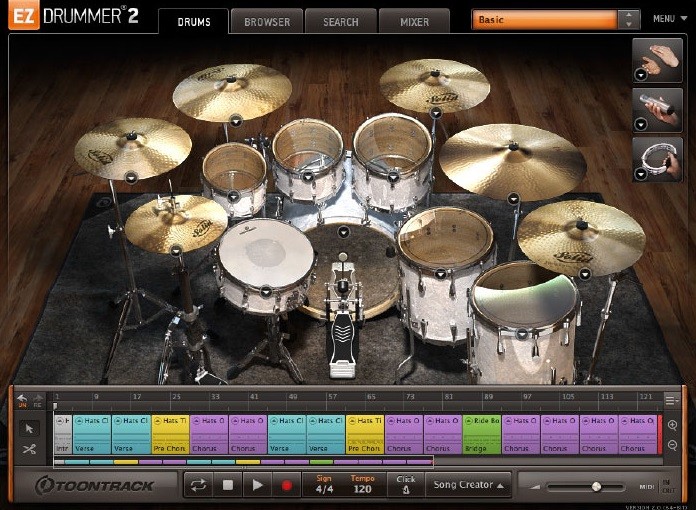 For your information: If you order a boxed/shipping version from Best Servvice, you will receive the necessary installation files on a DVD, while the original Toontrack box only has a download code inside!
Deep functionality shouldn't be intimidating, rather inviting and inspiring. That's why a massive amount of work went into making sure EZdrummer 2 got the most intuitive user interface yet for any software of its kind.
TWO SETUPS. FIVE KITS. PERCUSSION.
EZdrummer 2 comes loaded with a modern setup, a vintage setup and a percussion library featuring the most traditional pieces for classic songwriting.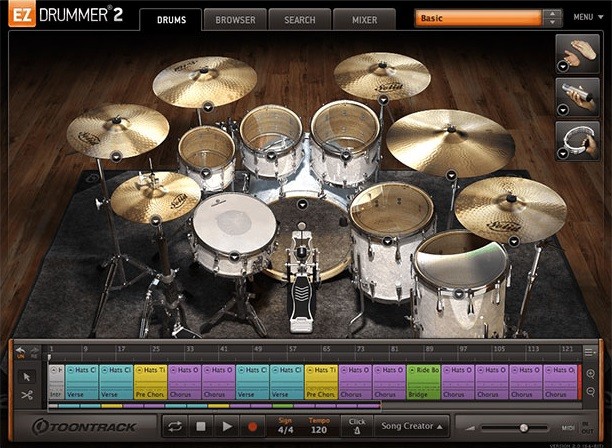 THE MODERN SETUP
The modern library includes drum selections from DW, Gretsch, Yamaha, Ludwig, Sonor, Tama and Brady, all recorded through Neve 88R and EMI TG12345 consoles as well as various chains of vintage and modern outboard.
Kits: DW Collector's Maple Yamaha 9000 Gretsch USA Custom
THE VINTAGE SETUP
The vintage library is based around two classic Ludwig kits and recorded through an extremely rare REDD.51 console. In fact, the example in British Grove Studios' possession is the only known available in the world.
Kits: Ludwig 1960s // Ludwig Vistalite
THE PERCUSSION.
The percussion library is grouped in three categories: one shots, shakers and tambourine with selections of cowbell, snaps, claps, maracas and tambourine.
With the intuitive controls in EZdrummer 2, a perfect percussion beat is literally just a mouse-click away. If you activate a percussion pad, it will instantaneously add a fitting pattern to the groove you are currently working on.
To ensure unparalleled realism and dynamics, each instrument was multi-sampled and processed in different tempos, preserving the subtle nuances of the pre-hits essential in making especially shakers and tambourines come to life.
THE PRESETS.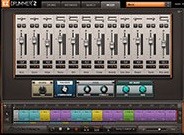 EZdrummer 2 has a completely new mixer and collection of effect chain presets, both for the modern and the vintage setup. The effect engine is based around the numerous quality effects in Toontrack's widely acclaimed EZmix 2. Each setting includes a back-end of various effect chains including the likes of compressors, reverbs, delays and EQs. With settings covering anything from classic rock to disco and modern metal, you can instantly call up a starting point for your song and, if you so choose, continue to customize it into something completely new with each setting's unique set of parameters.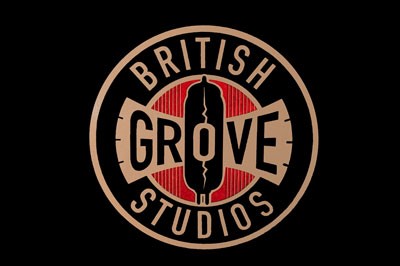 THE STUDIO SOUND.
The drums for EZdrummer 2 were recorded at one of the most meticulously built recording facilities in the world; Mark Knopfler's British Grove Studios in London, England. Combining some of the most sought-after and rare vintage consoles, outboard effects and microphones with the best of the best in state of the art recording technology, the studio serves as a perfect combination of how old and new can come together in perfect harmony.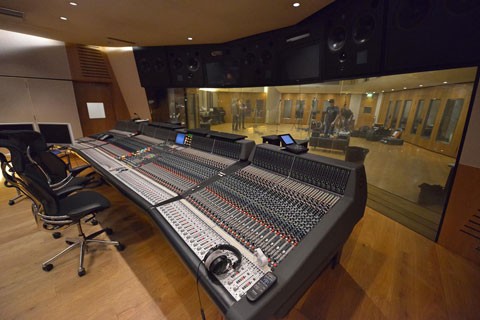 THE ROOM.
The main recording room at the British Grove Studios is large, ambient and perfectly crafted for drum production. The high ceiling, the dense walls and carefully designed diffusers produce a natural and sonically balanced reverb that allow the drums to be loud and present in your mix without ever taking over.
THE ENGINEER.
T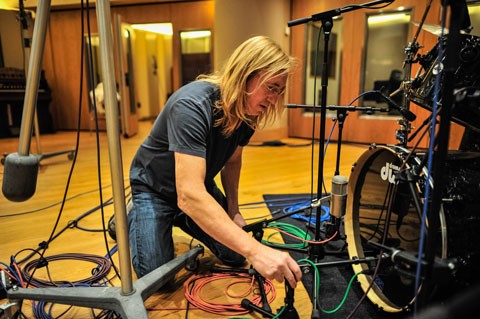 he sounds were recorded by a true industry great; the multi award-winning Chuck Ainlay. Having engineered in excess of 200 albums, worked with some of the world's biggest recording artists of all time and been involved in numerous gold or multi-platinum releases, his track record speaks for itself. Some of the most notable collaborations in Chuck's impressive career include Willie Nelson, Dixie Chicks, Dire Straits and Travis Tritt. To name a few.
THE DRUMMERS.
Great sound will get you far, but you can't base a drum track on sound alone. You need the drummer – the groove, the feel and the human touch. Ensuring that all these pivotal traits were ready at a mouse-click away, all the grooves in the EZdrummer 2 MIDI library were performed on e-drum kits by session drummers before conveniently organized in song structure parts. The material covers a wide range of styles, tempos and feels. With the revolutionary functionality in EZdrummer 2, your songs will never go without a perfect, personalized groove again.

Mac:
macOS 10.9 or higher
64 bit
RAM: 4GB
Windows:
Windows 7 or higher
RAM: 4GB
Product activation:
An internet connection is required to authorize / activate the product.