Carefully sampled Solina String Ensemble Synthesizer
The String Machine sound library is based around a meticulously sampled mid-seventies Solina String Ensemble synthesizer, but also comes with a collection of sounds sampled from several other machines of the same era. Combined with the rich selection of presets and instrument blends, EZkeys String Machine paints a sonic landscape of never-before-heard hybrids of sounds sure to become a staple in your arsenal of creative tools.
EZkeys String Machine contains the same software, functionality and extensive MIDI library as all available EZkeys instruments.
EZkeys – Sound Library Overview
A carefully sampled mid-seventies Solina String Ensemble synthesizer
A collection of sounds sampled from several other machines of the same era
A comprehensive collection of mix-ready presets, offering creative instrument blends of never-before-heard hybrids of sounds
Uncompromising dynamic response for great playability
EZkeys – MIDI Overview
Extensive MIDI library played by a professional session pianist
All major styles covered (Pop/Rock, Soul/RnB, Country, Gospel, Jazz, Blues, Boogie, Funk)
All songs performed in full 8 bar or longer blocks
All songs performed with increasing intensity as intro, verse, pre-chorus, chorus and bridge variations
Single, rhythmical and broken chords in different variations as well as FX and endings
Straight/swing variations in 4/4 and 6/8
Intuitive browser that lets you add you own favorites and arrange them in folders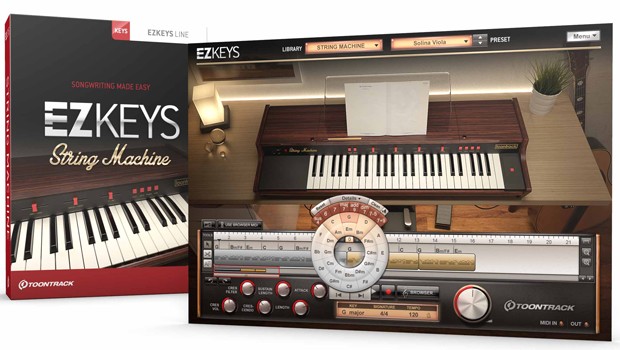 EZKEYS FEATURE SPOTLIGHT
Each EZkeys contains the same software including all functionality as well as the extensive standard MIDI library
Each EZkeys comes with an individual sound library
Customers that already own one EZkeys can go straight for a generously priced EZkeys Sound Expansion
EZkeys – Feature Overview
32- and 64-bit AAX, VST, AU and RTAS instrument as well as a low latency stand-alone application
Drag and drop the included MIDI straight to the built-in song track
Drag and drop support for your own or third party MIDI straight into EZkeys
Drag and drop MIDI from the song track or directly from the song browser to your DAW or to your desktop
EZkeys will analyze and chord-separate any MIDI on the fly
Record or overdub MIDI directly in EZkeys
Use your own, the included or any third party MIDI/chord progressions and transform with playing styles found in other MIDI files
Quickly add basic chords to the timeline or drag and drop any chord from the Chord Wheel
Real-time chord display that enables you to instantly see what chords you are playing
Chord selector, based upon the circle of fifths, allowing you to change chords instantly
Presets for the most commonly used chord types
Customize the coloration of any chord by opening up the detailed view
Alter the voicing of a chord on the fly by clicking the - or + buttons in the Chord Wheel
"Humanize" any pre-quantized MIDI upon import in EZkeys
Transpose individual song blocks or full songs
Export songs or files as wave files straight from the EZkeys interface
Comes with an easy to understand music theory document including MIDI examples
Possibility to tune the piano by octave, semitone or cents
Dynamics controls that let you adjust the velocity response to match your keyboard or playing style
Three pedals: sustain, sostenuto and damping
MIDI-learn and automation
Ready-made presets utilizing high-quality effects from Overloud. The presets range from raw and unprocessed to heavily distorted and tweaked
Mac:
macOS 10.9 or higher
64 bit
Intel- or Apple Silicon processor
RAM: 2GB
Windows:
Windows 7 or higher
Intel or Athlon processor
RAM: 2GB
Product activation:
An internet connection is required to authorize / activate the product.