All of Waves' Hybrid Plugins in One Bundle
Waves' Hybrid plugins model the original behavior of diverse analog gear and boost it with the precision and limitless creative possibilities of digital control. The H-Series combines all of Waves' Hybrid plugins in one package: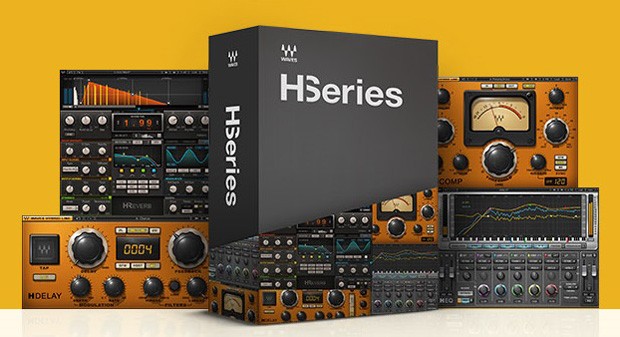 Detaillierte Beschreibung in englischer Sprache:
H-Reverb: Beautiful-sounding FIR reverb with smooth reverb tails; resonant filter sweeps; EQ and dynamics module for compression, ducking and de-essing; ADA analog modeling and drive control; full buildup timing and shaping; pre-delay BPM sync

H-Delay: Versatile delay, from old-school filtering, flanging and phasing to ping-pong delay and tempo-sync with modulation; up to 3500 ms delay time; analog character and LoFi modes; infinite feedback support; LFO-controlled pitch modulation

H-EQ: EQ filters based on the finest US and UK mixing consoles, with seven filter types per band; asymmetrical bell filter; MS matrix mode; real-time frequency spectrum analyzer; keyboard graphic control

H-Comp: Compressor with analog-modeled release behavior; wet/dry mix control for easy parallel compression; transient pass-through punch control; BPM-synced release; analog character modes; output limiter/clipper modes.
Overview
All of Waves' Hybrid plugins in one package

Authentic analog character combined with rich digital possibilities

Supreme sound quality and elegant user interfaces

H-Reverb: Pioneering FIR reverb with rich, natural-sounding tails

H-Delay: Super-versatile delay, from old-school to cutting-edge

H-EQ: Vintage and modern EQs inspired by top mixing consoles

H-Comp: Combines the behavior of analog transformers, tubes and transistors with the precision of a plugin compressor
Mac:
macOS 10.14.6, 10.15.7, 11.5.2
64 bit
Intel Core i5 / M1 supported
RAM: 8GB
1024x768 or higher display resolution
Windows:
Windows 10 / 11
64 bit
Intel Core i5 or AMD Quad Core
RAM: 8GB
1024x768 or higher display resolution
Please check for details and latest information HERE!
Demo-version
7 days demo licenses are available HERE (registration and activation required!)
Bundle- / Product-Content
All Plug-Ins, Collections and Bundles include the identical content/version as described on www.waves.com. As the content/version might be extended by the supplier from time to time, our descriptions might not be up to date in rare cases.
Product activation:
An internet connection is required to authorize / activate the product.