3 deeply sampled drum kits with authentic musical dynamics
MAD – RocknFunk is the first full installment of the MAD Drum Kit Series. It features an integrated hi-end environment for producing Uber realistic drum grooves with maximum nuance and impact! The idea behind RocknFunk was to sample several iconic kits in such a way to retain a very focused and direct tonal quality at all dynamic levels. With an extended articulation options, a versatile mixer, dedicated groove engine, and immediate playability, you can quickly program convincing drum beats with lots of musical and sonic detail.
RocknFunk packs a lot under the hood with customized elaborate scripts and features that enhance both realistic playback and ease of use. Some features, such as the extensive microphone bleed and Snare Grace notes Legatos, have never before seen in a drum library!
---
The Highlights
Deeply Sampled to the Extreme - 3 Complete Drum kits with a total of 20GB and 24,000+ samples. Up to 20 velocity layers, numerous articulation per drum element, unique release samples, legato transitions, and 4X Round Robin samples throughout!

Realistic Extended Dynamic Range - MAD features Drum kits with an authentic extended dynamic range. The top velocities are at the point of stick-breaking power! By utilizing a strict playing style, we achieved a powerful dynamic range without losing touch with the musicality of the instrument.

Unique Recording Concept - Each kit was captured in a different space using a unique blend of microphones and by recording numerous articulations. We focused on developing unique scripting features to simplify the drum programming process and keep you focused on the creative process.

Highly Playable - The kits are effortless to play. We've implemented extended articulations featuring special playing techniques, Left/Right hand samples, multiple playing zones, and combination strokes. Other playability features include: automatic note overlap prevention, an extensive Hi Hat engine, and a variable velocity setup.

Flexible Mixing Architecture - Rocknfunk includes an ergonomic mixing environment of up to 14 individual microphone perspectives including EQ, Sends/Returns, and custom bussing.

Extensive Hi-Hat Engine - The Hi-Hat engine features various articulations and 6 degrees of Close-To-Open modulation. The auto foot pedal and Legato transitions help you to easily switch between playing zones and apply real-time modulation. The variable attack and velocity curves add the final touch for an unsurpassed Hi Hat action.

Comprehensive Microphone Bleed Control - Each kit sports around 50dB of dynamic range, which offers a great deal of musicality. MAD's signal flow design gives you full control over audio leakage (microphone bleed) from almost every microphone perspective. This unprecedented control brings a new level of realism and nuance to drums sound.

Legato Snare Grace Notes, Cymbal Chokes, and Note Overlap Prevention - MAD features an ergonomic key mapping and articulation layout. Snare grace notes are triggered automatically by playing legato eliminating unnecessary bloat to the mapping. Same goes to cymbal chokes where you can choke any individual cymbal from one key. Since we've included dedicated Left and Right hand samples, the engine disallows impossible note overlaps keeping your performance clean and real!

Dedicated Groove Engine - Explore plenty of Rock and Funk beats complete with alternate grooves and fills ranging from subtle to extreme. All grooves are un-quantized and can be dragged to your host as standard MIDI files.
---
The Instruments
Each of the three included kits is unique and offers a great deal of timbre contrast. We recorded each kit in a different space to further extend versatility of sound. Each recording space has inspired us with different recording techniques, microphone selection, and playing styles.
We then developed custom scripts and a user interface that is deep, yet straightforward and easy to use. The outcome is collection of drum kits that offers a detailed and organic sound that will enhance any music style.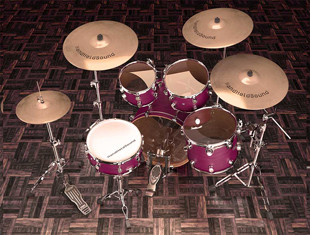 MAD_Red - Custom Funk Kit
This kit includes smaller than usual Toms and Kick drum giving the kit a very punchy and resonant sound. It works best with Funk and Indie Rock music styles.
16X24 Kick Drum
Golden Crown Snare
Zildjian Hi-Hat
7X10 and 8X12 Rack Toms
12X14 Floor Tom
2X Zildjian Crashes, Paiste Ride Cymbal.
---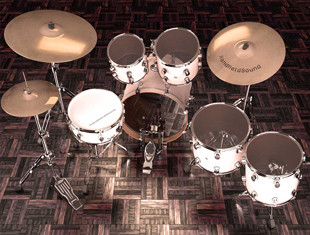 MAD_White - 6 piece beast
Dark and heavier tone. Recorded in an isolation booth for a tight and vibey sound.
22X24 Kick Drum
5.5X14 Snare
Paiste Hats
Rack Toms 10X10, 14X12
Floor Toms 16X14, 22×16
Zildjian Crash
Zildjian Ride
---
MAD_Blue - Exotic maple 5-piece.
Featuring an open and detailed sound with lots of separation. Recorded in a Scoring Room and includes various sets of room mic configurations.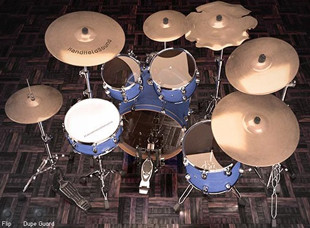 8″ x 10″ Rack Tom
10×12 Rack Tom
12×14 Floor Tom
20×22 Kick Drum
5×14 matching Snare
10″ Avedis Zildjian Extra Thin Splash
14″ Avedis Zildjian New Beat HiHats
16″ Avedis Zildjian Medium Thin Crash
18″ Avedis Zildjian Medium Thin Crash
21″ Avedis Zildjian Sweet Ride
Unknown Jankie Cymbal
---
With the MAD concept you get authentic musical dynamics that reflect the essence of the instrument. Together with the extensive microphone bleed control, totally noiseless samples, and custom scripted features, your drum tracks will have lots of detail!
Using this library requires a full version of Native Instruments' "Kontakt"!
Please notice: This library can not be played with the free "Kontakt Player"! To use this "Open Kontakt" format, you need a full version of "Kontakt", which is included in products such as Komplete or Komplete Ultimate.
Please check the product description for the required Kontakt version.
The following list shows, whether the respective Kontakt version is compatible with your operating system:
Mac
Kontakt 4:
OS X 10.6 & 10.7 = until 4.2.4
OS X 10.8 and higher = no longer supported
Kontakt 5:
OS X 10.6 = until 5.0.3
OS X 10.7 = until 5.3.1
OS X 10.8 = 5.0.3 - 5.5.1
OS X 10.9 = 5.3.0 - 5.6.6
OS X 10.10 = 5.3.0 - 5.7.3
OS X 10.11 = 5.5.1 - latest
Mac OS 10.12 = 5.6.1 - latest
Mac OS 10.13 = latest
Mac OS 10.14 = latest
Mac OS 10.15 = latest
Kontakt 6:
Mac OS 10.12 - 10.15 (latest update)
Windows
Kontakt 4:
XP = until 4.2.4
Vista = until 4.2.4
Windows 7 = until 4.2.4
Windows 8 & 10 = no longer supported
Kontakt 5:
XP = until 5.2.0
Vista = until 5.2.0
Windows 7 = latest
Windows 8 & 10 = latest
Kontakt 6:
Windows 7, Windows 8, or Windows 10 (latest Service Pack)
FOR ALL SYSTEMS:
1GB free disk space

Additional hard drive space according to the library's size
SUPPORTED INTERFACES
Stand-Alone | VST | Audio Units | ASIO | CoreAudio | WASAPI | AAX Native (Pro Tools 10 or higher)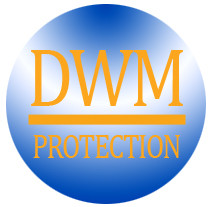 For your own protection this library is provided as individual personalized files including a
Digital Water Mark - DWM!