23.01.2020
FMC Film Scoring Contest 2020
Registration for the new FMC 2020 is now officially open. Choose one of the categories and enter your music!
Awards worth more than €20,000 await you this year, more categories have been opened to you and an even larger and more prestigious jury is ready to hear you.
The Deadline to enter FMC 2020 and upload your original music is March 1st 2020!!
Check Out the Trailer from the opening in London: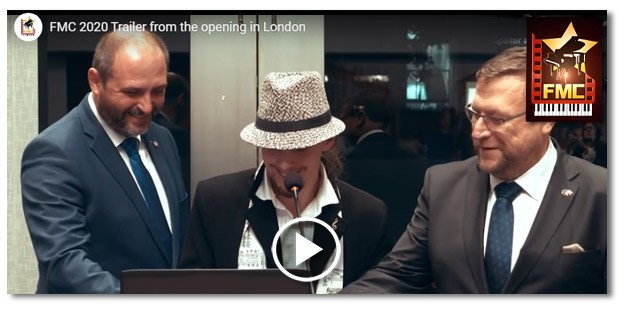 What is the FMC?
FMC is a unique international competition for creators of original film and TV music, for composers, bands, musicians, producers, soloists in instrumental, theater, electronic and gospel/Christian music, with no age limits and irrespective of nationality or country of origin. In the 'Voice' category, we do not require authored compositions, we are only looking for a "golden voice".
Why register for the FMC?
This could be best answered by last year's winners and some of the participants from 38 countries.

The contest's organiser has allocated prizes for the winners with a total value of EUR 20,000.

Winners in individual categories will win the grand prize.

The event includes worldwide online promotion of the winner in all communication channels used in the contest.

The winners will receive handmade FMC trophies.

The event includes media attention from electronic and print media outlets.

We have experience, we appreciate musicians and we create the space to publicly present them.

Participation in our contest will benefit your career portfolio.
Our main objective
Our main objective is to give people the opportunity to include their creations and talent in an online, international competitive environment from the convenience of their computers, homes or studios, and to have their abilities assessed by a prestigious international panel of judges.
Best Service is proud to be an official sponsor of FMC 2020!
Browser not supported
Please use a browser which supports .mp3 files.