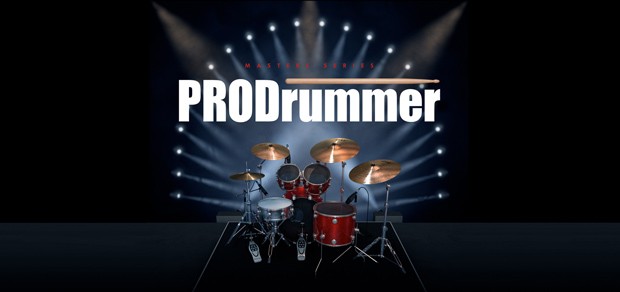 40 Gigabytes of Drum Kits and MIDI Drum Grooves
EastWest's ProDrummer™ not only includes professional drum sounds; the producers, who record and mix the biggest artists in the music business, have included pre-mixed drum kits for use in your compositions using the 'state of the art' tools included in the ProDrummer software.
Also included in each volume are over 14,000 MIDI drum grooves in different styles. Search for the right grooves for your song with the groove 'search engine' and assemble your song right inside ProDrummer with the built-in sequencer (or drag to your DAW). Use our built-in Velocity Processor to control the dynamic power of the drums. Export the song to your favorite DAW to build the rest of your track, it couldn't be easier!

"At EastWest, we're all about the 'sound'; that's the only part that ends up in your track, so, in addition to the producer pre-mixed drum kits, we have included our favorite effects processors including Solid State Logic EQ and Dynamics, Transient Shaper, and the legendary SSL Stereo Bus Compressor; Ohmicide multiband distortion, compression, EQ and filter, which pretty much lets you create 'anything', and is perfect for EDM or media composers; plus EastWest's new Amp Simulator with 80 Amp Presets, and Expanded Convolution Reverb with 726 Additional Reverb Presets. Together these powerful tools enable user customization of the core sounds limited only by your imagination!"
PRODRUMMER VOLUME 1
ProDrummer Volume 1 includes approx. 40 Gigabytes of Drum Kits and MIDI drum grooves produced by Joe Chiccarelli and multi-award winning EastWest producer Doug Rogers, with drums played by Matt Chamberlain (Pearl Jam, Bruce Springsteen, Peter Gabriel, etc.).
ProDrummer Volume 1 includes Craviotto, Ludwig, Tama, Slingerland, Gretsch, Istanbul and Zildjian, drums, hi-hats and cymbals recorded in 3 different rooms. The sound shaping options in the ProDrummer Mixer are unparalleled with the usual high quality you expect from EASTWEST. All drums have their own channels with individual processing and routing.
PRODUCER MARK "SPIKE" STENT
Mark "Spike" Stent is an English producer/mixing engineer who has worked with many international artists including: Coldplay, Lady Gaga, Beyoncé, Muse, Usher, U2, Madonna, Linkin Park, Björk, Depeche Mode, Maroon 5, Gwen Stefani, Moby, No Doubt, Oasis, Keane, Massive Attack, and Bastille to name a few. Stent mixed 2 international #1 albums in 2014 (Coldplay and Ed Sheeran), and has won three Grammys, including: Best Rock Album in 2010 for Muse 'The Resistance', Best Contemporary R&B Album in 2009 for Beyoncé 'I Am... Sasha Fierce', and Best Dance Electronica Album in 2006 with Madonna 'Confessions on a Dance Floor'. At the 53rd Annual Grammy Awards Stent was nominated across four different genres: 'Album of the Year' with Lady Gaga for Fame Monster, 'Best Rock Album' with Muse for 'The Resistance' (Winner), 'Best Dance Electronica Album' with Goldfrapp for 'Head First', and 'Best Contemporary R&B Album' with Usher 'Raymond V Raymond'.
PRODUCER DOUG ROGERS
Producer Doug Rogers most recent virtual instruments productions include ProDrummer 1 with Joe Chiccarelli and ProDrummer 2 with Mark "Spike" Stent.
Previously he produced Steven Wilson's Ghostwriter with Steven Wilson; Hollywood Strings, Hollywood Brass, Hollywood Orchestral Woodwinds, and Hollywood Orchestral Percussion with Nick Phoenix and Thomas Bergersen; The Dark Side with David Fridmann; and Fab Four with Ken Scott.
Fab Four and The Dark Side both won M.I.P.A Awards, judged by over 100 international music magazines. Rogers and EASTWEST are the recipients of over 70 international awards.
This library includes "Opus" as a Sample-Player.
Mac:
macOS 10.13 or higher
64 bit
Quad-Core CPU (Octa-Core recommended)
2,7 GHz or higher
RAM: 16GB (32GB or more recommended)
SSD hard drive (SATA or PCIe)
Windows:
Windows 10 or higher
64 bit
ASIO sound driver
Quad-Core CPU (Octa-Core recommended)
2,7 GHz or higher
RAM: 16GB (32GB or more recommended)
SSD hard drive (SATA or PCIe)



This product requires an activation!
You can either "soft" activate on your computer without addditional hardware or transfer the license to an iLok USB dongle which has to be purchased separately. The iLok dongle can be used to run the protected software on different computers. Your licenses can be easily manged using the iLok Licence Manager. To protect your investment against theft or loss we recommend the iLok Zero Downtime protection with TLC.
An internet connection on any computer and a free user-accout at www.ilok.com is required to authorize the product.
Please check with the software manufacturer which iLok version is required at least if you want to use a hardware iLok!