Symphonic Choirs Platinum Edition

Imagine typing words into your computer, in any language, and hearing a world class Symphonic Choir sing those words in any key(s) you play "live" on your keyboard controller! Well imagine no more, that´s exactly what this revolutionary "award-winning" virtual instrument does. In addition, this is the first 24-bit Choir virtual instrument to include three simultaneous stereo mic setups (close, stage and hall), so users can mix any combination of mic positions to control ambience. The Choirs were recorded in the same concert hall, by the same team as the EastWest/Quantum Leap Symphonic Orchestra and blend perfectly with EWQLSO.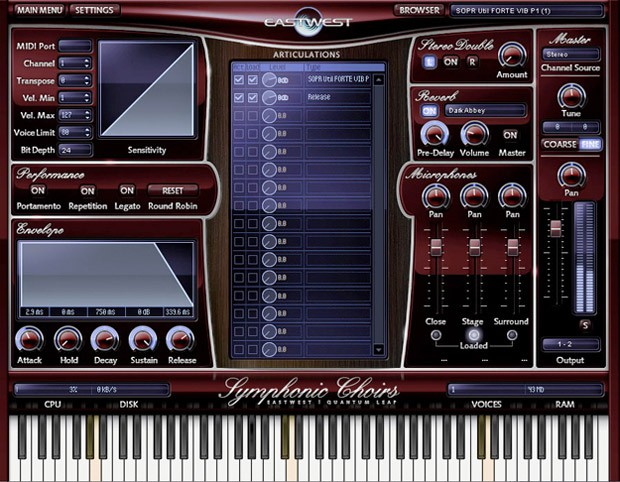 WordBuilder is the word building software that enables Symphonic Choirs users to type in words for the Choirs to sing. This software - included in PLAY - runs on both MAC and PC, and includes a pop-down menu that includes 28 popular Latin phrases that you can load instantly. Many choirs sing in Latin so this is a real time saver for those on a tight deadline. The phrases have been optimized for each Choir. The pop-down menu is completely customizable so users can add their own phrases to the menu for quick and easy access.
Quick Facts
Produced by multiple award-winning producers DOUG ROGERS and NICK PHOENIX
Recorded in 24-bit by Grammy-Winning classical recording engineer PROF. KEITH O. JOHNSON
Choirs recorded with 3 simultaneous stereo mic setups (close, stage and hall), so you can mix any combination of mics to control tone and ambience
5 Choirs - Boys, Alto (Female), Soprano (Female), Basses (Male), Tenors (Male) plus Solo Singers
PLAY 32 bit/64 bit interface features state of the art convolution
New built in WordBuilder tool that enables users to type in words for the Choirs to sing (not applicable to solo vocalists)
Slurred legato on all vowels
All Singers recorded in position and chromatically sampled with multiple dynamics (non-vibrato, light vibrato and heavy vibrato)
ADVANCED WORDBUILDER UTILITY INCLUDED IN PLAY!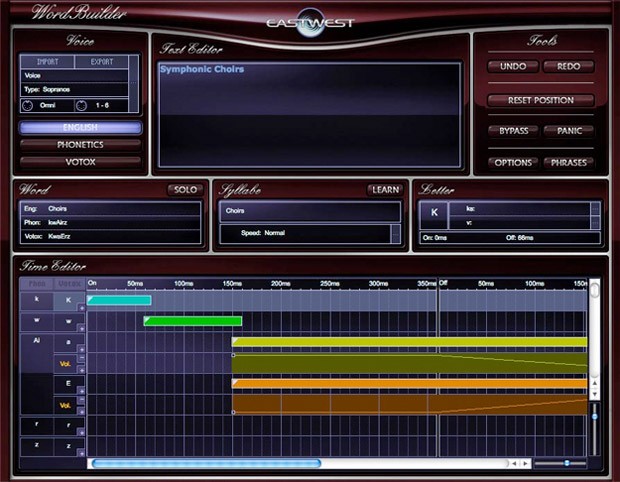 PLAY is a 64-bit** (with 32-bit compatibility) Advanced Sample Engine with built-in Network Control* (plug-in or standalone). PLAY is Included with all new EASTWEST/QUANTUM LEAP Virtual (software) Instruments.
Features
User interface custom designed for each virtual instrument, including only the controls needed.
64-bit support** allows you to load many more instruments and voices, limited only by your system RAM.
Easy to use browser displays all of your instruments. Interface automatically changes to display current instrument.
Articulation list shows all expressions within the instrument. No need to look up key-switches.
Real time performance analysis detects legato and repetitive playing and responds accordingly.
Stereo handling allows swapping left and right channels, mono from left, mono from right, or mono sum.
Load, unload, mix, pan, mute mic positions with built-in mic mixer (Pianos, Symphonic Orchestra, Symphonic Choirs).
The best sounding and most powerful effects engine available, including impulse response reverb, filters, and specialized effects such as Artificial Double Tracking (ADT).
Highest quality resampling engine.
Custom engine allows us to design instruments without compromise.
Easy authorization system puts licenses on hardware iLok, allowing you to take your software on any computer.
Natively supported in all major hosts on all major operating systems - PLAY no matter what your platform.
More native support than any other plug-in.
Load as many instruments as your computer can handle in one application.

GAME AUDIO NETWORK GUILD
"SAMPLE LIBRARY OF THE YEAR AWARD"

Keyboard Magazine KEY BUY Award

Computer Music, Performance

ELECTRONIC MUSICIAN "EDITOR´S CHOICE" AWARD
---
Bryan Tyler
Dragonball, Eagle Eye, Fast and the Furious
"The entire line of EastWest instruments are an essential part of my composing rig. The sounds are impeccable and naturalistically captured while the ease of use and the power of the PLAY engine makes the instruments top of their field."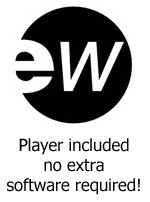 This library includes "PLAY" as a Sample-Player
Minimum Requirements for Mac
OSX 10.7
Intel Core 2 Duo Processor 2.1GHz or newer
2GB Ram
Harddisk 7200 RPM or faster
Recommended Mac System
Latest OSX
Mac Pro Quad Core Intel Xeon 2.66GHz or newer
8GB Ram
Harddisk 7200 RPM or faster
Minimum Requirements for PC
minimum Windows 7
Sound Card with ASIO Driver
Intel Core 2 Duo, or AMD Dual Core 2.1GHz or newer
4GB RAM
Harddisk 7200 RPM or faster
Recommended PC System
64-bit Windows/Host Sequencer
Intel Core 2 Quad, or AMD Quad-Core 2.66GHz or newer
8GB RAM
Harddisk 7200 RPM or faster
All Systems
Free iLok account required at www.ilok.com, internet connection required for product activation (a free soundsonline.com account is required for retrieving and managing iLok licenses)
Hard disk space for libray content
DVD Drive
Please check the latest recommendations on the manufacturer´s site for details

INCLUDED FOR BOTH PC & MAC:

- 32-bit standalone and plug-in versions included (up to PLAY 4 only!).
- 64-bit PC VST (host must support 64-bit VST plugins) and standalone versions included.
- Check the following compatibility chart for availability of other 64-bit versions and updates.






SUPPORTED INTERFACES

- WIN: VST™, ASIO™, DirectSound™,RTAS, AAX
- MAC: VST™, Audio Units™, Core Audio™,RTAS, AAX



All included instruments, information and specifications are subject to change without notice.



This product requires an activation!
You can either "soft" activate on your computer without addditional hardware or transfer the license to an iLok USB dongle which has to be purchased separately. The iLok dongle can be used to run the protected software on different computers. Your licenses can be easily manged using the iLok Licence Manager. To protect your investment against theft or loss we recommend the iLok Zero Downtime protection with TLC.
An internet connection on any computer and a free user-accout at www.ilok.com is required to authorize the product.
Please check with the software manufacturer which iLok version is required at least if you want to use a hardware iLok!