Synchron Strings Pro - Artistry in Motion
Vienna's Synchron Strings Pro is a landmark achievement, fusing artistic expression, a wealth of detailed articulations, natural note transitions and sonic excellence within a resource-friendly, easy-to-use product.
Artistic expression

A wealth of detailed articulations

Authentic note transitions

New "agile" legatos for a natural flow

Additional soft attack and soft release samples

Legendary VSL legatos with portamento and flautando legato

Vibrato control & vivid dynamics

Recorded at Synchron Stage Vienna with multiple microphones

Resource-friendly & easy to use

Extremely low crossgrade prices - from Synchron Strings I to Synchron Strings Pro: Add the desired product to the shopping cart and log into your account, next you can request your "VSL User Discount" and get your personal Crossgrade price! As all Crossgrade licenses have to be generated individually, the delivery can take up one business day.

Let The Musicians Play
By developing an evolved sampling system, deriving thousands of articulations from beautiful real-life performances, Vienna's well-rehearsed team of musicians and engineers at Synchron Stage Vienna have succeeded in preserving the supreme artistry of Vienna's brilliant string players. The result is a new generation of virtual string ensembles, unsurpassed in liveliness and expressive potential.
The Vienna Symphonic Library have always understood the importance of note-to-note transitions in creating realistic, expressive performances. They were the first company to innovate legato, repetition and other performance technologies that enabled users to create fantastic orchestrations, unattainable with other libraries. Synchron Strings Pro is the latest expression of over 20 years of ongoing virtual orchestration research and innovation.
Long Notes
The magic of string ensembles is in the way expert musicians perform note beginnings and releases, and that's exactly what the team captured with long notes, legatos and portamentos of Synchron Strings Pro. The library provides all of the originally played attack and release variants, which are easy to use due to their consistent layout throughout the library. Dial in a marcato attack, a soft attack, or an even softer crescendo – you'll hear what the musicians performed without having to shape a tone using MIDI controllers. The same goes for espressivo notes where the originally played phrasings exhibit a natural quality that is inherently different from MIDI manipulated notes.
Fast Performances
Vienna Symphonic Library's years of experience and research have led to another sampling innovation that tests musicians' mental stamina as well as their skill. By placing the ensembles in the simulated "pressure-cooker" environment of an actual scoring session while recording several thousand fast phrases, the editing team has been able to extract short elements that are bursting with authentic energy and drive. These "agile" legatos let you play all imaginable runs and figures in all tempos, with the natural flow and authentic note transitions automatically provided by the Synchron Player.
More Articulations
Synchron Strings Pro includes a few articulations from Synchron Strings I (staccatos, legatos senza vibrato and molto vibrato, long notes, flautandos, etc.), but most articulations are new recordings. The short notes category includes new spiccatos (shorter, more pointed variants to the staccatos), "bold" staccatos (for slower tempos) and "agile" staccatos (for faster tempos), as well as detachés that can be played as originally recorded or shorter, thanks to the Synchron Player's evolved release trigger technology.
The flautando playing technique was particularly liked and used for pads by many Synchron Strings I users, so the team added legato transitions to make this very soft sound available for melodies, too. Sforzatos, crescendos and diminuendos can also be played shorter than their recorded length, which makes them usable for a wide range of applications. Ponticello (staccatos, sustains, legatos, tremolos), col legno and harmonics round out the rich palette of included playing techniques.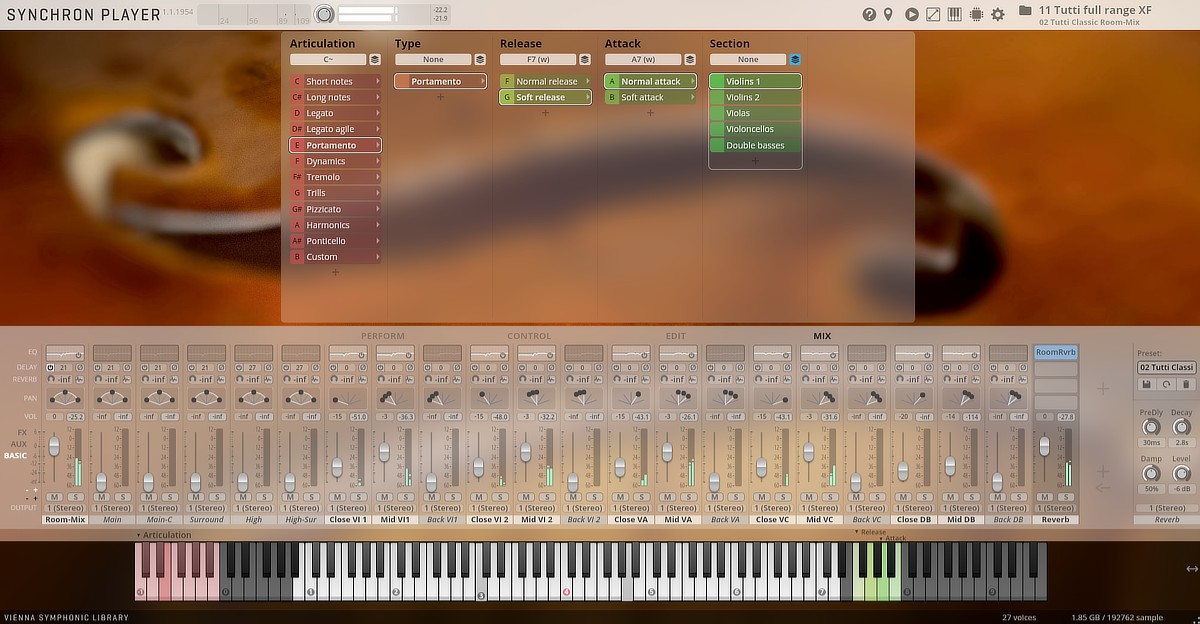 Presets
Synchron Strings Pro not only offers individual presets of each of the five ensembles, but also tutti mappings and octave combinations that provide the entire articulation structure of the ensembles, all with polyphonic legato. Tutti presets feature the original voicing stacked over a six octave span, and condensed voicing over a four octave span. With octave combinations you get two ensembles each playing in octaves, such as first and second violins, violas and cellos, or cellos and basses, etc.
Multiple Microphone Positions
To capture the spectacular ambience of the Synchron Stage, Vienna's engineers employed eight separate phase-coherent microphone configurations, recorded simultaneously, to provide a broad range of room options while using the library. Any or all of these setups can be mixed to dial in just the sound you're looking for, from close and focused, to broad and epic.
The sections of 1st violins (14), 2nd violins (10), violas (8), cellos (8), and double basses (6) were recorded separately at their designated positions on stage. Due to the comprehensive selection of discrete audio channels you can mix your string sound in stereo, 5.1 surround or even 9.1 Auro 3D (or any other immersive audio format, such as Dolby Atmos), utilizing the intuitive features of the Vienna Synchron Player to tailor your sound.
Microphone Setup
The Standard Library and Full Library of Synchron Strings Pro both include the same articulations. The difference lies in the number of provided microphone positions:
1. Close Mic (Mono) Standard & Full Library
2. Mid Mic – Front row of each ensemble (L/R) Standard & Full Library
3. Back Mic – Second row of each ensemble (L/R) Full Library Only
4. Main/Room Mic – Decca Tree Stereo (L/R) Standard & Full Library
5. Main/Room Mic – Decca Tree Mono (Center) Standard & Full Library
6. Main Surround – Stereo (L/R) Full Library Only
7. High Stereo (3D) – Stereo (L/R) Full Library Only
8. High Surround (3D) – Stereo (L/R) Full Library Only
The main surround microphone settings may also be used instead of the main stereo room mics in order to achieve a wider and more ambient mix. Blending surround signals with the other microphone signals creates a denser, more lush overall sound, even in stereo applications.
Room Mix Presets feature an excellent mix-down to stereo from the Decca tree and surround mic positions for a CPU and RAM-saving sound that's perfectly balanced right out-of-the-box. A host of Mixer Presets is available in the categories of "Decca Tree Multi-Mic", "Surround to Stereo Downmix", and "Surround".
Mac:
macOS 10.13 or higher
64 bit
Intel Core i3
RAM: 8GB (16GB recommended)
SSD hard drive recommended
Windows:
Windows 8-10
64 bit
Intel Core i3 or AMD Athlon 64 X2
RAM: 8GB (16GB recommended)
SSD hard drive recommended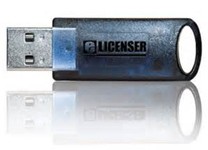 Product activation:
Vienna Instruments require the ViennaKey!
This USB protection device by eLicenser (by Steinberg compatible) is not included in any collection, it is a separate item you have to get additionally. So you'll have to order at least one ViennaKey or Steinberg eLicenser with your first VSL purchase. Each dongle can store up to 100 product licenses.
Additionally an internet connection on any computer is required to authorize a VSL product.