This version of TRUE STRIKE has been completely re-designed and comes with Native Instruments Kontakt Player. New features include a re-structured instrument list, a streamlined audio pool and a custom interface with on-screen ADSR control, instrument information and other options.
True Strike is ProjectSAM´s distinctive percussion series, the ultimate percussion source for film, tv, game and media composers. True Strike "Cinematic Orchestral Percussion" is the first in the series, covering symphonic percussion. Recorded in the familiar ProjectSAM concert setting, it is the most powerful sounding and versatile orchestral percussion library available.
Kontakt Player license included (compatible with Kontakt or Kontakt Player 3.5 or newer)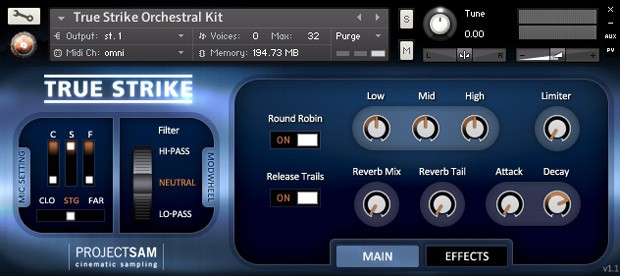 The library
This is the new Multi-Format re-release of ProjectSAM´s acclaimed True Strike orchestral percussion sample library. True Strike was recorded in the warm environment of a concert hall which gives it its deep, powerful, cinematic sound. The library gives you lively recordings of orchestral percussion instruments such as timpani, gran casa, snares, tom toms, cymbals, tam tam, tubular bells, glockenspiel, vibraphone, celesta, various small percussion and metal hits.
The list doesn´t stop here. True Strike covers much more, including bongos, congas, timbales, rototoms, cowbells, castanets, crotales and various unique human percussive sounds. All-in-all, True Strike offers you 51 percussion instruments.
One of True Strike´s most popular banks is the Tutti Hits: big, ambient hits played with two gran casas and timpani.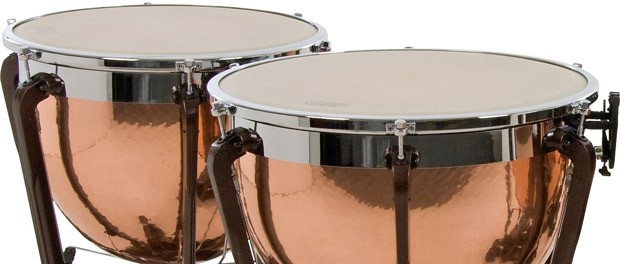 Timpani
The timpani is one of the biggest instrument banks found in True Strike. You will find an extensive list of playing techniques: up to 6 dynamics, sustained and dampened notes, tremolo, tremolo crescendo in three lenghts, crescendo-decrescendo and hard mallet fortissimo. Suspenseful special effects such as pedal bends and cymbal/bowl on timpani.
Gran casa & snares
True Strike is aimed at cinematic use. Therefore the gran casa and snare ensemble are the most powerful and deep recordings you will find. Load up the stage or far microphone set and scare those aliens back to their home world. The library also includes single snare drum (snares on and off), military drum and field drum samples.
Ensemble hits
One of the most popular patches in True Strike is the Ensemble Hits bank. These are ensemble recordings of gran casa and low-tuned timpani playing together. Big and bad.
Melodic instruments
True Strike covers five melodic percussion instruments: glockenspiel, marimba, vibraphone, tubular bells and celesta. This last, beautiful instrument is the very first sampled in a concert hall and offered in 3 microphone positions.
Small percussion
True Strike offers an extensive set of small percussion instruments, among which 4 woodblocks, 5 temple blocks, whip, barchimes, belltree, 4 cowbells, triangle, tambourine, castanets and sleighbells.
Recording specs
TRUE STRIKE was recorded in a beautiful concert hall environment. All samples in TRUE STRIKE are offered to you in 3 microphone sets, each with its own unique sound:
Close mic (bright and direct)
Stage mic (orchestral setting)
Far mic (wide and ambient, surround)
All instruments were recorded at 88.2/24 and are offered at 44.1/24.
Library size
TRUE STRIKE requires 16 GB of hard disk space.
An acclaimed collection
True Strike has a large user base of top composers working in the film, tv and video game industry. To quote some of them:
Bill Brown (CSI:NY): "The impact of the ensemble hits alone would be worth the price of the set for me. Finally, percussion that sounds like it has been recorded on a Hollywood sound stage!"
Brian Tyler (Constantine): "The SAM True Strike library possesses unmatched musicality and realism. You can sense the presence of the player behind the instrument - not just the instrument itself."
Robert Kral (Angel): "When I first loaded the Gran Casa and played it I could have sworn it was being performed before me in the room! It´s big and beefy, but the high end is also captured accurately giving an almost 3-D sound."
Sound on Sound recently gave True Strike a 5 ouf of 5 rating:
"I used True Strike to add [...] orchestral percussion to a TV-music cue, and was immediately impressed by the low-end wallop of the timpani and bass drum, so much so that I began to fear for my speaker cones. In the ´far´ miking, the hall ambience adds explosive force to these booming hits. At first I feared the piatti samples might prove less potent, but after wading through the obligatory batch of choked and semi-choked hits, I found the bright, triumphal cymbal splashes I was looking for. The library´s layout is straightforward and logical, so finding the right sounds took only a few minutes. True Strike hits the mark — its musicality, instrumental scope, and excellent concert-hall sound fully deserve a five-star rating." - Dave Stewart
Specifications
Want to know more about True Strike´s content?
Below you will find a full instrument list:
1 Timpani
Timpani hits and roll
Timpani hits dual map
Timpani rolls
Timpani special effects
Timpani tremolo
2 Kits
True Strike All Drums
True Strike Orchestral Kit
3 Drums and Toms
Bongos and Congas
Gran Cassa and Tutti Hits
Military and Field Drum
Snare Drum
Snare Ensemble
Timbales
Tom Toms and Rototoms
Tom Toms Phrases
4 Cymbals and Gongs
Concert Cymbals
Suspended Cymbals
Tam Tam and Wind Gong
5 Melodic Percussion
Celesta
Crotales
Glockenspiel
Marimba
Tubular Bells
Vibraphone hit
Vibraphone motor
Vibraphone special
Xylophone
6 Small Percussion
Chimes and Belltree
Cowbells
Tambourine and Beatring
Triangle
Various Percussion
Wood and Templeblocks
7 Misc Percussion
Body Percussion
Brakes and Pans
Claps and Snaps
Thai Gongs
Trash and Metal Hits
Apfelwahn.de 26.01.2011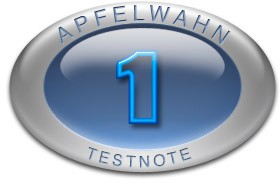 Testauszug
Fazit
Das gefällt mir:
Die saubere, detailreiche Audioqualität von True Strike (1) ist vorbildlich und auf Referenzklasseniveau – kein Rauschen, keine Nebengeräusche und mit ganz wenigen Ausnahmen keine Knackser, keine ungeschickt zugeschnittenen Samples, bei denen das Attack nicht auf den Punkt kommt. Die Zielgruppe Filmmusikkomponisten und das genrenahe Umfeld (Video, Multimedia, Games) wird mit einem atmosphärisch dichten, detailreichen Sound bedient, der auch eine hochwertige Ergänzung herkömmlicher Drum-Libraries sein kann. Neben den konventionellen Spielweisen mangelt es nicht an klassischen Effekten. Die drei Mikrofonierungen können auch für Mehrkanalton eingesetzt werden.
Holger Obst



SoundOnSound, 5 Stars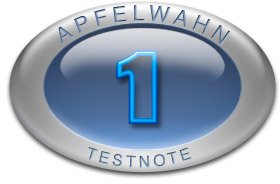 Apfelwahn, Note 1


William Ross
The Tale of Despereaux, Driftwood and September Dawn
I have been using True Strike 1 & 2 for virtually every project.
Quite simply, they are the best!



Patrick Doyle
Harry Potter & The Goblet Of Fire, Eragon, Rise of the Planets of the Apes
I am delighted to have discovered the ProjectSAM libraries. They are now an integral part of my orchestral palette and I couldn´t recommended them highly enough


Brian Tyler
The Expendables, The Final Destinantion, Aliesn vs Predator-Requiem
True Strike possesses unmatched musicality and realism. You can sense the presence of the player behind the instrument - not jus the instrument itself


This product works with the free Native Instruments Kontakt Player, the latest version can be downloaded through Native Access, Native Instrument's download manager!
The minimum required Kontakt version for this product is stated in the product description or can be found on the manufacturers wesite.
System Requirements:
Mac:
macOS 10.13-11 (newest update)
64 bit
Intel Core i5
RAM: 4GB (6GB recommended)
Windows:
Windows 7-10
64 bit
Intel Core i5 or similar CPU
RAM: 4GB (6GB recommended)
Supported Interfaces:
Mac OS X (64-bit only): Stand-alone, VST, AU, AAX
Windows (32/64-bit): Stand-alone, VST, AAX
Legacy Versions:
If you require legacy installers of Kontakt Player please refer to this Knowledge Base Article.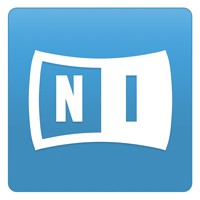 Product Activation:
This product requires Native Access for installation, registration and activation. Start the Native Access-Software and log in using your Native Instruments credetials to start the setup.
To sucesfully activate your product Native Access requires a working internet connection.
An Offline Activation on a different computer is Not Available with this product.