Twine Bass - two basses merged
The Twine Bass is comprised of a pair of very special instruments: a modified cello and a traditional Kenyan fretless stringed instrument called a Bolon. Soundiron strung the cello with rough hemp twine in various tunings and played it as a stand-up bass. The resulting sounds are deeply sonorous, with rich, warm resonance, powerful low end and a woody, soft quality.
The bolon has a cow's horn for a neck and a gourd as a body, with four twine strings and a goat-skin resonating head that the strings pass directly through. In addition to deep-sampling the strings with 10x round-robin and up to 14 velocity layers, they sampled a number of other sounds such as legato slides, string mutes, tuning peg pluck/twists, finger taps and brushes, and other percussive effects on the instrument's body.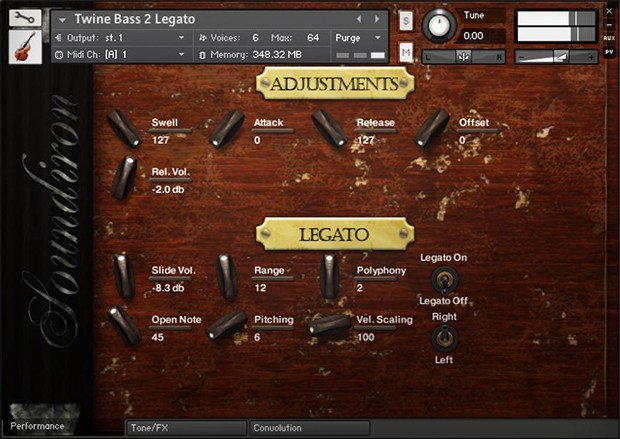 This unique instrument collection features a glissando/chord generator, giving you deep control over a wide variety of chord and glissando functions such as speed, range, scale, stroke direction, string dynamics, humanization and more.
You can choose from 26 different chords and 13 different scales. The number of strings is adjustable from 1 to 24 in Glissando mode and 1 to 6 in "guitar" Strum mode. There is also a bank of 16 assignable key-switches for instant access to your favorite selection of chords.
With the Glissando/Chord Generator set to Glissando mode, you can choose the speed of the gliss, the scale, time signature, gliss direction, note duration and either control the velocity in real-time or use the table to draw the velocity of each note in the gliss. You can define the number of strings (up to 24).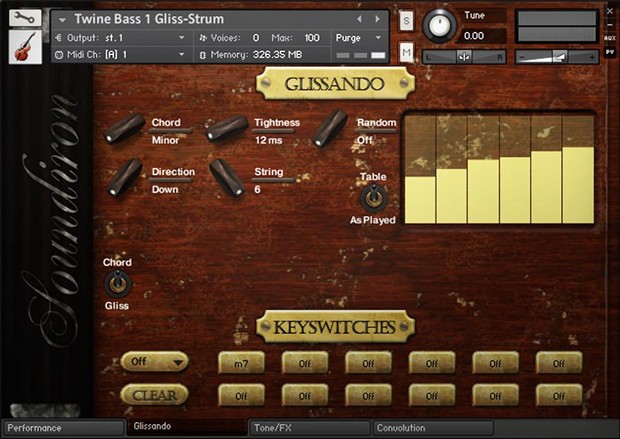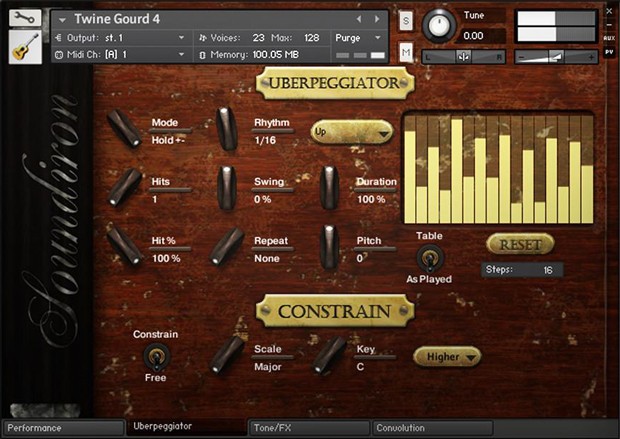 In chord mode, there's an integrated auto-strum function that allows you to determine up and down strokes or alternate automatically. You can also control strum tightness, timing variability between each note in the strummed chord, the number of strings and the mode/scale that the chord adheres to, with any root note you desire.
In both modes, you can play multiple glissandos or chords at different root notes with full polyphony. You can also arrange up to 12 real-time chord/gliss mode changes using our user-definable key-switches.
Contents
The Twine Bass is a massive library, containing over 2000+ samples and weighing in at over 2 GB. As usual, it comes complete with a full range of performance shaping and effects controls, including full control over our convolution reverb impulses, allowing you to take the sound in any number of directions.
Also included is a collection of ambient pads, atmospheric drones and evolving soundscapes, giving this library a vast array of tonal possibilities.
Plucks
4 Twine Bass Plucks | Twine Bass String Mutes | 4 Twine Gourd Pluck Artikulationen | Twine Bass String Mutes | Durchschnittlich 10x RR / 10x Velocities | Twine Bass Strings Slides (Up und Down) | Verschiedene Twine Gourd Finger Brush Artikulationen | Zahlreiche Twine Gourd Finger Tap Artikulationen | Tuning peg Pluck / Twist Effekte | Slams
Gliss/Chord Generator
26 auswählbare Akkorde | 13 auswählbare Tonarten | Strum Direction Auswahl (Up/Down/Alternate) | Strum Tightness mit Random Control | Velocity auswählbar: | "As Played" / "Graph Sequencer" | 12 zuweisbare Chord-Keyswitches | Und mehr!
Controls and FX
"Uberpeggiator" Controls | Legato Controls | Hammer-On / Pull-Off Simulation | Auswählbare Effekte: EQ, Cabinet, Delay, Phase, etc. | 30 Sound Designed Ambient Patches | 40 Convolution IR Samples | 6 spezielle SFX Patches
This library is designed for the full retail version of Native Instruments Kontakt 4.2 or later.

Please notice: This library can not be used with the free Kontakt Player! To use this "Open Kontakt" format, you need a full version of Kontakt, which is included in products such as Komplete or Komplete Ultimate.
The minimum required Kontakt version number for this product is stated in the product description or can be found on the developer's website.
System Requirements:
Mac:
macOS 10.14 or higher
64 bit
Intel Core i5 or Apple M1 (native)
RAM: 4GB (6GB recommended)
Windows:
Windows 10 or higher
64 bit
Intel Core i5 or similar CPU
RAM: 4GB (6GB recommended)
Supported Interfaces:
Mac (64-bit only): Stand-alone, VST, VST3, AU, AAX
Windows (64-bit): Stand-alone, VST, VST3, AAX
Legacy Versions:
If you require legacy installers of Kontakt Player please refer to this Knowledge Base Article.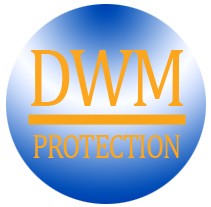 For your own protection this library is provided as individual personalized files including a
Digital Water Mark - DWM!