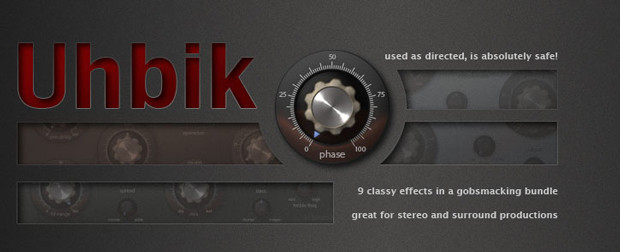 9 Classy Effects in a gobsmacking Bundle
Uhbik is a fine collection of effect plug-ins for the discerning audiophile. Each surround-capable effect comes wrapped in a beautiful, streamlined interface. The entire bundle of nine effects is available now at an unbeatable price.
Meet the Family
Four of these units (D, F, P, T) are modulation effects that include an ultra-slow to ultra-fast low frequency oscillator. LFO rate can be set to an absolute value (in seconds or Hertz), synced to host tempo (then scaled by a constant!) or swept manually / automated.
Uhbik-A- ambience / reverb, a very unusual combination of early reflections with different plate algorithms.

Uhbik-D - delay/echo with 5 'tape heads', LFO or flutter modulation, low/high cut filters, soft-clipping, per-tap feedback and multi-channel pan.

Uhbik-F - flanger, from through-zero tape flanging (dramatic jet-effect!) to classic stomp-box type chorus, with LFO modulation and feedback / resonance

Uhbik-G - granular pitch-shifter / phase vocoder (via fast Fourier analysis) delivers a wide range of dramatic contemporary effects. Whole grain goodness.

Uhbik-P - phaser set to stun, with up to 42 allpass filters in series delivering the deepest, richest phasing available. But is it an angel or a metal monster?

Uhbik-Q - equalizer, the perfect balance between simplicity and flexibility required a unique approach… Uhbik-Q is a revelation!

Runciter - filter with parallel lowpass, bandpass and highpass outputs, resonance, controllable input overdrive and brick-wall fuzz.

Uhbik-S - frequency shifter / sideband filter with exceptional frequency response and low latency, can create anything from serene barber-pole waves to metallic FFF (full frequency freakout) effects!

Uhbik-T - tremolo – but if you think that just means 'volume wobble' you haven't tried the mother of all tremolos yet: Uhbik-T!
Please take a look at "More Infos" for a free Demo of UHBIK!
Releasetime Best Value Award 2016
Releasetime Top Product Award 2016
Computer Music Performance & Value Award
Beat Empfehlung der Redaktion 12/09
PC:
Windows 7 32‑/64‑bit or higher
Multicore CPU with SSE2
2 GB RAM
60 MB free Harddisk Space
Mac:
Mac OS X 10.7 or higher
Multicore CPU with SSE2
2 GB RAM
60 MB free Harddisk Space
Product activation:
An internet connection is required to authorize / activate the product.