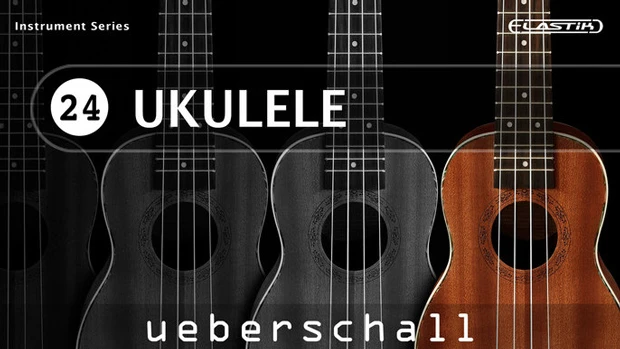 Infectious and positive Loops & Phrases
If you want to create a happy and uplifting mood, the Ukulele is the perfect instrument choice. Its delicate sound can create beautiful melodies if picked. In contrast, when strummed, it delivers a light, percussive, sound that fits in any mix and can bring a positive, happy, groove or a gentle sense of melancholy.
Flexible Collection Of Performance Phrases
The Ukulele Instrument Series library captures these musical characteristics perfectly. With 1.7GB of sample data and 396 individual performances, the sample material is organized into over 40, phrase-based, folders and covers a range of keys and tempos. The loops have a lenght of four to eight bars. Within each folder, the phrase is presented as a strummed performance and a picked, arpeggio performance. Each folder contains nine loops:
1- Complete Mix: stereo mix of all licks
2- Chord Mix: stereo mix of all chord licks
3- Arpeggio Mix: stereo mix of all arpeggio licks
4- Center Chord Lick
5- Left Chord Lick
6- Right Chord Lick
7- Center Arpeggio Lick
8- Left Arpeggio Lick
9- Right Arpeggio Lick
Sits Beautifully In Any Mix
Phrases can, however, easily be mixed and matched between folders for further variety and Elastik's powerful pitch and tempo-matching features make this very easy to achieve. This combination of features means that, for busy media composers, Ukulele provides the playful and gentle character of this beautiful instrument in a convenient, performance-based, sample library format. It is ideal for songwriters or composers working in advertising, TV or film.
Elastik Features
The Elastik player allows adapting the loops to your current song project in speed and pitch. The intuitive browser manages all Elastik libraries for immediate access to all samples. This way, not only loops of Ukulele but of all installed Elastik libraries can be combined freely. With functions such as resample, formant and reverse as well as an effective multi mode filter, samples can be easily modified and alienated.
Credits: Ukulele played by Kai Reuter.
Free ELASTIK 3.5 Player is included in this product.
Interfaces:
macOS: 64 bit, VST 2/3, Audio Units, AAX, Stand-Alone
Win: 32/64 bit, VST 2/3, AAX, Stand-Alone
System requirements (minimum):
macOS 10.12 (Sierra) or higher
Windows 8 or higher
All information is subject to change. The system requirements can change at any time due to the fact that software products are continuously evolving. If in doubt please consult the software manufacturers website for details or write an email to support@bestservice.de before purchasing.
Product activation:
An internet connection is required to authorize / activate the product.