Voice Of Gaia: Bryn is an eclectic male tenor solo vocal library featuring the talents of Bryan Lane (aka "Bryn"). While trained in operatic vocal techniques, his own personal style draws from much broader and older vocal styles, inspired in equal parts by Middle-Eastern and American Spiritual and Gospel music. He delivers a dark, passionate intensity to his performances that will pull you in. At over 6GB and 7816 samples, this library offers deep content variety and exceptional user flexibility.
We recorded Bryn in a close studio environment, using premium low-noise large-diaphragm Neumann microphones and Sound Devices preamps to get maximum detail, clarity and fidelity. We captured true legato vowel sustains for Ah, Oo, Humming ("mmm") and Whistling. We also recorded classic chromatic sustains for Oh and a gliding-attack vibrato Uh vowel. There are also staccatos for Ah, Oh, Oo, Uh, Humming and Whistling. Most of this chromatic content spans a natural key range from D2—D4 (extended from C2—G4).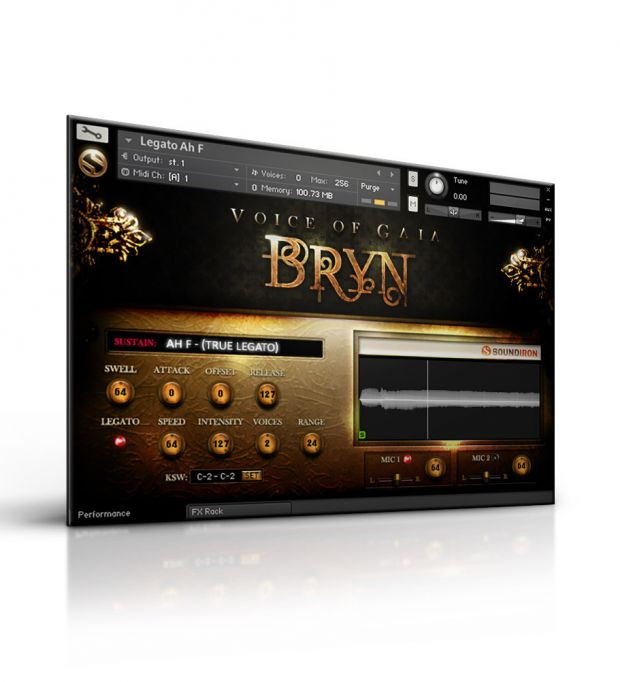 Voice of Gaia: Bryn features a huge collection of live melodic phrases in classic "Pure Vowel", Middle-Eastern and American Southern gospel and spiritual styles. Each of the main phrase categories includes a full selection of phrases for each key (A, A#, B, C, C#, D, D#, E, F, G and G#). In addition, there's a general selection of whistling phrases in E/B major and improvised Arabian-styled chants rooted in E/B minor. Each phrase preset offers pitch transposition control, tempo-synching, step sequencing, song switching and dozens of other custom control features. We've also included our comprehensive FX Rack panel, with multi-effects, compression, EQ, amp/speaker simulation and convolution reverb, featuring dozens of our most popular custom recorded rooms, halls, cathedrals and otherworldly fx impulses, all easily available through the control interface.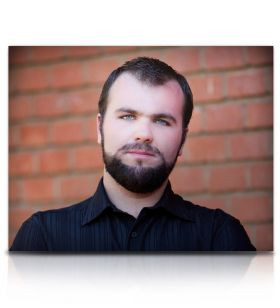 Bryan Lane (aka "Bryn") is a vocalist and multi-instrumentalist currently completing his Artist Diploma in Early Music at Cornish College of the Arts in Seattle, studying with Stephen Stubbs and Nancy Zylstra. Originally from Southern California, he completed his Master's in Vocal Performance at UCSB where he performed the roles of Count Almaviva in The Barber of Seville and Nerone in The Coronation of Poppea. He attended the 2013 Amherst Early Music Festival performing in The Fairy Queen under the direction of Maestro Gary Wedow and Director Drew Minter. Bryan has performed comprimari and chorus roles with Opera Santa Barbara in productions of Le Nozze di Figaro, La Traviata, La Bohème and others. Bryan has also performed the role of Don Ramiro in La Cenerentola. On the musical theater stage, Bryan has performed as John the Baptist/Judas in Godspell.
On the concert stage, he has performed solo roles in Handel's Israel in Egypt, Messiah, and Monteverdi's Vespro della Beata Virgine. He has performed choral, operatic, and orchestral music across the United States, Central America, and Europe. He was seen this past season performing at the J. Paul Getty Museum in Los Angeles as part of Capella Cordina, singing a newly discovered 11th century Aquitanian mass in conjunction with a Medieval exhibition. This December he will perform with the nationally renowned Santa Fe Desert Chorale for their 2014 Winter Season. An avid trumpet player, Bryan has collaborated on several albums and enjoys performing live. He has recorded solo trumpet for the films Chicken Suit and The Sacrifice of Old San Juan by up-and-coming director A.K. Hottman as well as on numerous albums and demo tracks for composer and arranger Trevor Welch.
Two different microphone options: large diaphragm studio Neumanns, with smooth omni or crisp cardiod, each with independent ram loading, level control and panning.
Ah, Oo, Hum and Whistle natural true legato vowel sustains
Ah, Hum, Oh, Oo, Uh and Whistle Staccatos with 4x round-robin variation per note
Ah, Hum, Oh, Oo, Uh and Whistle standard Sustains with infinite loop and nature release
Over 2000 melodic phrases in the keys of A# - G#, with pitch transposition, instant pattern sequencing, legato blending, tempo-synching/time-stretching, shaping and more.
Melodic phrases in a variety of different styles, including Arabian, Pure Vowel, American Southern Gospel/Soul, Hummed and Whistling
Easy to navigate melodic phrases organized by root key, style and native tempo
Fluid sequencer allows for per-step phrase start and end markers.
Bonus vocal Ambiences, Atmospheres, Tuned Pads and other custom melodic instruments crafted directly from Bryan's voice.
Vocal performance breaths and effectsSwell control allows real-time dynamic performance shaping.
Full Multi-FX rack panel with Chorus, Compression, Distortion, Amp and Cab simulation, EQ, Delay and Reverb
Our Reverb rack unit includes 25 unique creative FX convolutions and 45 excellent live rooms, studios, chambers, cathedrals, halls and other real-world environments, with flexible tone, size and mix controls.
Fully automatable, with customizable key switch and GUI controls.
Convenient real-time visual wave-form display in every preset.
This library is designed for the full retail version of Native Instruments Kontakt 5.1.0 or later. Kontakt is an industry-standard advanced virtual instrument / software sampler platform.
This is a standard Kontakt open-format library, so the free Kontakt Player doesn't support this open-format Kontakt library. However, the sample directories are fully accessible to allow user customization, import and mapping into other wav-compatible software, sampler and synth formats.
The special Libraries tab doesn't support this open-format Kontakt library, but you can use the standard File browser tab, or import this library into the Kontakt database and Quickload tools for easy navigation, loading and organization.
Using this library requires a full version of Native Instruments' "Kontakt"!
Please notice: This library can not be played with the free "Kontakt Player"! To use this "Open Kontakt" format, you need a full version of "Kontakt", which is included in products such as Komplete or Komplete Ultimate.
Please check the product description for the required Kontakt version.
The following list shows, whether the respective Kontakt version is compatible with your operating system:
Mac
Kontakt 4:
OS X 10.6 & 10.7 = until 4.2.4
OS X 10.8 and higher = no longer supported
Kontakt 5:
OS X 10.6 = until 5.0.3
OS X 10.7 = until 5.3.1
OS X 10.8 = 5.0.3 - 5.5.1
OS X 10.9 = 5.3.0 - 5.6.6
OS X 10.10 = 5.3.0 - 5.7.3
OS X 10.11 = 5.5.1 - latest
Mac OS 10.12 = 5.6.1 - latest
Mac OS 10.13 = latest
Mac OS 10.14 = latest
Mac OS 10.15 = latest
Kontakt 6:
Mac OS 10.12 - 10.15 (latest update)
Windows
Kontakt 4:
XP = until 4.2.4
Vista = until 4.2.4
Windows 7 = until 4.2.4
Windows 8 & 10 = no longer supported
Kontakt 5:
XP = until 5.2.0
Vista = until 5.2.0
Windows 7 = latest
Windows 8 & 10 = latest
Kontakt 6:
Windows 7, Windows 8, or Windows 10 (latest Service Pack)
FOR ALL SYSTEMS:
1GB free disk space

Additional hard drive space according to the library's size
SUPPORTED INTERFACES
Stand-Alone | VST | Audio Units | ASIO | CoreAudio | WASAPI | AAX Native (Pro Tools 10 or higher)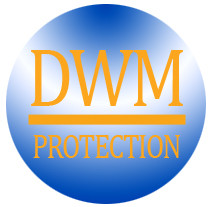 For your own protection this library is provided as individual personalized files including a
Digital Water Mark - DWM!