Avenger - The last synth you will ever need
This beast of a synth comes packed with a whole bunch of different sound generators and shapers... From regular synthesis with saw, square, sine, noise, tri, to 7x Supersaw in cobination with 5x chorder module and sub osc (all PER OSC!), sounding wonderfully analog and fat.
Oscillator Shapes
You can import and convert ANY 1 cycle waveform sample into an Oscillator shape. Once the waveform is imported, you can transform it in every direction possible, 100% alias free. There are thousands of hand selected shapes to chose from in VPS Avengers factory library. Many emulate the shapes of classic gear or complex digital shapes, dubstep screams, real instruments etc.
Expansion Packs: Expand Avenger's sound range with a wide selection of Avenger Expansion Packs.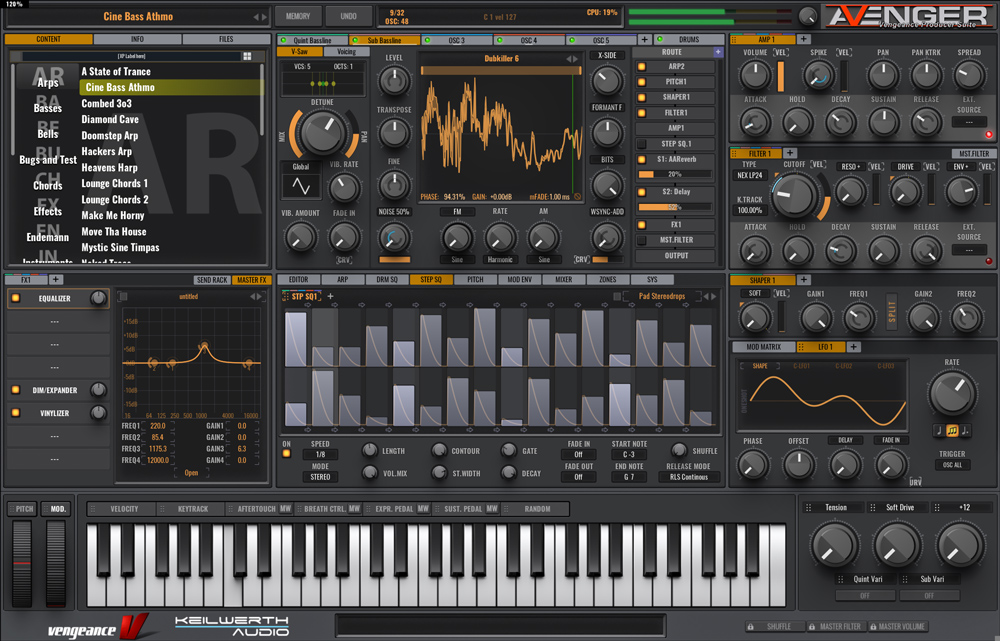 Up to 8 OSC Modules
each OSC with own V-Saw (Supersaw) (1-7 voices, 1-4 octs, pan spread)

each OSC with its own vibrato LFO (which can modulate every V-Saw (Supersaw) voice seperately)

each OSC with own Chorder (Note Stacker, Unison)

each OSC with additional Sub OSC model

each OSC can have its own synthesis model (see "GENERATORS" for details)
Wavetable Envelope / Editor
specialized envelope for all wavetables

can oneshot, pingpong, loop. Global or per voice

"wobble" pattern generator. Unique new system, which lets you multiply, revese or flip the envelope with a pattern

Fade in / outs, zoom, normalize, reverse for wavetables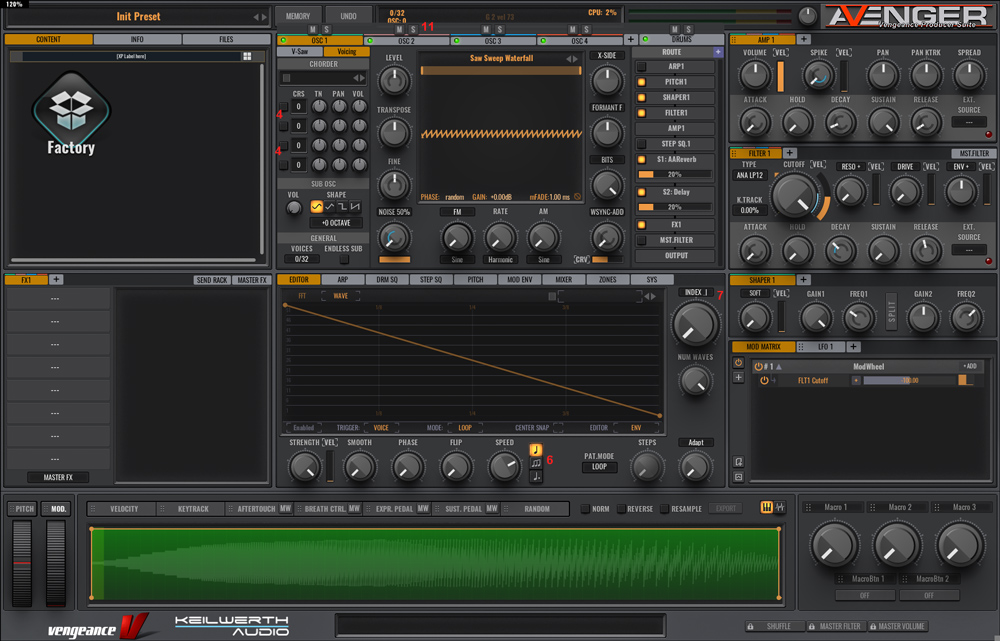 Resample
Basically this is a wavetable editor, this Synthesis mode lets you cycle through long wave files, to explore microscopic grains as an OSC source.
Multisamples
Each of VPS Avengers 8 Oscillators can also be a Multisample player. With our new "Sample Stacker" feature you can layer up to 4 multisamples in each OSC module with 1 click. VPS Avenger comes with a huge library of more than 1000 Multisamples, ranging from pianos & organs, synths, real instruments, voices etc. Furthermore there are 2 special Sample Sources: Attack Clicks and Organic Noises which are great layer additions.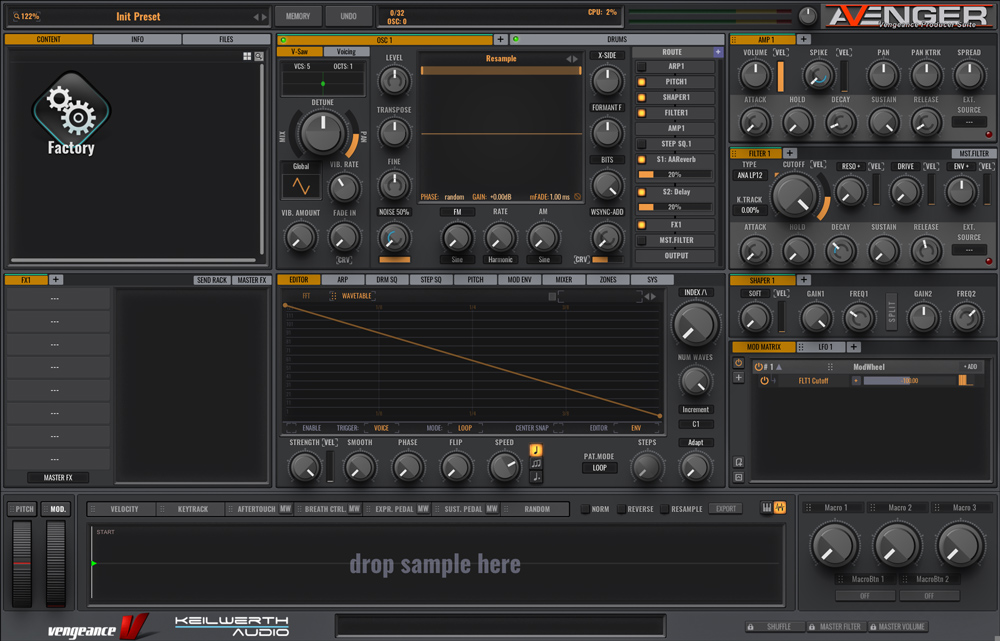 Features
VST / PC & Intel Mac VST / AU & AAX - runs in all compatible hosts

64 Bit and VST3 standard (64Bit is required!)

over 930 factory presets

620 multisamples

218 special samples (attacks, noises)

154 resampler waves

168 drumkits, 168 drumsequences

596 wavetables

219 granular samples

thousands of OSC shapes (waveforms) available

30 fx types (incl. analog chorus, Reverb, Phaser etc. from ArtsAcoustic)

47 Filtertypes

up to 1000 playing oscs with one note possible

resampling / wavetable generator built in

freeform OSCs. Draw your own waveforms

alias free OSCs, Wavetables, FM and AM modulation

powerful and easy drag and drop mod matrix

resizable vectorized GUI (4k ready)

undo feature

comfortable preset search system / tag cloud

8 arps, drumsequencer, 8 step sqs, 18 envelope generators

16 individually routable sub outs into your DAW's mixer

macro controllers assigned in each preset, for quick sound changes

external midi controllers and pedals support

free routable fx busses and send effects

customizable lfos, 4 shaper modules (distortion units on OSC level)

many unisono features: chorder and our own invented "V-Saw" supersaw

key- and velocityzones

import your own (multi)samples, drums, wavetables or OSC waveforms

MIDI learn function (connect your external MIDI gear with Avenger)
System requirements
Windows - Intel Core 2.5Ghz | OpenGL 3.2 capable GPU | 8GB RAM | Win7/Win8/Win10 64Bit | VST 2.4 compliant host
Mac - IntelMac 2.5Ghz | 8GB RAM | Mac OSX 10.9 | VST 2.4/AU compliant host 64Bit | OSX High Sierra (10.13) supported
The system requirements can be found in the product description or on the manufacturer's website.
Product activation:
An internet connection is required to authorize / activate the product.