Loops and samples for HipHop & RnB
For the last years this has been the most successful sample collection in the urban genre! The most famous, popular producers and artists have been using exclusive loops and samples of these libraries to get their creative flow going in major productions. These loops and beats have also been a significant source for all sorts of media productions, including television shows and advertisement campaigns on MTV, HBO, BET and VIVA, and some international movies.
Blazin RnB & HipHop Collection Vol. 3 is an innovative sound library, characterized by its inspiring and groovy loops, as well as its unique samples. The sound material is applicable for all types of urban music made popular by successful producers such as Timbaland, Dr. Dre, Eminem, Just Blaze, Kanye West, Polow Da Dawn, Akon, Danjahandz, Will.i.am, Swiss Beatz, Darkchild and the Neptunes.
Content
2.7 GB DVD
24-Bit / 44.100 kHz
35 Construction Kits (Wav)
767 Wav / Acid Loops
300 Rex2 Loops
Over 1000 Wav Samples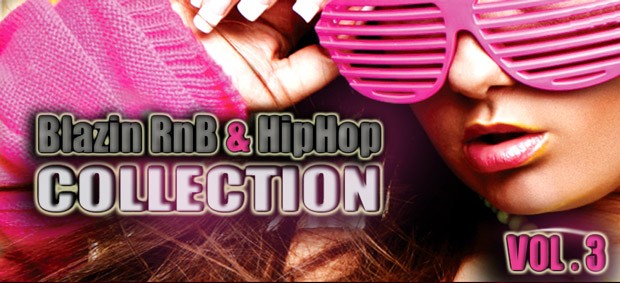 The excellent and warm nature of these sounds makes them suitable for a wide variety of uses. The library was produced in a high-end studio with top equipment and a mastering exclusively done by professionals. This impressive mix of innovative sounds and modern tools enables quick and easy production of HipHop and RnB beats with a quality that usually only top producers and top-10 artists achieve. Step up to the next level and get the best sounds for your music production now! This is the new source for upcoming urban hits!
Loops [ 60 - 120 Bpm ] - Drum Loop, Kickdrum, Clap, Snaredrum, Snap, Percussion, Hihat, Crash, Shaker, Acoustic Drum, Acoustic & Electric Guitar, Bass, Synth Bass, Piano, Grand Piano, Arpeggio, Ensemble, Orchestral, Harp, Choir, String, Hit, Horn, Ethnic Guitar, Ethnic String, Sitar, Gate Sound, Analog Sound, Saxophone, Filtered Sound, Modulated Sound, Moog Sound, Retro Sound, Bell, Pad, Lead, Synth, Special Sound and Vocal.

Samples - Kickdrum, Clap, Snaredrum, Snap, Hihat, Crash, Shaker, Percussion, Bass, Synth Bass, Acoustic Drum, Modulated Sound, Moog Sound, Special Sound and FX-Sound.

Recordings - Acoustic Drum, Acoustic & Electric Guitar, Ethnic Guitar, Sitar, Vocal, Percussion and Grand Piano.

Format - Wav, Acid, Rex2, Kontakt 3, Battery 3, Halion, Soundfont, NN-XT

Extra Sounds [ Exclusive Bonus Material ]

Loops [ 73 - 100 Bpm ] - Drum Loop, Snaredrum, Hihat, Percussion, No Kick Loop, Arpeggio, Electronic, Grand Piano, Modulated Sound, Music Loop, Special Music Loop, Special Sound and Synth.

Samples Kickdrum, Clap, Snaredrum, Hihat, Percussion and Other Sound.
BEAT 07/08/2011

Bereits das Cover dieser Sample-DVD macht deutlich, was den Käufer erwartet: coole Hip-Hop-Grooves, welche die Hintern wackeln und die Hüften kreisen lassen. Auch Teil 3 der erfolgreichen Sammlung deckt die komplette Bandbreite des modernen Hip-Hops ab, sodass Fans von Timbaland, Kanye West und Dr. Dre voll auf ihre Kosten kommen. Enthalten sind 35 Construction-Kits, 767 WAV/Acid- und 300 REX2-Loops von 60 bis 120 BPM sowie über 1000 Einzelsamples. Das Loop-Angebot umfasst erstklassige Beats und Percussion-Grooves sowie abwechslungsreiche Phrasen akustischer und synthetischer Instrumente, wobei Ethnoklänge stimmungsvolle Akzente setzen. Eine rundum inspirierende Kollektion!
This Multi Format Library (included format(s) listed in product description) does not include any playback software. A suitable software is required to load and play the sounds included with this product.
Required Registration:
Best Service products require you to register with the manufacturer at www.bestservice.com to activate your license. To use Kontakt Player Libraries you also need to register with www.native-instruments.com.
For your own protection this library is provided as individual personalized files including a Digital Water Mark - DWM!