BOX OF TRICKS - IMOGEN HEAPS INSTRUMENT COLLECTION
13 Instruments - Custom Tools & FX - 170 Presets - 30GB Library - Kontakt Player Compatible
CREATED FOR IMOGEN BY IMOGEN
Every aspect of Box Of Tricks has been shaped by Imogen Heap.
An exclusive selection of her instruments, sampled in detail and with custom scripts, effects, and tools; all designed the way she wanted to use them.
Box Of Tricks has already been beta-tested in Imogens live performances and studio projects: a process that helped generate ideas and refine the instruments.
From an initial idea about a free Heap instrument, to the final result, 3 years later; Box Of Tricks is a truly extraordinary collaboration.

EUCLIDEAN BEATS
Included with Cocktail Kit and Vocal + Body Percussion Kit
An exciting way to generate complex beats, based on Euclidean mathematics.
No matter how many steps or hits in each individual pattern, they will always be evenly spaced across the bar.
Assign some controllers and jam: you can't put a beat wrong.
JAMMER 2.0
The latest evolution of our generative arpeggiator, with new ideas from Imogen.
Hold a chord, and let it evolve - or loop a section and jam between 12 sequences.
Record your patterns with the MIDI recorder, and drag and drop into your DAW.
HEAP SPACES + EFFECTS
Box of Tricks features convolution reverbs sampled from Imogens house.
From the dry Hideaway Studio, to the spooky Runaround Tunnel.
Add as effects or place a whole ensemble in these characterful acoustic spaces
SYNTHESIS TRICKS
Choose from 14 different filter types, with Envelope and Velocity modulation
Take the lumps out with Imogens custom SLIM knob; a fundamental frequency EQ.
Add creative Heap-style stereo FX with the Auto-Pan module.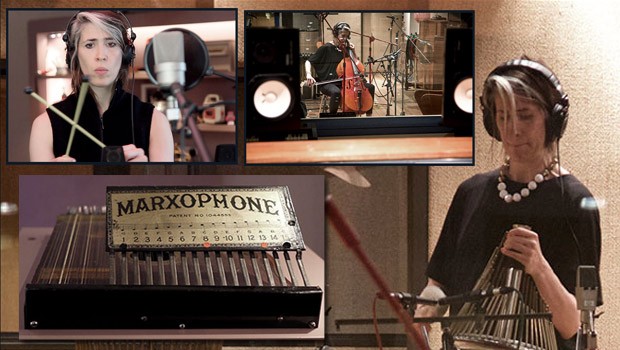 Instruments:
Array Mbira
Imogen's most famous instrument, her 5-octave Array Mbira. Imogen wanted to be able to play this as you would in real life, with 2 sets of notes mirrored for right and left hand. We also developed for her a strum device that strums as many notes as you choose, over any chosen key velocity.
9 Velocity layers, 5 octaves, 24/96 stereo sampling
Performance: Split Key mode, Strum Module, Jammer, Harmoniser
Boom Whackers
A set of tuned plastic percussion tubes. Imogen plays them with either wooden or carpet covered paddles, so both are sampled here.
32 velocity layers, 24/96 stereo sampling
Peformance: Carpet & Wooden beaters, Jammer, Harmoniser
Cello
Not your usual Cello samples - Imogen's favourite cello techniques, performed by her for specially the recording. The bowing is very soft and quiet, almost breaking up, while the Slide articulation is a kaleidoscope of harmonics. Pizzicato plucks (+ reverse option) complete the set. At Imogens request, the level can be continuously modulated with its own fader for realistic expression.
16 velocity layers (Pizzi), 3 round robin layers. 24/96 stereo sampling.
Performance: pizzicato, harmonic slides, soft bowing, reverse pizz. Volume modulation fader, Jammer, Harmoniser
Cocktail Kit With Nibbles
A tight jazz kit and selected percussion. Detailed velocity layers (up to 64) make this kit very expressive and dynamic.
up to 64 velocity layers, direct + room mics, 24/96 stereo sampling
Performance: sticks, brushes, mallets. FOCUS mode, Euclidean Beats drum sequencer.
Glockenspiel
Used by Imogen across all her work, the glockenspiel is sampled in detail here, allowing you to get "lost in twinkly sounds"
11 velocity layers, 3 round robin layers, 24/96 stereo sampling
Performance: Jammer, Harmoniser
Marxophone
A treasured Marxophone, a kind of fretless zither with which you can either hammer or strum a set of chord strings. Both techniques are replicated in the Box Of Tricks instrument
9 velocity layers, bounced + single notes with key-off samples
Performance: Strum, Chord and Keysplit mode, Jammer, Harmoniser
Shruti Box
A gift from Imogens mother. A charming instrument, full of expression. In the Box Of Tricks collection it is modelled spectrally, enabling the user to control the amount and drift of the pressure applied to the instrument. It also functions as a neat synth, making cool sawtooth pads and basses.
Spectral modelling overtone crossfading, 24/96 stereo sampling
Performance: Pressure & drift, Jammer, Harmoniser
Tongue Drum
An atmospheric steel percussion instrument which is the perfect partner for the Heap Jammer and the custom reverb IRs.
10 Velocity layers, 3 round robin layers, 24/96 stereo sampling
Performance: Jammer, Harmoniser
Vibraphone
Another unconventional take on a well-known instrument: Vibraphone delicately played with fingernails rather than mallets, and also bowed for haunting pad-like sounds.
9 velocity layers, fingernails, bowed (looped), bowed (decay), 24/96 stereo sampling.
Performance: Fan modelling, Jammer, Harmoniser
Vocal Pad
A full range of vocal notes performed by Imogen. A spectrally processed channel - GHOST - can be blended with the dry vocal, as can a reversed sample set. 'PAD-MODE' switches between the natural, breathy attack or a tighter trimmed start for synth-like choirs.
Dry, Ghost, Reverse articulations, 24/96 mono sampling
Peformance: Jammer, Harmoniser
Vocal & Body Percussion
The result of a unique recording session with Soniccouture in which Imogen created percussive sounds from her voice and body - slaps, clicks, hums, kisses - and also from favourite objects in her studio, such as a large lamp and an ocarina. An incredibly creative set of sounds that can be played as a drum kit, or set into focus mode to create completely tuned patches to play.
61 unique Imogen sounds, 24/48 stereo sampling
Performance: Euclidean Beats drum sequencer, FOCUS mode
Waterphone
A big Heap favourite, this instrument is based around an incredible studio waterphone performance by Imogen - bowing, striking, coaxing a dazzling array of sounds in one long take. Using Soniccouture's FOCUS mode, hundreds of waterphone patches are instantly available to the user at the click of a button.
128 waterphone sounds performed by Imogen, 24/96 stereo sampling
Performance: FOCUS MODE, Jammer
Whirly Tubes
One of Imogen's first ideas for the Box Of Tricks project was to sample her set of tuned 'Whirly' tubes - plastic piping that are swung around the head, producing a note and extra harmonics if swung faster. A real challenge to record, this instrument is possibly the most unusual and haunting in the whole collection.
Full chromatic range of Whirly tube samples, performed by Imogen, 24/96 stereo sampling
Performance: Harmonic mode, Jammer, Harmoniser
Features
Performance Modules: Euclidean Beats, Harmoniser, Jammer, Strum, FOCUS, Pressure/Drift
Synthesis: Freely configurable filter module with 14 different filter types, Filter EG, Amp EG, custom Auto-Pan, SLIM fundamental EQ
Effects: Freely configurable FX chain with 17 different insert effects available, and random DICE mode.
Space: custom convolution reverbs recorded in Imogens house + addtional rooms, halls and SFX.
Library Specs
Kontakt Player 5.5 Compatible
30GB core sample library (13GB with Kontakts compression)
13 Kontakt Instruments
24/96 Stereo Sampling
Multiple velocity layers, round robin layers & articualtions (varies per instrument)
170 Snapshot presets
12.7 GB download delivered by Soniccouture Cloud Downloader App

This product requires the free Native Instruments Kontakt Player, the latest version can be downloaded through Native Access, Native Instrument's download manager!
The minimum required Kontakt version for this product is stated in the product description or can be found on the manufacturers website.
System Requirements:
Mac:
macOS 10.14 or higher
64 bit
Intel Core i5 or Apple M1 (native)
RAM: 4GB (6GB recommended)
Windows:
Windows 10 or higher
64 bit
Intel Core i5 or similar CPU
RAM: 4GB (6GB recommended)
Supported Interfaces:
Mac (64-bit only): Stand-alone, VST, VST3, AU, AAX
Windows (64-bit): Stand-alone, VST, VST3, AAX
Legacy Versions:
If you require legacy installers of Kontakt Player please refer to this Knowledge Base Article.

Required Registration:
Soniccouture products require you to register with the manufacturer at www.soniccouture.com to activate your license.
This product requires an activation!
An internet connection is required to authorize / activate the product.