Inspirational chords progressions to kickstart your music
When you first sit down at a blank project sometimes you need a fresh hit of motivation and creativity. That's why CHORDS is here for you. Originally designed for EDM productions, but useful for a variety of genres, this clever workstation will conjure chords of all shapes and sizes with just a couple of clicks. Try out new ideas for your tracks within the intuitive interface and let this plugin take the strain, from suggesting single 4-note chords to producing entire 8-chord riffs.
Place this MIDI effect ahead of any MIDI-triggered audio generating plugin and hit play in your DAW. The innovate software will generate looped options for up to 8 chords with full control over chord shape, inversions, velocity and more. Then just drag the MIDI straight from the plugin to your project, letting your creativity flow freely, guided by the suggestions from CHORDS.
Features
Chord-creating MIDI effect

Connects to any sequencer

Global and per-segment control

Intelligent harmonic progressions

Preview mode for in-plugin playback

Export MIDI

Factory presets

Resizable interface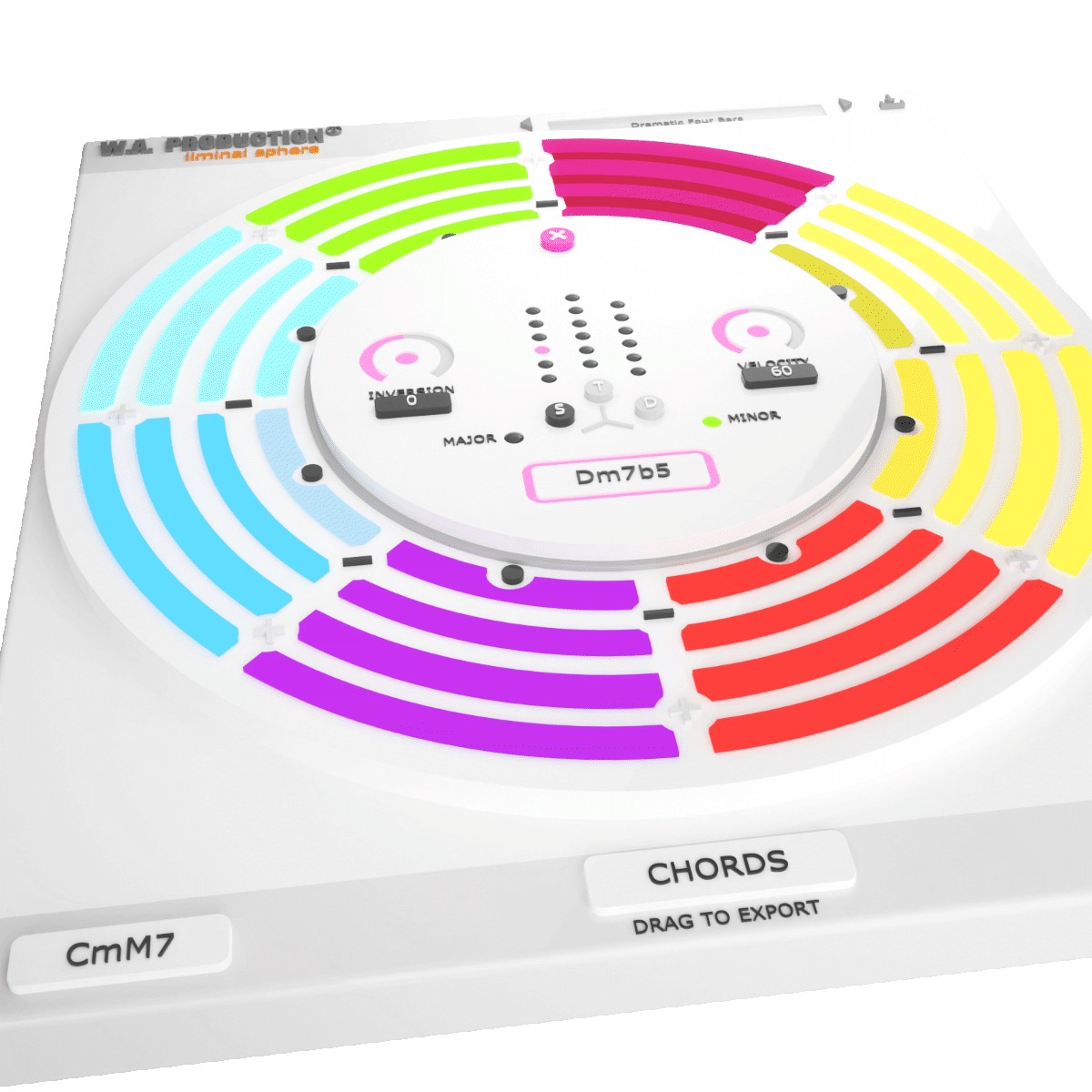 Global or Granular
Use the global controls to adjust inversions, length, speed and root key of the entire playback, making on-the-fly adjustments to your entire riff a simple process. To get into the detail, click a segment for more granular control over chord shapes (including major / minor variations), individual inversions and velocity.
Simple Segments
With up to 8 segments, each containing a different chord type, you can choose to trigger between one and four notes per chord. The playback of these segments syncs to the host BPM of your DAW, always remaining locked in time. You can add and subtract segments with ease and change a range of parameters, independently for each segment.
Essential Parameters
Each segment can be programmed with inversions from -6 to +6, transforming chord shapes and placing the root note inside of the chord itself. Experiment by pushing the lowest notes up an octave, or highest notes down an octave, turning your chords inside out.
Just The Tonic
With your chords loaded and a segment chosen, use the 18 buttons in the centre of the interface to choose Tonic, Subdominant or Dominant chord shapes. From simple triads, right through to more complex shapes, let CHORDS find the right notes for any related chord. Fancy a G7sus4 or a Bm7b5? Just let this plugin find the correct notes and work out the difficult stuff for you.
Export MIDI
To get the chord progressions into your own projects, simply drag and drop from the plugin to your DAW. Then you can edit to your heart's content, chopping up the MIDI, transposing and twisting the CHORDS suggestions to suit your own style of music.
Powerful Presets
CHORDS includes a huge number of factory preset progressions, all labelled in detail. These are useful musical motifs to get you up and running quickly which can eventually become the basis for whole tracks.
Mac:
macOS 10.15 or higher
64 bit
Windows:
Windows 8 or higher
64 bit
Required Registration:
W.A. Production products require you to register with the manufacturer at www.waproduction.com to activate your license.
This product requires an activation!
An internet connection is required to authorize / activate the product.