Complex chord progressions for instant inspiration
After the original "Chords" was released, W.A. Production began to receive a ton of emails from people requesting an even wider range of functions. Always eager to take in input, they combined some of their own ideas with the most popular demands to create Chords Pro.
Chords Pro expands on ideas from the original plugin with nearly twice as many chord types, A/B comparison options, and clever randomization. This plugin ought to be your go-to for creating your own chord progressions if you need a fresh boost of inspiration and originality. This improved workstation, which was first created for EDM productions but is applicable for a range of genres, will easily create chords of all shapes and sizes with only a few clicks. Try out fresh notions using the user-friendly interface, or click "create" to have Chords Pro generate original ideas, from single 4-note chord suggestions to complete 8-chord riffs.
Play the audio in your DAW after placing this MIDI effect in front of any MIDI-triggered audio generating plugin. With complete control over chord shape, inversions, velocity, and other factors, the innovative software will provide looped alternatives for up to 8 chords. After that, simply drag the MIDI directly from the plugin into your project and let your imagination run wild while being inspired by Chords Pro's suggestions.
Features
Professional Chord-creating MIDI effect

Intelligent randomisation

A/B Toggle with copy & paste

30 Chord types

Updated & expanded factory presets

Connects to any sequencer

Global and per-segment control

Intelligent harmonic progressions

Preview mode for in-plugin playback

Export MIDI

Resizable interface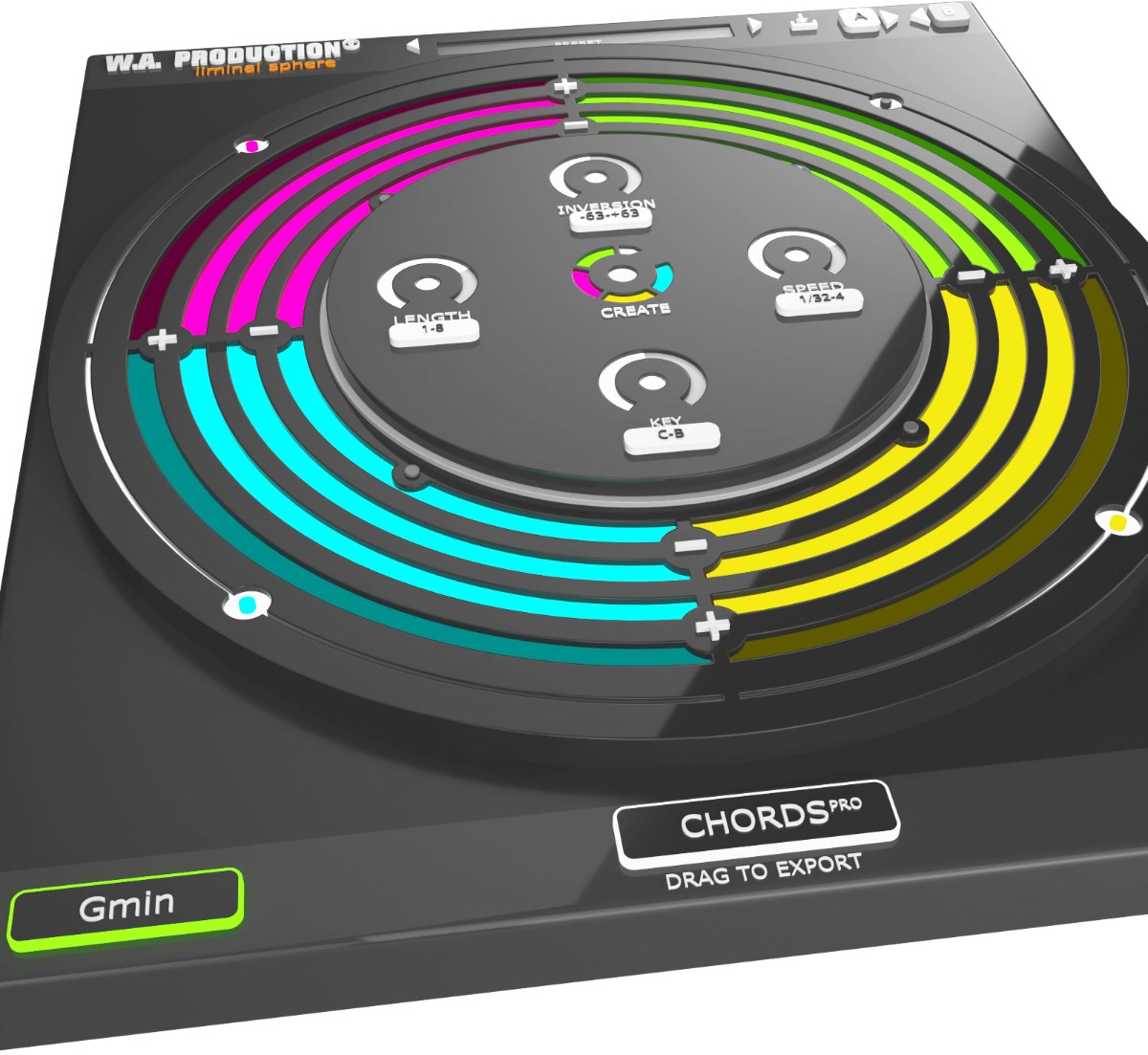 Added to Chords Pro
With such a great reception to the original, they've injected Chords Pro with many additional features: Use the A/B comparison toggle to lock-in a favourite sequence, whilst experimenting on another version of it. Hit the "create" button to intelligently randomise one or more chords in a sequence, based on the starting chords of your riff. The original plugin has only 18 chord types, but Chords Pro contains 30. Under the hood, the programming has been refreshed to take account of these new chord shapes, so that progressions sound musical and natural. This also applies to the refreshed and expanded selection of factory presets.
Global or Granular
Use the global controls to adjust inversions, length, speed and root key of the entire playback, making on-the-fly adjustments to your entire riff a simple process. To get into the detail, click a segment for more granular control over chord shapes (including major / minor variations), individual inversions and velocity.
Simple Segments
With up to 8 segments, each containing a different chord type, you can choose to trigger between one and four notes per chord. The playback of these segments syncs to the host BPM of your DAW, always remaining locked in time. You can add and subtract segments with ease and change a range of parameters, independently for each segment.
Essential Parameters
Each segment can be programmed with inversions from -6 to +6, transforming chord shapes and placing the root note inside of the chord itself. Experiment by pushing the lowest notes up an octave, or highest notes down an octave, turning your chords inside out.
Just The Tonic
With your chords loaded and a segment chosen, use the expanding range of chord shapes in the centre of the interface to choose between 30 different chord types: Tonic, Subdominant or Dominant. From simple triads, right through to more complex shapes, let CHORDS PRO find the right notes for any related chord. Fancy a Cmadd9 or a Am7b5? Just let this plugin find the correct notes and work out the difficult stuff for you.
Export MIDI
To get the chord progressions into your own projects, simply drag and drop from the plugin to your DAW. Then you can edit to your heart's content, chopping up the MIDI, transposing and twisting the CHORDS PRO suggestions to suit your own style of music.
Powerful Presets
CHORDS PRO includes a huge number of factory preset progressions, refreshed and expanded from the original. These are all labelled in detail and are useful musical motifs to get you up and running quickly, which can eventually become the basis for whole tracks.
Mac:
macOS 10.15 or higher
64 bit
Windows:
Windows 8 or higher
64 bit
Required Registration:
W.A. Production products require you to register with the manufacturer at www.waproduction.com to activate your license.
This product requires an activation!
An internet connection is required to authorize / activate the product.