Songwriting made easy!
EZkeys is a revolutionary plugin and stand-alone instrument that combines a world-class piano player, songwriting partner, arranger and a meticulously sampled instrument – all in one package! Aside from breathtakingly rich tonal qualities, EZkeys allows the user unlimited creativity through its groundbreaking functionality.
If you have registered at least one EZkeys Instrument already, you are eligible for the reduced "EZkeys Sound Expansion" to get the Electric Grand and save big!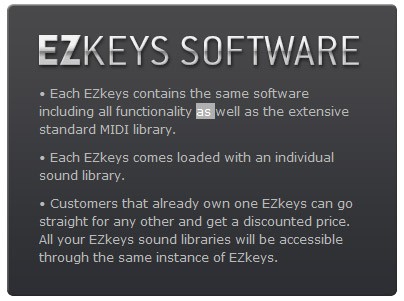 Drag & drop MIDI
EZkeys comes with an extensive MIDI library performed by a professional session pianist. Played with increasing complexity in full song sections and covering all major genres such as rock, pop, country, gospel, blues and funk, this library is not only a creative boost, it's an untapped source of inspiration for your yet unwritten songs. Drag, drop and lay down the foundation to a track in no time!
Smart songwriting features
EZkeys includes a host of revolutionary and creative songwriting features. Transpose full MIDI tracks on the fly, use any MIDI file and transform it with playing styles found in other MIDI, use the groundbreaking EZkeys Chord Wheel to customize chord voicing and harmonic color with just one mouse-click – and much, much more.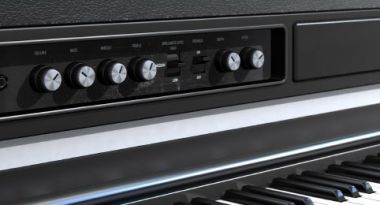 The sounds
EZkeys Electric Grand comes with a carefully sampled Yamaha CP-80. This groundbreaking instrument was first introduced on the market in the late 1970s as a compact, electric option to the regular grand piano and has since become a modern classic, immortalized in chart-topping songs by a wide range of artists spanning across the genres. Even today, some 30 years after its inception and since long out of production, the analog, electric and amplified hybrid sound of the CP-80 keeps playing a key role in modern music. With the included broad genre mixer presets, the classic, crisp sound will expand beyond the conventions and make this instrument a must in every versatile songwriter's palette of audio tools.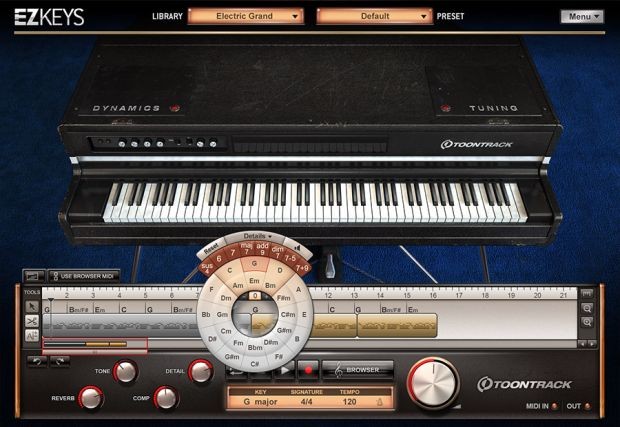 EZkeys Electric Grand - product details
EZkeys - Feature Overview
• 32- and 64-bit VST, AU and RTAS instrument as well as low latency stand-alone application
• Drag and drop the included MIDI straight to the built-in song track
• Drag and drop support for your own or third party MIDI straight into EZkeys
• Drag and drop MIDI from the song track or directly from the song browser to your DAW or to your desktop
• EZkeys will analyze and chord-separate any MIDI on the fly
• Record or overdub MIDI directly in EZkeys
• Use your own, the included or any third party MIDI/chord progressions and transform with playing styles found in other MIDI files
• Quickly add basic chords to the timeline or drag and drop any chord from the Chord Wheel
• Real-time chord display that enables you to instantly see what chords you are playing
• Chord selector, based upon the circle of fifths, allowing you to change chords instantly
• Presets for the most commonly used chord types
• Customize the coloration of any chord by opening up the detailed view
• Alter the voicing of a chord on the fly by clicking the - or + buttons in the Chord Wheel
• "Humanize" any pre-quantized MIDI upon import in EZkeys
• Transpose individual song blocks or full songs
• Export songs or files as wave files straight from the EZkeys interface
• Comes with an easy to understand music theory document including MIDI examples
• Possibility to tune the piano by octave, semitone or cents
• Dynamics controls that let you adjust the velocity response to match your keyboard or playing style
• Three pedals: sustain, sostenuto and damping
• MIDI-learn and automation
• Ready-made presets utilizing high-quality effects from Overloud. The presets range from raw and unprocessed to heavily tweaked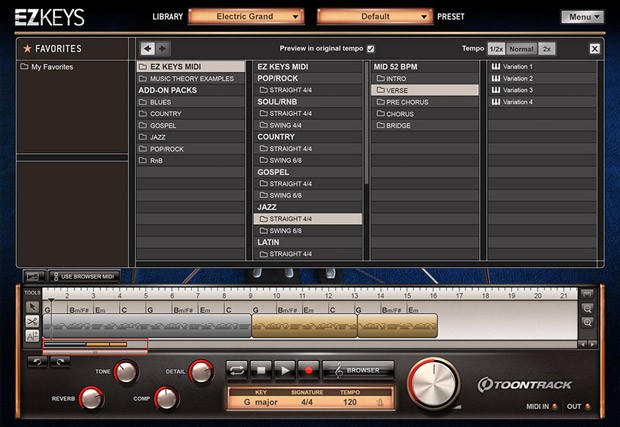 EZkeys – MIDI Overview
• Extensive MIDI library played by a professional session pianist
• All major styles covered (pop/rock, soul/RnB, country, gospel, jazz, blues, boogie, funk)
• All songs performed in full song structure blocks
• All songs performed with increasing intensity as intro, verse, pre-chorus, chorus and bridge variations
• Single, rhythmical and broken chords in different variations as well as FX and endings
• Straight/swing variations in 4/4 and 6/8
• Intuitive browser that lets you add you own favorites and arrange them in folders
EZkeys Electric Grand – Sound Library Overview
• A carefully sampled Yamaha CP-80 electric grand piano
• Recorded at Studio 9, Sveriges Radio, Sweden through a Music Man amp and a custom-built speaker cabinet using Avalon U5, Dimension D, SELA T25, Coles 4038, Telefunken U47 and Neumann SM69 microphones.
• All sounds are designed to be mix-ready. Just pick a preset and the sound will sit right in your mix!
• Uncompromising dynamic response for great playability

Preset Overview
The included signal chain presets are based on high quality effects from Overloud. You can control each preset by using a set of controls that will affect the individual parameters.
• Default:
The default and all-round sound brings out the best in the natural CP-80.
• Raw Tweaks:
A true bypass preset that represents what the instrument sounds like raw, without effects and EQ.
• Ambient Ballad:
A big sound for any ambient ballad. This sound involves EQ, compression, stereo enhancer, reverb, delay and more.
• Amped:
The direct signal run through an amp and a 15" cabinet combined with compression, spring reverb and tremolo. A well-rounded sound with a slight edge, great for anything from classic ballads to modern pop and rock.
• Chorus Grand:
Reverb and chorus on top of the classic CP-80 produces a dense sound with subtle overtones. Tailored for ballads or mid tempo rock with an edge.
• Filtered:
Bit crusher, filter, phaser, delay and plate reverb – all boiled down to a preset that takes this instrument to a completely new level. Suitable for anything from modern pop to classic funk or rock.
• Holdsworthy:
A bright, in-your-face sound that won´t go unnoticed in any mix. Chorus, hall reverb, tape delay, compression – this is a creative preset with an unmistakable modern edge but still timeless and applicable in any song context.
• Sweeped:
Slightly less bright and with a more vintage feel, this combo of vibrato, filter and filter delay will surely find its way to many funky ballads and songs with a retro feel.
• Taped Phase:
Tape simulation, compression, phaser and plate reverb – a playful sound with a distinct distorted edge and phaser effect.

Mac:
macOS 10.9 or higher
64 bit
Intel- or Apple Silicon processor
RAM: 2GB
Windows:
Windows 7 or higher
Intel or Athlon processor
RAM: 2GB
Product activation:
An internet connection is required to authorize / activate the product.