Welcome to the world of breaking down the digital world!
Yes, in the realm of music production, producers are happy to record at 192 kHz and 24 bit to provide music consumers high-quality audio. However, we also enjoy breaking things, so LoFi audio quality is no longer only a byproduct of low-quality Chinese children's toys; rather, it has evolved into a useful instrument in modern music production and post-audio processing! Who could have imagined that back in the 1980s when everyone yelled for 16-bit graphics instead of 8-bit? Yes, people are inventive, and decades later, "LoFi" sound sculpture developed into a distinct art form.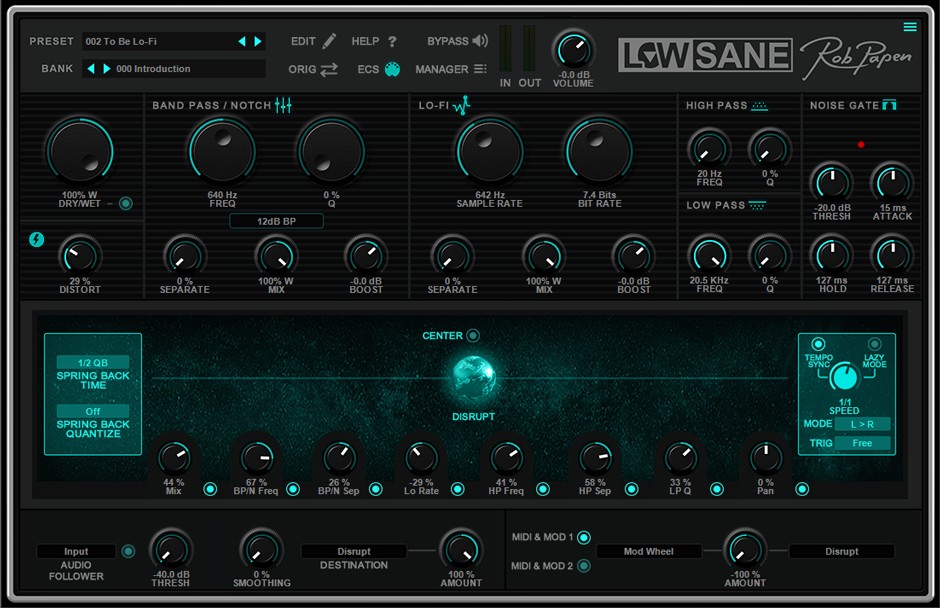 Well, LowSane adapts to this creative process and adds some additional creative options like the 'Disrupt Sphere' to this world of crushing down the digital bits! If offers in the audio route a Distortion module, Band Pass / Notch Filter, Lo-Fi section, Hi-Pass and Low-Pass Filters, and a Noise Gate. These parameters can be controlled by the 'Disrupt Sphere', and additionally there is also an Audio Follower which again can control the "Disrupt Sphere" or any of the other parameters.
Last but not least there is a 2-slot modulation matrix in which you can connect again parameters, or use MIDI to control parameters and also the 'Disrupt Sphere'. With LowSane you get your bits and pieces together going LoFi!
Features
LoFi FX with additional distortion, Band Pass / Notch Filter, Hi-Pass Filter, Low-Pass Filter, and Noise Gate

Disrupt Sphere control for creating FX changes

Audio Input Follower, for controlling LowSane's parameters

GUI sizes available are 100%, 125%, 150%, and 200%
Mac:
macOS 10.13 or higher
Apple Silicon compatible
64 bit
Windows:
Windows 7 or higher
32 bit & 64 bit
Required Registration:
Rob Papen products require you to register with the manufacturer at www.robpapen.com to activate your license.
This product requires an activation!
An internet connection is required to authorize / activate the product.