Auditory Transient Shaper
Based on the Transient Emphasis section of the award-winning Elevate Mastering Limiter, Punctuate is a multi-band transient modulator based on the critical bands in the human ear. Punctuate's intelligent algorithms allow you to control the transient emphasis or suppression of all 26 critical bands with just 4 controls. This makes for an incredibly powerful, but very easy to use, transient modulator.
Transient shapers are used by top mix engineers to either crank up or soften the transients of instruments, emphasizing either the attack or sustain. However, traditional transient shapers work on the whole signal at once, modulating the whole frequency range when the transient snap is only happening in one band. Punctuate uses a model of the human ear to run a set of transient shapers across the whole spectrum of human hearing. This allows you to tailor the attack of a whole range of instruments, busses, and whole mixes without messing with the entire frequency range. The result is unparalleled transient shaping power-focused where you need it, and not where you don't.
Turn the drums up or down in an entire mix

Turn up just the kick drum, without effecting the bass

Pull hi-hats out of the snare mic

Turn up the snare crack, while turning down the thump

Bring instruments like acoustic guitars and pianos forward in the mix, or push them back

Breathe life back into dull or overcompressed mixes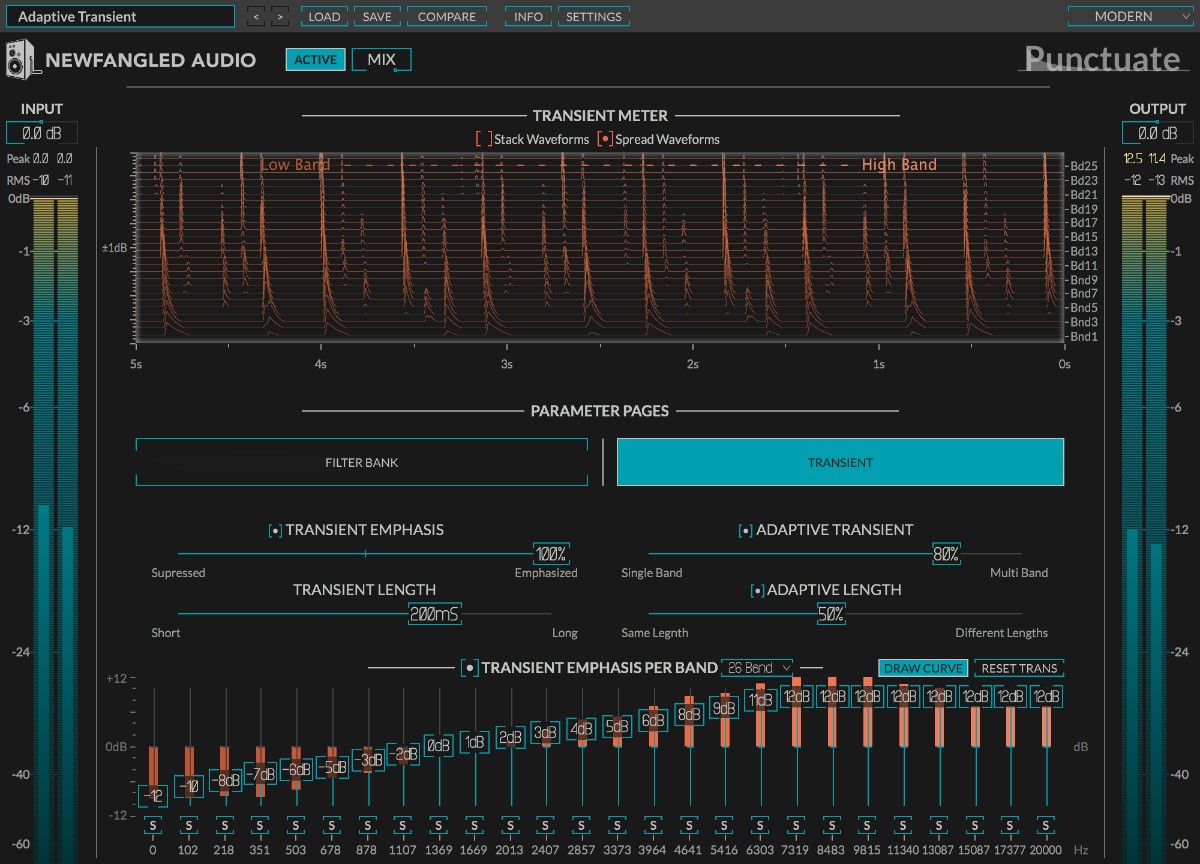 Features
26 Transient Modulators aligned to the critical bands of the human ear

Adaptive Transient slider allows bands to work independently or smoothes them for more natural processing

Emphasize or Suppress transients in each band, using the global Transient Emphasis slider to scale the overall processing

Transient Length and Adaptive Transient Length controls allow you to fine tune the transient length

Scrolling meter display shows the transient modulation in each band

Mix control for parallel processing

Same mastering quality input and output section available in all Elevate plug-ins

Solo and reconfigure the bands for in depth sound design
Mac:
macOS 10.9 or higher
Apple Silicon compatible
64 bit
Windows:
Windows 8.1 or higher
64 bit
Required Registration:
Eventide products require you to register with the manufacturer at www.eventideaudio.com and with www.ilok.com to activate your license.
This product requires an activation!
You can either "soft" activate on your computer without addditional hardware or transfer the license to an iLok USB dongle which has to be purchased separately. The iLok dongle can be used to run the protected software on different computers. Your licenses can be easily manged using the iLok Licence Manager. To protect your investment against theft or loss we recommend the iLok Zero Downtime protection with TLC.
An internet connection on any computer and a free user-accout at www.ilok.com is required to authorize the product.
Please check with the software manufacturer which iLok version is required at least if you want to use a hardware iLok!