EXPLORE THE SOUNDWORLDS OF THE MASTERS
The instruments of the great composers are museum pieces now ; hundreds of years old and not in playable condition. But in recent times period instrument specialists have begun recreating our musical past in the form of reproduction instruments. By sourcing authentic materials and using traditional techniques from the 16th, 17th and 18th centuries, incredibly accurate copies of the finest historical instruments can be produced.
These beautiful new instruments bring the soundscape of our musical past to life, showing us how incredibly diverse our modern instruments' predecessors were. We are now able to enter into our musical heritage more faithfully, and the new palette of sounds available offers fresh inspiration for composers today.

THE BIRMINGHAM CONSERVATOIRE
Birmingham Conservatoire is an international music school and major concert venue in central England. The school is a renowned centre for Early Music ; The Early Music Programme was set up in 1991 and has led the field in introducing historical instruments and style to as many young musicians as possible for over 20 years. Soniccouture worked with Martin Perkins, Early Music Lecturer & Instrument Curator, and Joshua Sadler, a postgraduate, who acted as consultant producers for the Conservatoire Collection project - choosing the instruments to be sampled, sourcing players and advising on the best way to sample them.

THE INSTRUMENTS:
French Harpsichord
This instrument is a copy of a harpsichord originally made by Paul Taskin in 1762 and later enlarged by Jean Goermanns in 1780.The original instrument is one of the most copied 18th century harpsichords, Michael Johnson's copy is highly regarded as a faithful reproduction.
Flemish Harpsichord
A Michael Johnson copy of a harpsichord made by Johannes Ruckers, made in 1637.The copy used for the sample library was made in 2000 by Michael Johnson. Generally speaking, 17th century harpsichords are smaller, and, significantly, shorter than those of the 18th century.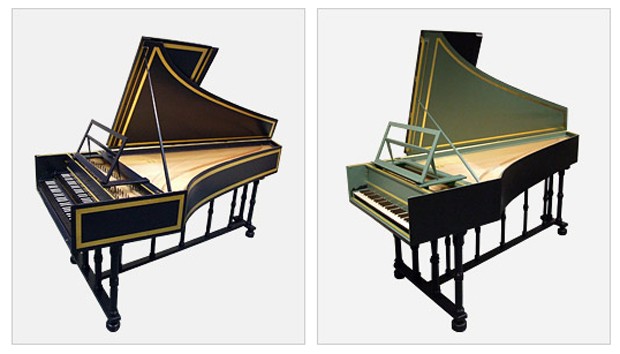 Theorbo
A single-strung, 14 course instrument made by Martin Haycock in 2005, after various seventeenth century Italian originals. This late Renaissance invention was the ultimate accompanying instrument of the time - by adding an extension to the neck, thick strings giving low notes were placed alongside the conventional lute meaning a player could play a bass- line and give the rhythm.
English Theorbo
Although there are no surviving original instruments, there are several descriptions, illustrations and paintings of English theorbos dating from the mid- 17th C. This instrumentwas made by Klaus Jacobson in 2005.The English theorbo has much in common with the small 12-course lute, from which it developed, but it takes elements of the larger, Italian theorbo, such as the deep body

Baroque Guitar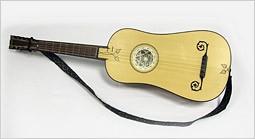 A French style, five- course instrument: a copy of various seventeenth century originals, made by Martin Haycock. The stringing of the instrument is unusual: the five courses correspond with the top strings of modern guitars, but they are double-strung apart from the top E. During the early 17th C, the guitar was primarily used as an accompanying instrument, playing for dances or

Hurdy Gurdy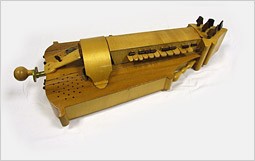 This instrument is a copy of a sixteenth century original in the Gemeentemuseum, The Hague, and is typical of those of the late Renaissance.
A typical hurdy gurdy of the mid-Renaissance era featured three drones strings ( made of gut), two melody strings and a further higher drone string used for rhythm, known as the trompette. This features a buzzing bridge (chien - literally "dog") which creates a harsh sound when the player increases pressure on the wheel. Traditionally, the player would play turn the wheel to the tempo of the music, using his wrist to effect a rhythm whilst turning the wheel. The last two strings (chanterelle(s)), are the melody strings.
The nature of the hurdy gurdy is one of an all-in-one melody, harmony and rhythm instrument. Even without the player consciously playing rhythmically, and playing without the melody strings chanterelles or the buzzing trompette drone, there is a natural rhythmic fluctuations with each cycle of the wheel.
Psaltery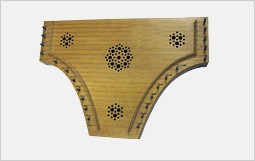 The Psaltery is one of the oldest of all musical instruments, mentioned in the Bible and in numerous ancient Greek texts.
A Psaltery is a diatonic instrument, used to play chords or melodies. It is played by plucking the strings with quills, one in each hand. As the notes are not stopped by the player, the long decay time give this instrument an ethereal quality.

Nakers
A naker is a small drum, of Arabic origin, with a metal or wood dome-shaped body and animal skin drum head. Played in pairs, nakers made their way to Europe at the time of the Crusades in the thirteenth century. The instruments sampled were copies of the pair in the Montagu collection.
Renaissance Side-drum
This is a medium large drum with a long shell and skins at either end held in place by wooden rings. The skins can be tightened and on the lower skin there is a snare mechanism made from two gut strings.
Baroque Timpani
The successor to the nakers - primarily an outdoor instrument - was the timpani. Used at first for ceremonial occasions with trumpets, by the 18th century the timpani found a new home in the orchestra. The drums are smaller compared to their modern counterparts, they use calf-skin drum heads, and are tuned to different notes without the aid of pedals
Specifications
23 GB core sample library ( 9 GB on disc with NCW lossless compression)
24 bit 96 khz stereo sampling
10 Kontakt Player instruments: French Harpsichord, Flemish Harpsichord, Theorbo, English Theorbo, Baroque Guitar, Psaltery, Baroque Timpani, Renaissance Side Drums, Nakers, Hurdy Gurdy
Up to 10 velocity layers, 3 alternate Round Robin layers
Key-off samples and multiple articulations according to instrument
Real time hand postion control for guitar instruments
Custom Convolution Reverb Impulse response library
User selectable scales and tuning control for all pitched instruments
Tuning Presets:
Equal Temperament, Pure (ie. Just), Overtone 16-32, Pythagorean, Pythagorean Middle, Pythagorean Up, Mean Tone 1/4, Silbermann, Werkmeister III, Kirnberger III, Neidhardt I, Valotti, Young 1/6 pC, Meantone 1/5, Meantone 1/6, Bach (Barnes), French 1/5, Handel, Lambert 1774, Mersenne I, Mersenne II, Neidhard 1724, Neidhard 1729, Rameau I, Rameau II, Telemann
The root note that these tunings are calculated from can also be changed.Default is C, but any root key can be set and the tuning is adjusted as necessary.

This product works with the free Native Instruments Kontakt Player, the latest version can be downloaded through Native Access, Native Instrument's download manager!
The minimum required Kontakt version for this product is stated in the product description or can be found on the manufacturers wesite.
System Requirements:
Mac:
macOS 10.14 or higher
64 bit
Intel Core i5 or Apple M1 (native)
RAM: 4GB (6GB recommended)
Windows:
Windows 10 or higher
64 bit
Intel Core i5 or similar CPU
RAM: 4GB (6GB recommended)
Supported Interfaces:
Mac (64-bit only): Stand-alone, VST, VST3, AU, AAX
Windows (64-bit): Stand-alone, VST, VST3, AAX
Legacy Versions:
If you require legacy installers of Kontakt Player please refer to this Knowledge Base Article.
Required Registration:
Soniccouture products require you to register with the manufacturer at www.soniccouture.com to activate your license.
Product activation:
An internet connection is required to authorize / activate the product.