Two exceptional Studio Grands recorded in legendary Studios!
The latest in Synthogy´s highly acclaimed Ivory II series of virtual pianos, Ivory II Studio Grands features two classic studio grand pianos recorded in iconic studios.
Steinway Model B Grand Piano Power Station New England - Waterford, Connecticut
The Steinway B is one of the most recorded pianos in history and is widely considered the ideal studio piano. Its unique balance of size and power make it an extremely versatile instrument for all styles of music. This particular instrument was hand selected and prepared with the kind cooperation of Steinway & Sons® at their factory in Astoria New York.
Before recording, all piano regulation, voicing and tuning was done on-site by a Steinway concert technician before painstakingly sampled by Synthogy's expert team. The recording sessions took place in the classic tuned live room of Power Station NE, an acoustic replica of the famed Power Station New York.
Bösendorfer 225 Grand Piano Firehouse Recording Studios - Pasadena, California
This Bösendorfer 225 Grand Piano possesses a deeply resonant tone and balance in all registers and has a distinguished place in the history of recorded music. Slightly longer than most studio grands at 7' 4", and with four additional low keys, this instrument has appeared on numerous Grammy®-winning and Grammy-nominated recordings. The sessions were engineered by Tony Shepperd in the state-of-the-art Studio A at Firehouse Recording Studios in Pasadena, its venerated sound captured in this historic piano room.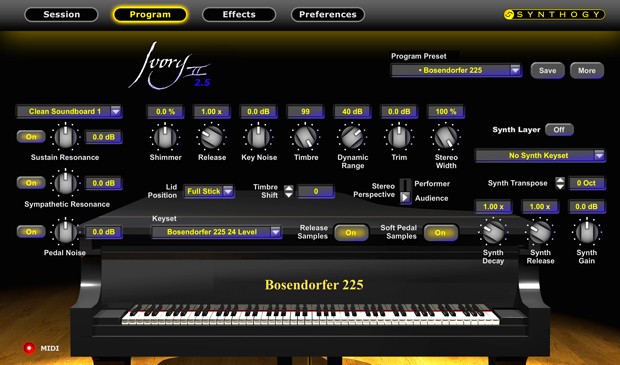 Ivory II-Studio Grands is built on Synthogy's award winning virtual piano engine and features:
Up to 24 Velocity Levels
Multiple Levels of Soft Pedal
Multiple Levels of Release Samples, triggered by Velocity and Duration
Harmonic Resonance Modeling for true Sympathetic String Vibration
Custom Soundboard Emulation DSP
Pedal Noise Enhancements
Native 64 Bit Support
Timbre-shifting, Parametric EQ and Synth Layer controls for powerful sound sculpting capabilities
Sample Interpolation Technology used for ultra-smooth velocity and note transitions
World class digital FX including Real Ambience, Chorus and EQ
Customizable User Controls for Timbre, Stereo Width and Perspective, Velocity Response, Mechanical Key Noise, Lid Position and more
Tuning Tables
Dozens of programs and effects presets
Ivory II-Studio Grands will be the first Synthogy piano collection to ship with their new Ivory 2.5 Piano Engine. This update will support PACE's machine-based license authorization scheme as well as the traditional PACE iLok™ key.
Additionally, the Ivory 2.5 Piano Engine includes new features, such as:
Shimmer: unique control over sustain and decay
New Half-Pedal Controls
Assignable MIDI Controls
High Resolution MIDI Velocity Response
Improved UI accessibility for sight impaired users
Recording.de 08/2017

Fazit:
Gefährlich realistisch und vielseitig noch dazu. Wo es aus verschiedensten Gründen nicht zu einem echten Steinway Model B oder Bösendorfer 225 reicht, kommt Synthogy euch mit "Ivory II - Studio Grands" extrem weit entgegen. Vielleicht sind über 100 Gigabyte für zwei Flügel etwas übertrieben, aber die Details und Einstellungsmöglichkeiten der Library sind es dann doch irgendwie wert. Und was dem Interface von Ivory II an Stil und Design fehlt, macht es mit Übersichtlichkeit und Lesbarkeit - und letztlich dem Sound - wieder wett. Klaviersampling auf höchstem Niveau
Bis zu 24 individuelle Velocity Samples

Viele Einstellungsmöglichkeiten
Klingt sehr realistisch
Beide Flügel haben einen eigenen, charakteristischen Klang
Den vollständigen Test für Studio Grands finden Sie hier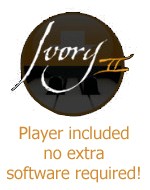 With the Synthogy Ivory 2.5 or later Piano Engine you can use the PACE computer based activation or the traditional PACE iLok™ Key activation. Previous Piano Engine versions always need and iLok™ key.
Minimum Hardware
2 GHz Quad-Core CPU
1.5 GB RAM
112 GB free hard drive space
Hard drive speed of at least 7200 RPM
DVD ROM drive for installation
Recommended Hardware
2.4 GHz Intel Core Duo CPU
2 GB RAM
112 GB free hard drive space
Hard drive speed of at least 7200 RPM
DVD ROM drive for installation
iLok key optional

Macintosh
AU, AAX or VST 2.4 plug-in host, or the included Ivory Standalone application.
10.8 (Mountain Lion) or newer
Windows
AAX or VST 2.4 plug-in host, or the included Ivory Standalone application.
Windows 7 SP 2 (32 or 64 bit) or newer



This product requires an activation!
You can either "soft" activate on your computer without addditional hardware or transfer the license to an iLok USB dongle which has to be purchased separately. The iLok dongle can be used to run the protected software on different computers. Your licenses can be easily manged using the iLok Licence Manager. To protect your investment against theft or loss we recommend the iLok Zero Downtime protection with TLC.
An internet connection on any computer and a free user-accout at www.ilok.com is required to authorize the product.
Please check with the software manufacturer which iLok version is required at least if you want to use a hardware iLok!