A Cinematic and Ethnic Vocal Tour de Force
EastWest/Quantum Leap present VOICES OF THE EMPIRE, a brand-new product perfect for epic film/TV/game soundtracks. Featuring the raw, primal vocals of Uyanga Bold, VOICES OF THE EMPIRE will make the perfect companion product to the newly-released blockbuster HOLLYWOOD CHOIRS.
Uyanga Bold is a unique talent, melding the ethnic musical traditions of Bulgaria, Serbia, Mongolia, and beyond. She is a trained opera singer with perfect pitch, fluent in Russian, Mongolian, French, English, and German. It's East meets West like you've never heard before. Her voice is beautiful, pure, otherworldly, haunting, unsettling, powerful, genuine in its ethnic flair and world class in its precision.
Uyanga Bold has taken the world by storm since she appeared on the scene, recently touring with Hans Zimmer with his live performances of the score from The Dark Knight. Forbes Magazine wrote "her voice harkens back to ancient civilizations" and she has been nominated as "Female Singer of the Year". She has appeared internationally on television, radio, and in live performances, reaching over 25 million views across all platforms.
Features of VOICES OF THE EMPIRE include:
Dozens of Mongolian, Bulgarian and Western-style, multi-sampled vocal instruments
Dozens of expressive phrases in every key
2 unique Mongolian legato vocal instruments
Traditional legato vocal instrument
Expressive vowel multi-sampled vocal instruments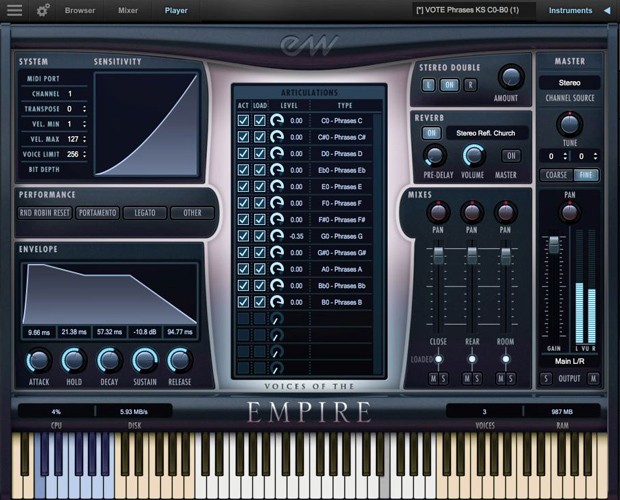 VOICES OF THE EMPIRE features 84 instruments across a variety of categories, including:
Sustain contains a variety of vocal instrument types, including Melismas, Slurs, Sustain Vibratos, Non Vibratos and Up Downs.

Legato instruments playback true legato intervals when playing two connected notes for every interval up to an octave. Available in traditional and Mongolian styles.

Combo instruments combine multiple articulations into a single instrument that uses the Mod Wheel (CC1) or Velocity Sensitivity to determine which of the different articulations will playback.

Words contain performances of specific words mapped across a 2 octave range. Use the Mod Wheel (CC1) to start the word at the beginning or an alternative start time.

Phrases contain instruments with a variety of phrases for each root note. They are sung in a variety of western and non-western styles, but are not specific to a particular musical scale/mode/key, as they are improvised.

Keyswitch instruments combine multiple articulations into a single instrument, and use keyswitches to switch between them. There are keyswitch instruments for Legatos, Melismas, Phrases, Sustains and Words.
VOICES OF THE EMPIRE will be a must-have virtual instrument for composers and musicians looking for that haunting cinematic vocal sound for their next project.
MusicTech Magazine 08/2018

Excellent sounding cinematic vocal package
Plenty of control of sample playback
Three excellent mic placements
Word patches are a completely treasure trove

This product comes with "PLAY 6" as a Sample-Player
Mac:
macOS 10.7 or higher
Intel Dual-Core i5
2.7 GHz or higher
RAM: 8GB (16GB recommended)
Harddisk 7200 RPM or faster (SSD recommended)
Windows:
Windows 7-10
Intel Dual-Core i5 (Intel Core 2 Quad or AMD Quad Core recommended)
2.7 GHz or higher
RAM: 8GB (16GB recommended)
Harddisk 7200 RPM or faster (SSD recommended)
All Systems
Free iLok account required at www.ilok.com
Free soundsonline.com account is required for retrieving and managing iLok licenses
internet connection required for product download & activation
Hard disk space for libray content
Number of concurrent activations: 1




This product requires an activation!
You can either "soft" activate on your computer without addditional hardware or transfer the license to an iLok USB dongle which has to be purchased separately. The iLok dongle can be used to run the protected software on different computers. Your licenses can be easily manged using the iLok Licence Manager. To protect your investment against theft or loss we recommend the iLok Zero Downtime protection with TLC.
An internet connection on any computer and a free user-accout at www.ilok.com is required to authorize the product.
Please check with the software manufacturer which iLok version is required at least if you want to use a hardware iLok!