This new, re-released version of TRUE STRIKE 2 has been completely re-designed and comes with Native Instruments Kontakt Player. New features include a re-structured instrument list, a streamlined audio pool and a custom interface with on-screen ADSR control, instrument information and other options.
True Strike is ProjectSAM´s distinctive percussion series, the ultimate percussion source for film, tv, game and media composers. True Strike 2 "Cinematic World and Effects Percussion" is the second in the series, covering a powerful set of ethnic instruments and a wide range of percussive effects, such as bowed cymbals and traileresque big bangs
Kontakt Player license included (compatible with Kontakt or Kontakt Player 3.5 or newer)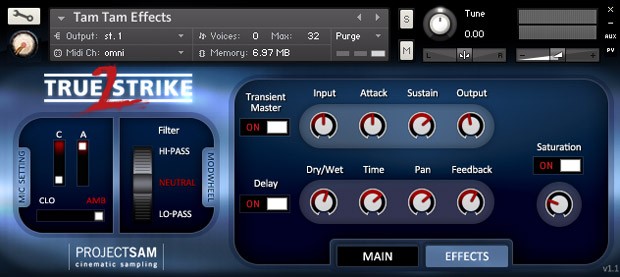 The library
With True Strike 2, ProjectSAM covers new percussion ground. Aimed at film, tv and game music, this library covers all to build your percussive action cue, ground-shaking chase sequence, suspenseful horror scene or out-of-this-world fantasy track. Japanese, African and Turkish drums, traileresque Big Bangs, bowed cymbals, prepared piano, new tam tam and gran casa effects, cajon, udu, lots of rhythmic phrases and a huge collection of bells and shakers. True Strike 2 also offers you a wide variety of various small percussion. In all, True Strike 2 delivers you the powerful drums and special effects needed to build any percussive score.
World Percussion
For True Strike 2, over 52 individual world percussion instruments have been sampled, covering the following regions: Japanese/Asian, African and European/Turkish. You will find okedo (taiko) drums, doundoun, udu, gomee, brekete, darabukas, bowls, bendirs, chappa from various regions, atarigane, kangagui bells and cajon. For all main instruments various idiomatic phrases are available. All world instruments have been recorded in studio or stage environments and are available in two microphone sets: close and room. Please note that the "Hear a Sample" MP3 above was performed using single hit samples only. No loops or phrases were used!

Big Bangs
One of the highlights in True Strike 2 is the Big Bang Menu. This sample bank offers you ground-shaking hits, both natural performances, such as gran casa à deux, as well as stacked and processed hits. Words can only describe so much, so listen to the demos to know exactly what we mean by "ground-shaking". If you are working on a powerful action cue, True Strike 2´s Big Bangs are your main ingredient.
Bowed metal
True Strike 2 gives you bone-chilling recordings of bowed cymbal, china, vibraphone and crotales. Recorded in a concert hall, you get to choose between an agressive, direct sound that you can process yourself, or an ambient, distant sound that will fit into your suspense cue right away.
Prepared piano
One of True Strike 2´s special features is the prepared concert grand piano. Recorded in an ambient concert hall using 3 mic positions, this set includes plucked snares, both sustained and dampened struck snares and a barrage of prepared piano effects such as glissandi, clusters, brush hits, wooden hits, hand-struck hits and much more.
Dystopian effects
True Strike 2 does not only focus on acoustic sounds. The library comes with an impressive set of sound-designed and processed effects. Over two 88-note keyboards worth of otherworldly hits, scapes and spheres are at your disposal. These are unique and instantly inspiring sounds that you will start using from day one.
Cimbalom
This library holds one big melodic bonus for you: a fully sampled, 3 GB cimbalom recorded in 3 velocities with 4 alternates for every single stroke, sustained and dampened notes as well as tremolo, slap and special effects. Available in 2 microphone sets, this is the most realistic cimbalom sample you will encounter.
The recordings
The instruments in True Strike 2 are categorized into to two settings: Studio, offering you a Close and Room microphone set, and Concert Hall, offering you a Close and Stage microphone set.
- Close (bright and direct)
- Room/Stage (studio/concert hall)
Specifications
Want to know more about True Strike 2´s content? Below you will find a full instrument list.
Effects Percussion
Bowed Cymbals
Gran Cassa Ensemble
Misc Percussion 1
Misc Percussion 2
Tam Tam Effects
Melodic Percussion
Bowed Crotales
Bowed Vibraphone
Bowls
Bowls Phrases
Cimbalom
Cimbalom Phrases
Prepared Piano
Prepared Piano Effects
Steeldrum
World Percussion
African
African Bells Menu
African Drums Menu 1
African Drums Menu 2
African Shakers Menu 1
African Shakers Menu 2
Djembe 1
Djembe 2
Djembe 3
Djembe 4
Djembe 5 phrases
Djembe Ensemble
Djembe Hall
Doundoun Hall
Logdrum
European
Japanese
Atarigane Set
Chappa Set
Japanese Kit
Okedo Set
Okedo-Daiko
Uchiwa-Daiko Set
Turkish
Bendir 1
Bendir 2
Bendir 3
Bendir 4
Bendir Bass
Darabuka Bass
Darabuka
Turkish Kit
Dystopia
Big Bang Kit
Dystopian Bangs
Dystopian Effects
Dystopian Scapes
Percussive Effects Kit
Bonedo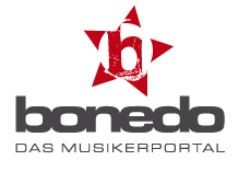 Auszug
Der letztendlich wichtigste und alles relativierende Punkt der beiden Teile von True Strike ist der hervorragende Klang. Wer in kurzer Zeit einen richtig fetten Blockbuster-Sound erzeugen will, der liegt hier goldrichtig.

Apfelwahn.de Februar 2011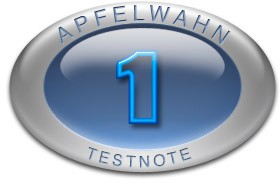 Auszug:
Das gefällt mir
Die hohe Audioqualität, die bereits den Vorgänger ausgezeichnet hat, setzt sich hier fort. Es gibt kaum Ausrutscher, kein störendes Rauschen in Abklingphasen. Fast alle Samples sind lupenrein ohne dabei klinisch zu wirken: Der Charakter der einzelnen Instrumente wurde sehr gut eingefangen. Highlights sind das Cimbalon, die gestrichenen Becken, Djembe, Cajon und Bendir. Zudem ist die Library eine Fundgrube für Effektsounds, welche zum einen durch entsprechende Spieltechniken, zum anderen durch den Einsatz von Klangdesign erzeugt wurden.
Die Zielgruppe Filmmusik-Komponisten und die artverwandten Genres werden auf professionellem Niveau mit inspirierenden Sounds bedient, die teilweise für sich alleine schon eine Szene untermalen können. Aber auch für den Einsatz innerhalb der Pop-Musik eignen sich die Sounds, vor allem in der Close-Mikrofonierung, die keinen prägenden Raumanteil mit sich bringt und vielseitig weiter bearbeitet werden kann. Der Preis ist angemessen.

Amazona.de 12/2010

Auszug:
Fazit
Wer es richtig krachen lassen will, sollte sich True Strike 2 anschaffen. Für mich persönlich ist es das beste Produkt neben den Percussion von Independence von der Firma Yellowtools für professionelles Erstellen von Kino Blockbustern. Die Klänge verlieren im Mix keine Substanz und klingen so gut, dass man schon fast vergisst, dass man einen Film mit zusätzlicher Musik unterlegen soll, anstatt nur mit Drum-Percussuion oder Sounddesign Effekten. Eine Nachbearbeitung benötigen dieses Klänge nicht. Die Zeitersparnis rechtfertigt den Preis, der zunächst als recht hoch erscheint. Die Sounds unterliegen nicht wirklich einem Modetrend, sondern besitzen einerseits Charakter und eine gewisse Zeitlosigkeit. Das schaffen trotz weniger Presets nicht viele Produkte.



Amazona.de, Hervorragend!


SoundOnSound, 5 Stars


Apfelwahn, Testnote 1


Bonedo.de, 4 Stars


William Ross
The Tale of Despereaux, Driftwood and September Dawn
I have been using True Strike 1 & 2 for virtually every project.
Quite simply, they are the best!



Brian Tyler
The Expendables, The Final Destinantion, Aliesn vs Predator-Requiem
True Strike possesses unmatched musicality and realism. You can sense the presence of the player behind the instrument - not jus the instrument itself


This product works with the free Native Instruments Kontakt Player, the latest version can be downloaded through Native Access, Native Instrument's download manager!
The minimum required Kontakt version for this product is stated in the product description or can be found on the manufacturers wesite.
System Requirements:
Mac:
macOS 10.13-11 (newest update)
64 bit
Intel Core i5
RAM: 4GB (6GB recommended)
Windows:
Windows 7-10
64 bit
Intel Core i5 or similar CPU
RAM: 4GB (6GB recommended)
Supported Interfaces:
Mac (64-bit only): Stand-alone, VST, AU, AAX
Windows (32/64-bit): Stand-alone, VST, AAX
Legacy Versions:
If you require legacy installers of Kontakt Player please refer to this Knowledge Base Article.
Product activation:
An internet connection is required to authorize / activate the product.