A Software No-One Has Ever Built Before
IrcamLAB TS2 sets a new standard in digital audio editing. It is a powerful audio toolbox application for professionals to edit or magically transform, time-stretch and manipulate audio files. TS2 has been re-designed from scratch thanks to the amazing feedback and requests collected by users over the years. It processes an accurate real-time sonogram display and handles full automation over the "Master Module" with multi-format plug-in insertion.

As a full mono/stereo audio editor. TS2 can edit any audio regions (Copy, Cut, Paste), transpose, "Transient Design", and offer remix, extensive mastering capabilities and much more with unprecedented accuracy.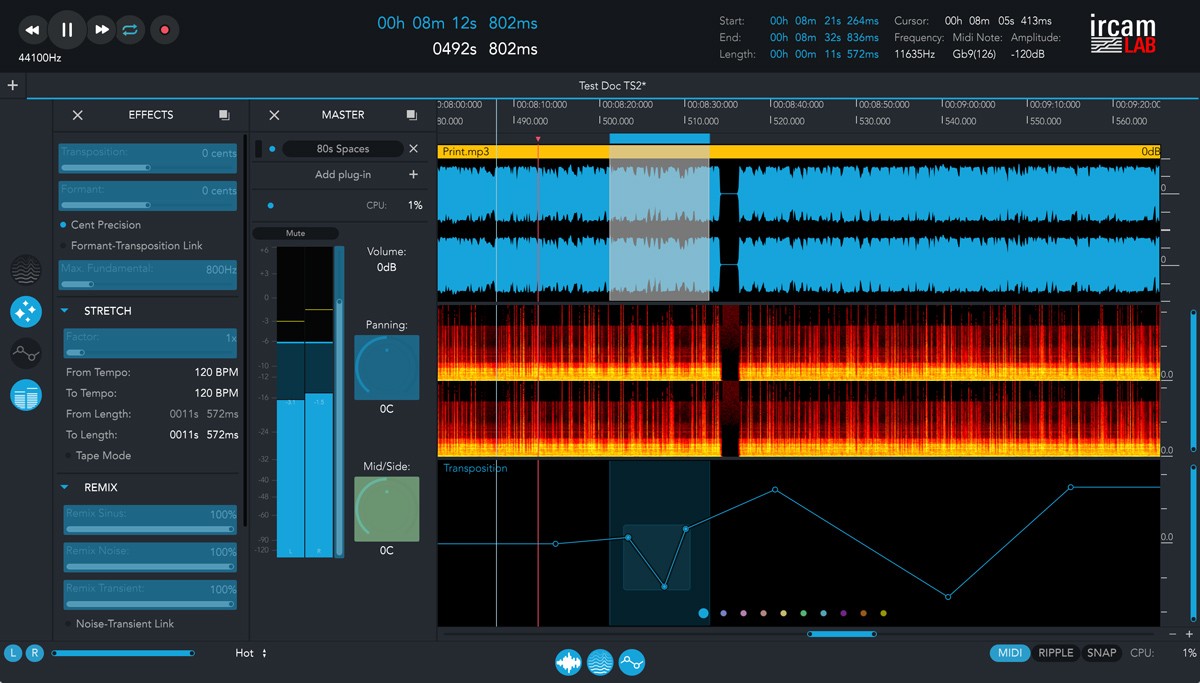 The TS2 application is a comprehensive suite of tools focused on the acclaimed SuperVP Engine to process complex audio editing tasks that includes full automation of parameters such as; Pitch, Transposition, Time Stretching, Remix Noise, Sinus & Transient. TS2 also supports the hosting of 3rd party external VST/AU effects from plug-in manufacturers.

Post-production professionals, audio engineers, sound designers, musicians and video editors alike use TS2 to transform recordings into production-ready audio files.
Product Features
Full Audio Editing Capabilities

Copy, Cut, Paste, Loop functions on Audio Regions

Full Automation over the SuperVP™ engine

Individual Volume Control with Fade In & Out

Multi Regions Editing with Cross-fades

Unlimited Undo's

Multiple Audio Files Management

Multiple Documents

Multi Ruler Control (time, second)

Loop and Tempo Calculator

Multi Windows and Multi-Screen Visualization

Real-Time Sonogram View

Export of Audio and Command Lines

Multi-format VST2, VST3 and AU plug-in insertion
Additional Features Version 2.2:
Multichannel support (up-to 256 channels).
Individual mono channel audio export option.
Spectral clipping effect.
Notarized for macOS Big Sur (Intel, and M1 with Rosetta 2).
System Requirements
Windows 7 or later | Intel/AMD CPU with SSE2
macOS 10.10 or later | CPU Intel 64 bit
4GB RAM or high recommended Display 1024x768 or higher
64 bit / Standalone
The system requirements can be found in the product description or on the manufacturer's website.
Product activation:
An internet connection is required to authorize / activate the product.