Complex chord progressions for instant inspiration
This plugin for inspiration is continually improving. They created "Chords Pro" to incorporate several user demands after the initial "Chords" release. It's time for yet another ground-breaking update, and CHORDS PRO + NOTES takes the original's ideas and cranks up the features and capabilities.
With the click of a button, this plugin turns straightforward concepts into chords and arpeggios that are fully configurable within a simple circular user interface. This enhanced workstation will produce chords and note progressions with style and ease. It was originally created for EDM productions but is applicable for a variety of genres. Try out fresh notions using the user-friendly interface, or click "create" to direct the plugin to generate original ideas, such as single 4-note chord suggestions or intricate 8-chord multi-note arpeggios.
Hit the play button on your DAW after positioning this MIDI effect in front of any plugin that produces audio when activated by MIDI. With complete control over chord structure, inversions, velocity, partitions, arpeggio notes, and other factors, the intelligent algorithms will provide looped alternatives for up to 8 chords. Then, using the plugin's ideas as a guide, just drag the MIDI directly from the plugin into your project.
Features
Professional Chord & Arp MIDI effect

Connects to any DAW

30 Chord types

Factory presets for chords & sequences

AI randomization

Intelligent harmonic progressions

A/B Toggle with copy & paste

Global and per-segment control

Note partition control

Preview mode for in-plugin playback

Export MIDI

Resizable interface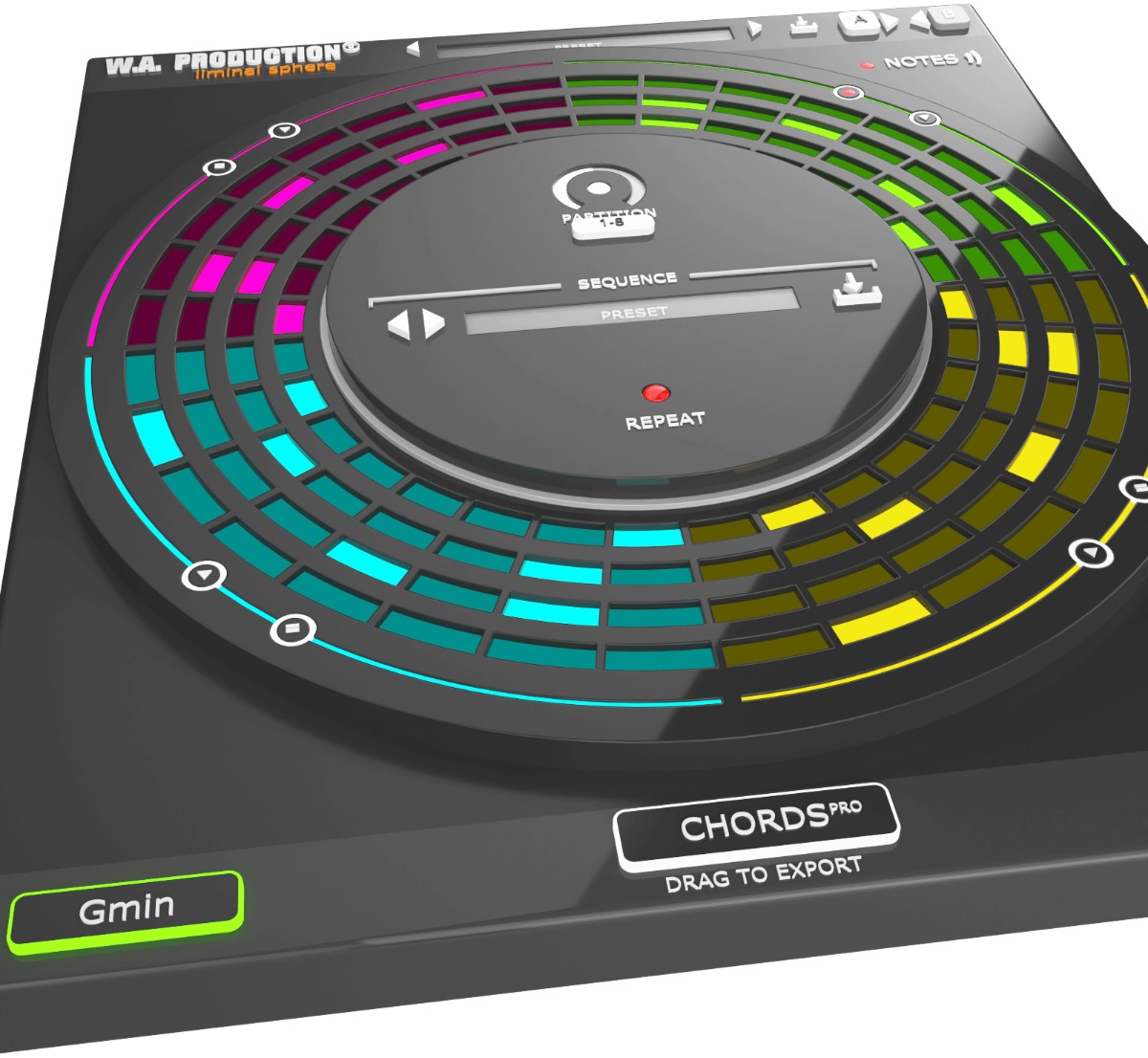 Added to CHORDS PRO + NOTES
With such a great reception to the original plugin, we've upgraded CHORDS PRO + NOTES with many new features:
The most notable functions relate to the new "Notes" mode, an entirely separate interface page. This is a note-pattern editor embedded into the framework of the chord playback. So as well as playing 4 notes simultaneously for each chord, Notes mode can partition each chord into up to 8 segments with independent control over each note of each partition. This makes it easy to program piano melodies, plucked arps, trance-gate chords and much more. Along with the preset sequences, there are Copy / Paste controls and Repeat functions to help you program quickly.
Global Chords
Use the global controls to adjust chord inversions, length, speed and root key of the entire playback, making on-the-fly adjustments to your entire riff a simple process. To get into the detail, click a segment for more granular control over chord shapes (including major / minor variations), individual inversions and velocity.
Create & Compare
Use the A/B comparison toggle to lock-in a favorite sequence, whilst experimenting on another version of it. Hit the "create" button to intelligently randomize one or more chords in a sequence, based on the starting chords of your riff. CHORDS PRO contains 30 different chord types, with musical-sounding progressions for natural transitions.
Simple Segments
With up to 8 chord segments, each with up to 8 partitions, you can choose to trigger between one and four notes per chord. Then choose how to play these notes. The playback syncs to the host BPM of your DAW, always remaining locked in time. You can add and subtract segments with ease and change a range of parameters, independently for each segment.
Essential Parameters
Each segment can be programmed with inversions from -6 to +6, transforming chord shapes and placing the root note inside of the chord itself. Experiment by pushing the lowest notes up an octave, or highest notes down an octave, turning your chords inside out. These inversions also apply to the Note playback, enabling a wide range of different playback options for each chord.
Just the Tonic
With your chords loaded and a segment chosen, use the range of chord shapes in the centre of the interface to choose between 30 different chord types: Tonic, Subdominant or Dominant, from simple triads to mind-bending shapes like Dbm7b5! The plugin automatically finds the right notes for any related chord.
Granular Notes
Open the Notes window to split chords into partitions, drawing in the playback of the 4 chord notes to create melodies, arpeggios and shorter chords. With options for Copy / Paste and Repeat, it's easy to sketch out ideas for just one chord and then apply that playback to the others, experimenting as you go.
Export MIDI
To get the chord progressions and arps into your own projects, simply drag and drop from the plugin to your DAW. Then you can edit to your heart's content, editing the MIDI, transposing and twisting the suggestions to suit your own style of music.
Powerful Presets
CHORDS PRO + NOTES includes a huge number of factory preset chord progressions and sequence presets for the arpeggios. These are all labelled in detail and are useful musical motifs to get you up and running quickly, which can eventually become the basis for whole tracks.
Mac:
macOS 10.15 or higher
64 bit
Windows:
Windows 8 or higher
64 bit
Required Registration:
W.A. Production products require you to register with the manufacturer at www.waproduction.com to activate your license.
This product requires an activation!
An internet connection is required to authorize / activate the product.