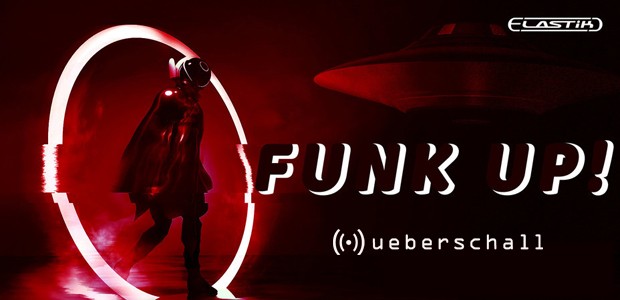 Get The Funk Out
The Funk Up! crew is influenced and inspired by "P-Funk All-Stars" like George Clinton and Bootsy Collins (Parliament-Funkedelic) and many others of this genre. Their journey involve long interplanetary time travel through funky wormholes, with an old borrowed spaceship called Mother, to arrive directly into your ear canals. The resulting music will spark the synapses in your central nervous system that get your body moving. Pure & uncut Funk
With 20 huge construction kits, and 10GB of sample data, Funk Up! delivers a massive slice of funk history. This is all served with the super-convenient - and super-powerful – Elastik front-end. With a truly authentic old-school flavour, it's never been easier to get your next funk-based project off to such an authentic start.
Authentic Old-School Analogue Sound
Funk Up! focuses of the core elements of your track. With insanely infectious grooves, each construction kit provides all the acoustic drum, bass and electric guitar parts you need. Drums are provided as a full drum mix and single-track loops for each of the kick, snare, claps, hihat, room and overheads, toms and cymbals. You can therefore work quickly from the stereo drum mix or craft your own. Additional percussion and FX are also included. Both DI and amp loops are provided for the bass and electric guitar parts. Work fast or re-amp to suit your needs. Each construction kit also provides multiple musical parts. These include intro and outros and, with between 5 and 10 parts per kit, you can easily build a complete song arrangement with plenty of variation.
Super-Cool Infections Funk Grooves
With Elastik making it easy to tempo and pitch match all the loops, building the core of a complete classic funk track has never been easier. It's then up to you where you take it. Add some classic Rhodes licks, a brass section and a soulful vocal for a more traditional approach or, with some contemporary synths and a pop-flavoured vocal, you can bring it right up-to-date. Look no further. It's time to Funk Up!
Elastik Features
Elastik is the perfect tool for loop-based music production. The ReTune algorithm gives complete control over scale and key of any tonal loop, polyphonic or monophonic. This way, you can easily combine loops from different libraries. Additional creative functions such as resample, reverse or a multimode filter enable sound design on the fly.
Content
1559 Loops in total: 136 Mix Loops, 136 Backing Loops, 140 Drum Loops, 129 Bassdrum Loops, 131 Snare Top and Bottom Loops, 120 Snare Trigger Loops, 43 Electronic Snare Loops, 6 Clap Loops, 119 HiHat Loops, 50 Tom Loops, 139 Overhead Loops, 139 Room Loops, 92 Cymbal Loops, 7 Ride Loops, 22 Drum FX Loops, 62 Percussion Loops, 12 Electronic Percussion Loops, 12 Shaker Loops, 4 Tamborin Loops, 2 Triangel Loops, 143 Electric Bass Loops (Amp), 143 Electric Bass Loops (Line), 399 Electric Guitar Loops (Amp), 399 Electric Guitar Loops (Line).
Credits:Sticks: Phillippe Candas, Strings: Kai Reuter, Fader & Funkwhip: U.K.
Free ELASTIK 3.6 Loop-Player is included in this product.
With its intuitive Loopeye editing environment, the high-quality pitch, key, scale and tempo manipulation algorithms and the huge collection of Elastik-ready sample libraries, spanning almost every conceivable musical genre, Elastik is a powerful workstation for loop-based musicproduction. It can be used either as a standalone application or as plugin within almost any DAW on both Windows and macOS platforms.
Mac:
macOS 10.12 or higher
Apple Silicon Support
64 bit
Windows:
Product activation:
An internet connection is required to authorize / activate the product.