Insight 2 - Intelligent Metering for Music & Post
Insight 2 is a comprehensive metering and audio analysis plug-in that is a core component of award-winning post production studios, music studios, and broadcast facilities. It is perfect for visualizing changes made during mixing and mastering, troubleshooting problematic mixes, monitoring the intelligibility of your dialogue, and ensuring compliance with broadcast loudness standards.
With Insight 2, you can immediately detect potential mix problems through real-time visual monitoring and color-coded alerts. Customize your view by choosing the meters you want to see, set your preferred targets, and resize the window to fit your current workflow. You can also route any audio track in your DAW to Insight 2 to quickly check loudness, levels, intelligibility, phase, frequency content, and more.
With layouts and targets for every stage of post and music production, you can deliver the optimum mix the first time around. Save time and money when mixing and mastering audio by monitoring your audio with the highest accuracy. Keep an eye as well as an ear on your mix at all times with Insight 2!
Perfect for music and post production
Updated look and feel
Redesigned to be easier to use
Current loudness standards
Multichannel support up to Dolby Atmos 7.1.2
Ensure that dialogue is clear in the mix with the Intelligibility Meter
Resize the meters and window as small or large as wanted
Colored warnings available for Level meters
Expanded interplugin communication with iZotope Relay

Updated Look & Feel
Insight 2 has an updated design that matches the rest of the iZotope family. The most important targets have been emphasized to make Insight 2 easier to read at a glance.
Resizing - Now you can easily resize individual meters in the main window by clicking and dragging between two meter frames. Additionally, the main window can now be resized to be as small as the smallest meter—perfect for throwing your loudness meters up in the corner of your third monitor!

Customize Your Layout - Insight 2 is customizable and flexible for your perfect setup. You can display and resize any meter you want or select one of the many Layouts designed for specific post and music production settings.
Insight 2 - Features Overview
Intelligibility Meter - The Intelligibility Meter provides guidance on whether dialogue is likely to be overshadowed by the loudness of the rest of your mix. Using iZotope Relay or other compatible plug-ins, Insight 2 takes information from your dialogue track and gives you the best recommendation on where your dialogue should be when compared to the rest of your mix. Select from different target Listening Environments, ranging from low to high noise, to check how the intelligibility of your dialogue holds up for listeners in those spaces. Now it's even easier to ensure your dialogue tracks are loud and clear on any sound source!

Multichannel Support - Analyze your audio in surround sound up to Dolby Atmos 7.1.2.

Deliver for Today's Standards - Set your loudness targets for EBU R128, BS.1770-1, BS.1770-2/3/4, ATSC A/85, OP-59, and more.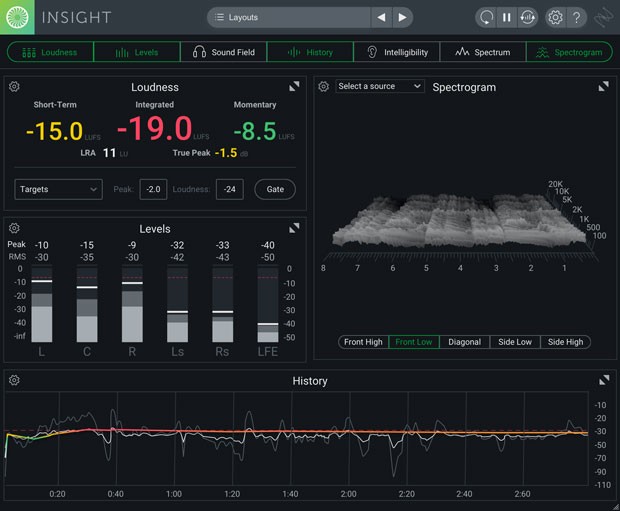 iZotope Relay
Perform detailed analysis by routing audio from any tracks or buses to Insight 2 with Relay. Enjoy the flexibility of using any plug-in while still getting all the benefits of our innovative new tools across your entire mix.
Relay features:
Interplugin communication with compatible iZotope products (Intelligibility Meter, Tonal Balance Control, Masking Meter, Visual Mixer, and more)
Delay Offset: align multimic'd sources and correcting phase issues in your tracks
Phase Invert: quickly compare and contrast the phase of tracks in your mix
Sum to Mono: audition your stereo audio data to see how it translates to mono listening formats
Swap Channels: Switch left and right channels of any stereo track to audition the stereo image and check for balance issues
High Pass Filter: Clean up and control the sub frequency content in your tracks with a simple High Pass Filter in Relay
Meters in Insight 2
Easily show or hide meters with the meter selection buttons at the top of the screen.
Insight 2 includes meters for:
Loudness, Levels, Sound Field, History, Intelligibility, Spectrum, Spectrogram
Specifications
Operating Systems
Mac: OS X 10.8.5 (Mountain Lion) - macOS 10.13 (High Sierra)
Windows: 7 - 10
Plug-in Formats
AU (32 & 64-bit), AAX (64-bit, real-time), AAX-AS (64-bit, Audiosuite). RTAS (32-bit, real-time), DPM-AS (32-bit, Audiosuite), VST2 (32 & 64-bit), VST3 (32 & 64-bit)
Mac:
macOS 10.8.5-10.15
32 bit & 64 bit
Windows:
Windows 7-10
32 bit & 64 bit
Required Registration:
iZotope products require you to register with the manufacturer at www.izotope.com to activate your license.
This product requires an activation!
An internet connection is required to authorize / activate the product.